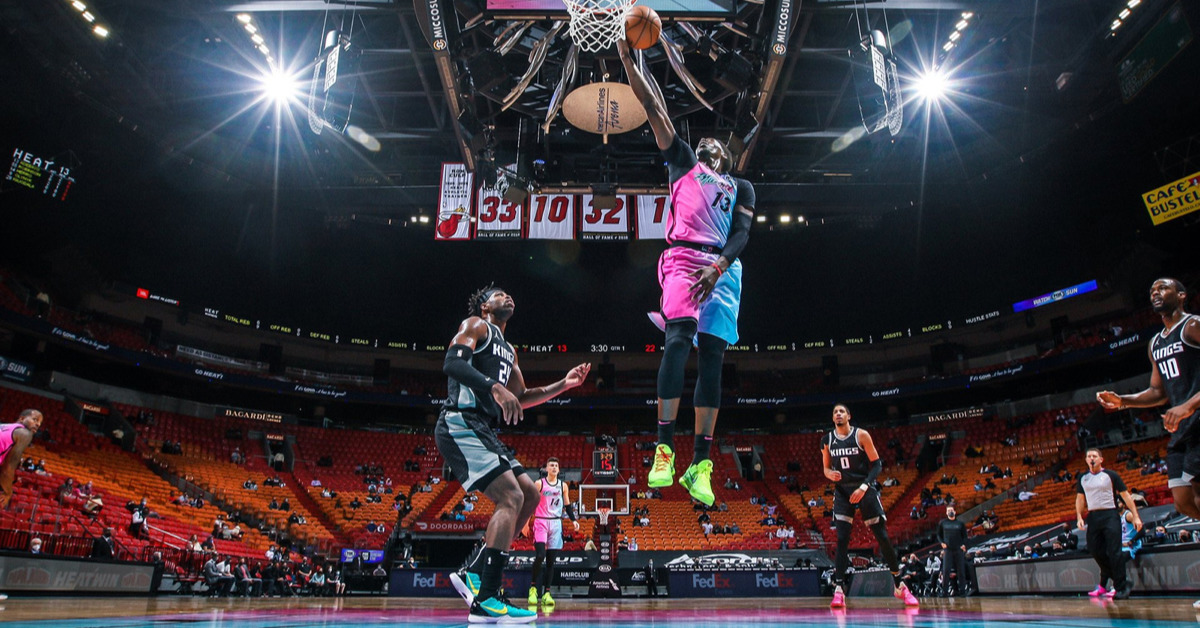 Sacramento's three-game winning streak came to an end in Miami, falling to the Heat 105-104. The Kings had a chance to win the game at the end with a little over 4 seconds, but Miami defended the final play well, and Richaun Holmes was forced to put up a tough fadeaway jumper that was partially blocked by Bam Adebayo.
De'Aaron Fox led the way for the Kings with 30 points, including 17 in the final quarter alone. When the Kings fell behind by double-digits early on, it was Fox who stepped up and hit big shots to drag the Kings back into the game. He did end up settling for one too many jumpers down the stretch however, and only shot 3-11 from beyond the arc.
Miami was far less shorthanded than they were supposed to be, with Jimmy Butler making his return after a 12 game absence in a big way. Butler scored 30 points himself, to go with 8 assists, and 7 rebounds. He also outshot the entire Kings team from the line, making 14 of 16 attempts while the Kings were just 5 for 11.
That free throw disparity was in part self-inflicted, as the Kings were not nearly as aggressive in attacking the paint as they should have been, especially in the second half. It has been rare this season for the Kings to be so dramatically outclassed at getting to the line, but in this game, Sacramento settled for outside jumpers time and time again. They ended up shooting 45 attempts from beyond the arc, their highest total of the season.
The Kings got off to a hot start, building an 11 point lead after the first quarter, but Miami stepped up the defensive intensity big time in the second and third quarter, and the Kings saw their lead evaporate and eventually become a deficit. If it weren't for Fox willing the team back in the game in the final quarter, this one might not have been particularly close at the end as Sacramento was struggling to get into any sort of offensive rhythm.
The Kings have a day off now before they head to New Orleans for a rematch on Monday.
Random Observations
Marvin Bagley III is becoming automatic from the corner three. Bagley's efficiency has steadily risen this season and tonight might have been his most efficient game of the season, as he scored 17 points on 7 of 8 from the field and 3 of 4 from three. After tonight's performance, Bagley is shooting 37% from three for the season.
Kyle Guy had some meaningful minutes and played with some good energy, scoring 5 points in 15 minutes to go with 4 rebounds, 2 assists and 2 steals. He's outmatched defensively, but he definitely plays with a lot of effort. I'd much rather see Guy out there than Joseph at this point.
Tyrese Haliburton has some hops. The last two games he's had some nice dunks that have come out of nowhere.
It was an uncharacteristically quiet game from Richaun Holmes, who only got 4 field goal attempts all game, including the one he had to rush at the end. The Kings need to do a better job of involving him in the offense.
Of our 11 free throws, De'Aaron Fox shot 8 of them. He only made 3. Not great.
Hassan Whiteside displayed more passion on the one dunk he had than he has this entire season. I wish he would channel that energy on the other end of the court. There was one play where he snagged a rebound and lazily brought it down only to have Kelly Olynyk strip him and knock a three. In a game as close as this was, every possession matters and that was embarrassing.