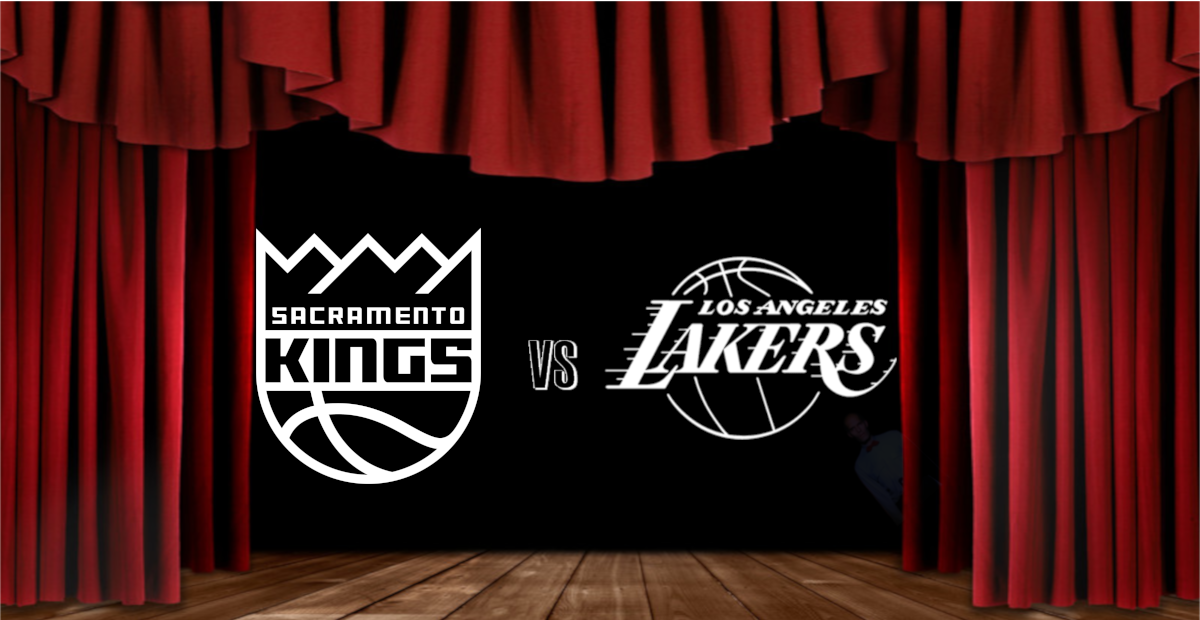 Well, this is it everyone. Your last opportunity to watch Kings basketball until mid-to-late December (if this world doesn't implode on itself between now and then) and guess who is stopping by to give the Kings one last shot in the nether regions? ... If you guessed anything other than the Lakers with your inner monologue right there, seek medical attention. Yes, they are the least deserving franchise of another title in NBA History and yes, I usually love getting hyped for these match-ups to punch up a bit. But I also did say this season, I'd go Haterade free after the death of Kobe Bryant and as such, you just have to deal with a bummed out, disconsolate preview with me. The Kings will again be without their northern star in De'Aaron Fox, who is still out with a case of "too good to get hurt in a meaningless game". Joining him will be Richaun Holmes and Kent Bazemore with actual injuries. The Lakers will be without Alex Caruso and Kentavious Caldwell-Pope tomorrow, with Anthony Davis questionable to play. They will however, have Lebron James, who is returning from a sore groin. 
You know that old phrase:  when the going gets crappy, the crappy get going?The Kings are literally scheduled for the first bus out of the Bubble after this contest. 
Let's talk Kings basketball.
When: Thursday, August 13th - 10:30 am PST
Where: The Field House, Wide World of Sports Complex, Kissimmee, FL
TV: TNT, NBCSCA
Radio: KHTK Sports 1140 AM
For Your Consideration
I'm not entirely sure what there is left to say about this season that hasn't already been discussed in newspaper, podcast, garbage blogged or commented on already. Everything about this season was a disappointment and as we come to it's conclusion four months later than the usual, I can't help but not want to look back on it at all. The Kings have regressed in every area, they're talent base has gotten another year older with no real sense that they've grown at all, the young talent that we have is either too injured to play, fated to go elsewhere due to flubs by the front office, or named De'Aaron Fox. Fox, is the undoubted spirit of this team going forward. If only the team was actually going forward.
This match-up today is less than meaningless. The Lakers, through sheer assholery, secured Anthony Davis and lured others to come because of it and their prize for that is the #1 Seed in the Western Conference. They are a favorite for their seventeenth championship and for the first time in forever, I just couldn't care less if they get there. Blame the state of the Kings or the state of the country or the state of my bank account, but the Lakers just don't have the same oomph to their bullshit right now. I'm removed a step.
Looking back, the highlight of this season has had very little to do with the Kings at all. I got laid off from two jobs I love, one because of greed and the other because of a virus. I'm extremely blessed to get one of those jobs back and happy to come to work (on the days I have to) for you all. I wouldn't be photoshopping VHS tapes and clown noses and old timey maps of Sacramento for hours on end if I wasn't excited to put them in front of you. I'd have jumped ship for a place with no internet and no way of knowing that the Kings dropped in the lottery yet again (my prediction) if it wasn't for seeing poems in the comments and people paying for other's merch out of the kindness of their hearts. I'm a far bigger fan of The Kings Herald than I am of the Kings. I don't think that will ever change.
Enjoy Thursday's games. There's going to be some bonkers storylines and highlights as these Western Conference teams vie for the 8th seed and the play-in game and I can't wait to see what comes of it. Kings-Lakers? Eh, whatevs.
Have a good fall, all. Maybe by the time we see each other again in the previews, the world will be a much shinier place. Maybe I'll have news on my book. Maybe the winds in Sacramento will have started blowing us all forward and blown some riff-raff outta town. Maybe, maybe.
Prediction
Portland gets the eighth. Suns get the play-in. Kings stomp on the Lakers as a going away present for Luke Walton.
Kings: 122, Lakers: 121