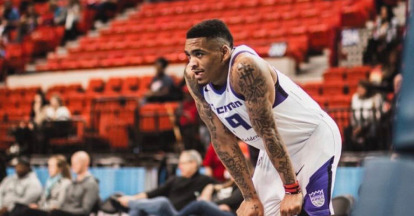 The Sacramento Kings are going to waive DaQuan Jeffries, according to a report from James Ham and confirmed by multiple other reporters.
According to league source, the Kings are expected to waive DaQuan Jeffries.

— James Ham (@James_HamNBA) April 3, 2021
DaQuan Jeffries has been released by the Kings tonight, according to sources...@James_HamNBCS first.

— Sean Cunningham (@SeanCunningham) April 3, 2021
To call this move surprising would be an understatement.
To be clear, Jeffries has fallen out of the Kings rotation, and his stay line this year doesn't jump off the page. In 17 games this season Jeffries has averaged just 3.6 points and 1.6 rebounds per game.
What makes this surprising is that Jeffries has appeared to be a positive impact player when on the floor. He's a scrappy defender who can play multiple positions, and is on a team-friendly contract through next season. Jeffries signed a two year, $3 million contract with the Kings this past summer.
It's unclear why the Kings made this move, but the most logical assumption is that Jeffries no longer wanted to be in Sacramento. If the Kings wanted another player, the team would have multiple other avenues to create a roster spot.
We will continue to update as we learn more.
Update: Jason Anderson reports Jeffries was waived to bring in another player.
Sources tell me the Kings expect to bring in another player, but details are still being worked out. Jeffries was in the first year of a two-year, $3 million deal with a team option for next season. https://t.co/wLKxSaJCZT

— Jason Anderson (@JandersonSacBee) April 3, 2021
This makes the move even more confusing, as the Kings had several other player they could have waived, such as Justin James or Chris Silva.