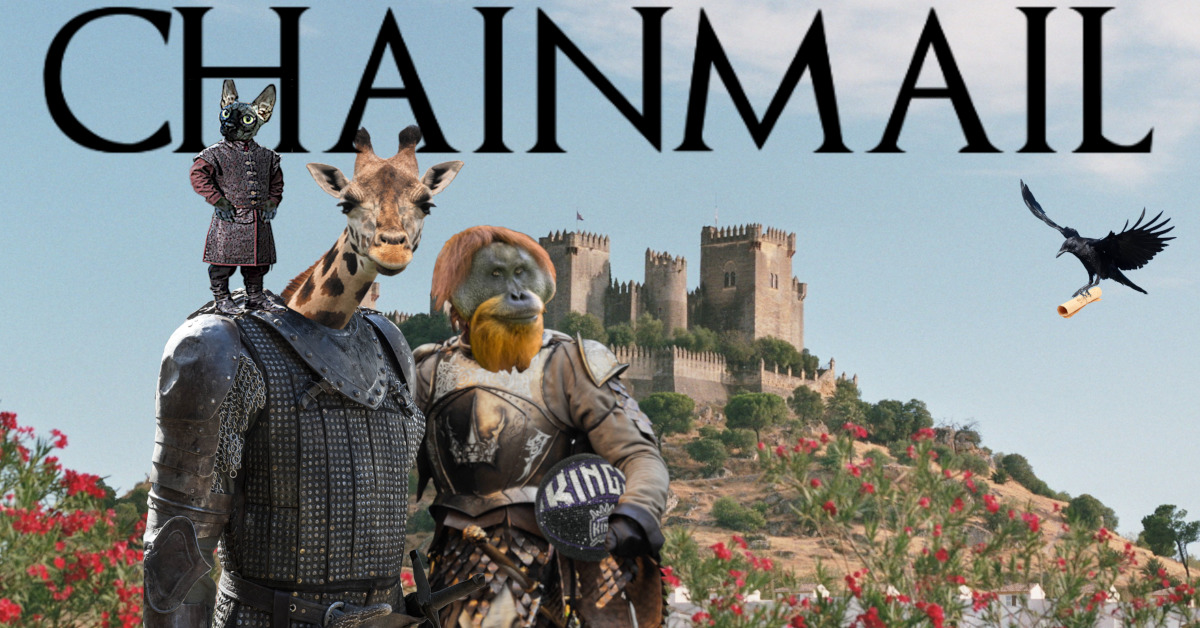 Welcome back to Chainmail! This week, special guest Brenden Nunes joined the panel! Please note that these answers were submitted prior to Sacramento's game against the Phoenix Suns on Wednesday evening.
From 1951:
SSS approved question: Why does Luke Walton insist on featuring Tristan Thompson as the backup big over Len when second-half defensive suckatude is the biggest bugaboo of the season so far?
Tim: This one's tough for me. Personally, I would play Alex Len over Tristan Thompson, but I don't know if there's anything absolutely egregious about going the other way with things. Len is a better rim protector and plays well within his role, while Thompson offers elite rebounding and the ability to switch onto smaller players (albeit not very well), and it's clear his leadership has made a significant impact on the team, at least off of the court. Either player is going to be an okay choice at this point in the season.
Will: I think the "Why" of this question is pretty simply that - Luke Walton is a bad coach. Whenever I truly get frustrated on "man, why are they insisting on this player tonight" or "why the hell is so-and-so out at this point?" I remember that he's just a few steps north of Jason Kidd and I resign myself to caring about other parts of this game. Is it as simple as "Need rebounds? Thompson. Need tall? Len."... no, but he's been consistently bad at this so it does make me wonder.
Brenden: We did see Alex Len heavily favored over Tristan Thompson in the Utah matchup where the opposing bigs were Rudy Gobert and Hassan Whiteside. I think rolling out Alex Len against Portland is asking for Dame or CJ to hunt him down and Golden State is a horrible matchup for him, but I would like to see the backup center position tested out a bit more.
Thompson has his very obvious blunders, but his ability to alter shots at the rim has still been important to this Kings' team. That sort of impact just happens more quietly so I think it goes underappreciated. Len does a great job at that as well but requires more complicated scheming since he is significantly more slow-footed than Thompson. So, I'd like to see the backup big position tested a bit more, but I'm not too flustered currently.
From Marty:
Are you still hoping Fox magically transforms, or have you accepted this is just who he is?
Tim: I don't think "this is who Fox is", if we're referring to the start of the 2021 season. He's been flat-out bad on the offensive side of the floor through these three games, and that hasn't been the norm for De'Aaron over the last couple of seasons. Fox also isn't a finished product. In each of his first four years of the league, he's improved his scoring, play-making, and aggression, so it would be erroneous to state that he isn't going to get better.
On the other hand, I do sort of agree with the sentiment that while De'Aaron Fox isn't a finished product, he also hasn't added much to his game in his four years in the league. It seems that Fox has deemed it more important to try and become elite at his areas of expertise (rim attacking, foul-drawing, and play-making), rather than shore up areas of weakness like outside shooting, free throw shooting, and defense. That sort of a plan isn't necessarily right or wrong, but it likely will create a more limited elite-level player, rather than a very, very good jack-of-all-trades.
Will: Yeah, I think generally Fox is who he is and now it is all tinkering around the margins, adding wrinkles to his game, and trying to bump his efficiency up year to year. Is he ever going to be the defensive stopper we think he could be? No. Could there be a J-Kidd level three-point shooting jump later in his career? I can't rule it out, I'm just not expecting Fox to be a lights out shooter from anywhere but at the rim for the length of his career. I don't expect Fox to continue shooting 16% from deep either, it's just that he's probably going to start most seasons a bit slow, won't pick up for a month, and then whatever games Sacramento can win once he's comfortable, will be a large portion of their wins till he gets into his streaky stage or injured. Some years will be different than others, so some win totals will be higher than others.
Brenden: I'm not worried about the first three games if that's what you're saying. Going deeper than that though, I think there is a good chance the player we saw all of last year is pretty close to the prime version of De'Aaron Fox. I'm not comfortable saying there is no more significant growth ahead for a player that is not even 24-years-old yet, but 25/7/3 is still a borderline All-Star.
I would not be shocked if we don't see another significant jump from Fox in his career, but I also wouldn't be shocked if we did. The clear needed areas of improvement are defensive engagement/effort and shooting from the three and free-throw line.
From DutchKingsFaninUK:
Which one concerns you more, our offense or our defense? And why?
Tim: As odd as this may sound, it's the offense for me. The Kings don't have a good defensive roster, no matter how much they wish us to believe otherwise, so it's really going to be up to the offense to pull this mediocre team forward, and thus far, that hasn't looked promising. De'Aaron Fox and Tyrese Haliburton both need the ball in their hands to be effective, and neither one has looked comfortable with the other in the starting lineup. Buddy Hield has been okay, but he is who he is at this point in his career. Harrison Barnes is going to come back down to earth. I don't expect Davion to be a regular contributor on that end of the floor. Holmes is great in his role, but he can't carry the team. And the list goes on and on. I just don't see this team operating at a high level on offense or defense this season.
Will: If I'm going to worry about anything this early in the season, it's definitely the offense. Coming into this season, what did every coach, player, and pundit have to say about the Kings? "Oh we know the Kings can score, it's the defense they need to fix." The Kings have looked lost, disheveled, scattered for like twelve of their sixteen quarters in my eyes - relying solely on "run and give it to the guy who's hot". Find the hot hand and force it till he's tired or the game is done. Fox is adjusting to the refs swallowing their whistles, Hali is adjusting to being a full-time starter, Barnes is adjusting to suddenly being the #1 option on a team where he should be third or fourth. There's a lot of "reasons" why this team should be rocking and rolling and they just aren't. That being said I just took a look and they're still within last year's range of points per game, offensive efficiency, and pace so, Jesus, maybe this team is just an ugly mess and that's an efficient offense. Can I ask questions? Why the hell does…. Nevermind! Tim - next!
Brenden: I really want to cheat and say roster construction, but if you're making me pick I will say the offense. It's way too early to actually say I'm worried, but I think it's more so that they have a lot to figure out when it comes to optimizing the main guys on this roster each night. Harrison Barnes has shown he is going to get more shots up this year, but those come in the rhythm of the offense.
The primary aspect I will be focusing on is seeing how De'Aaron Fox and Tyrese Haliburton find their moments and comfortable roles alongside one another on the offensive end. It almost feels as if both of them are trying to make sure everyone else is comfortable and just fit in when I think the roster needs to fit around them. It's three games into the season though, I am not stressing.
From Kosta:
What do you think is the best thing to do with Marvin Bagley right now? Should he get any playing time at all? Or sit him until a decent trade comes along? Let him go after the season? What would you accept in a trade for him?
Tim: The Kings want to win. Marvin Bagley doesn't contribute to winning basketball. That seems like a pretty simple equation to me.
Outside of injuries or foul trouble, I wouldn't try to showcase Bagley, as the Kings have been doing that for a season-and-a-half to no avail, and the worst thing that could happen to Marvin's already very, very negative trade value is for him to suffer another injury. All I can hope for is that some team sees some iota of potential at the trade deadline and sends a comparable expiring salary and a second round pick or two in compensation for his services. If that doesn't happen, I wouldn't even bother with the qualifying offer. Let the young man enjoy his two-year minimum deal with a non-contender and see if he can revive his career.
Will: Yeah just use him as a salary filler at this point. No use hurting him by playing, no use investing the time if he's just going elsewhere. I'd drop Metu in before him and anyone the Kings have a hope of continuing with the franchise beyond this season and it would be an easy decision. Was it nice to see him get some claps from the fans at the home opener? Sure. Does he need to be getting anything else from a franchise that he is determined to leave? Nope.
Brenden: Tim did good math above, and I double-checked the validity of his equation. Bagley could still see the floor if either Harrison Barnes or Maurice Harkless are sidelined at any point this season like we saw against Utah (unless you wanna play Robert Woodard?). Outside of "break in case of emergency" injury minutes, then the most valuable aspect of Bagley right now is his $11.3-million expiring salary that can be combined with either Buddy or Barnes to match max salary… Ben Simmons, anyone?
From Peja:
After seeing Davion after three games, what do you believe is a good player comparison is for his ceiling and floor?
Tim: Davion's likely outcome (not necessarily his floor) is a smaller, but more aggressive Marcus Smart, at least on the defensive end of the court. When we're talking ceilings, let's get crazy and say, Gary Payton!
Will: I need more time to believe anything I say here but I think he's certainly looked good enough that I could see his floor being Cory Joseph. Not Kings Cory Joseph, but the very valuable bench and fill-in starter. That's his floor. Less than five games into his career. His absolute ceiling? 6'1 Kawhi Leonard - a guy that teams game plan around by just leaving the player he's guarding in the corner and playing 4 on 4 on the offensive end and then is a very good scorer on offense. It will take time for either of those outcomes or the in-betweens to flesh themselves out but there's your hot-take for the day.
Brenden: These are so difficult to do. For now, let's say something like Eric Bledsoe with a consistent three-point jumper. I will admit I am growing more and more optimistic about the ceiling of Davion Mitchell as time goes on. I was not ready for this level of defensive impact from game one of his rookie campaign and certainly didn't expect to see him score 20+ just three games in. Other ceiling examples that come to mind are Mike Conley and Jrue Holiday.
From citykidd:
Have the Kings completely given up on Bagley, and at this point, is he considered to be a bust around the NBA?
Tim: Yes and yes. He's a bust, just like every other non-Fox Vlade Divac selection.
Will: He's a massive bust.
Brenden: Can I retweet Tim's answer? I will say, Bagley becoming a valuable NBA player is still very possible, and I don't think teams view him as a lost cause but more of a project with promising athletic tools. Still, his league-wide value has got to be close to nothing at this point in time.
From Kosta:
What is your Halloween costume going to be?
Tim: My family will be a smorgasbord of random characters. The eight-month boy will be a dog, my two-year-old daughter wants to be Bumblebee (not A bumblebee, the transformer Bumblebee), my five-year-old son is going as either Pikachu or Spider-man, my wife is going as Mike Wazowski, and I will be Woody.
Will: I'm still trying to work off these pandemic pounds and they aren't coming off between now and Sunday so I'm doing the comfortable thing and dressing as hmmm… Thicc Thor is probably the nicest way to characterize him? Bathrobe, sweatshirt underneath, sweatpants, crocs with socks, sunglasses on, my long hair down and a god-killing axe by my side. It's warm, super comfy, spacious enough for any snacks I wanna have. Perfect costume.
Brenden: Uhhh… I forgot that's happening soon huh? I'm gonna look for either the best giraffe costume I can find… or maybe a hairless cat.
From Kangz_Landing:
Favorite movies to watch during Halloween? Or favorite horror movies in general?
Tim: I'm not a big movie guy in general (short attention span), but my son loves, loves, loves Nightmare Before Christmas, so we always end up watching that a bunch. I remember enjoying The Cabin in the Woods back in the day, but I have no idea if it holds up. Also, The Blob!
Will: Tim and Brenden might have been the two worst people to ask this question to. We celebrated Halloween with friends last weekend and afterward, I showed my partner John Carpenter's "The Thing", which is absolutely my favorite this time of year. We've seen "The Shining" a few times and she's not one for vomit so "The Exorcist" might be out of the question. We'll have kids actually trick-or-treating so I might go to a classic on actual Halloween night and roll with "The Cabinet of Dr. Caligari" which is much easier on and kids that might peek around the corner while snatching candy!
Brenden: You guys are really making me realize how boring I am with these last two questions. My two main viewings on Halloween are going to be the Kings in Dallas and then I'll eat some candy corn while hoping the Rockets somehow beat the Lakers later that night.
I do enjoy horror movies here and there, and I'll just list a few I've enjoyed: The Conjuring, Bird Box (if that counts?), *googles scary movies, because I can't remember any others*, Insidious, Hush, and I'm sure there are others I'm forgetting. Sorry, I don't watch many movies and have never been one to rank them.