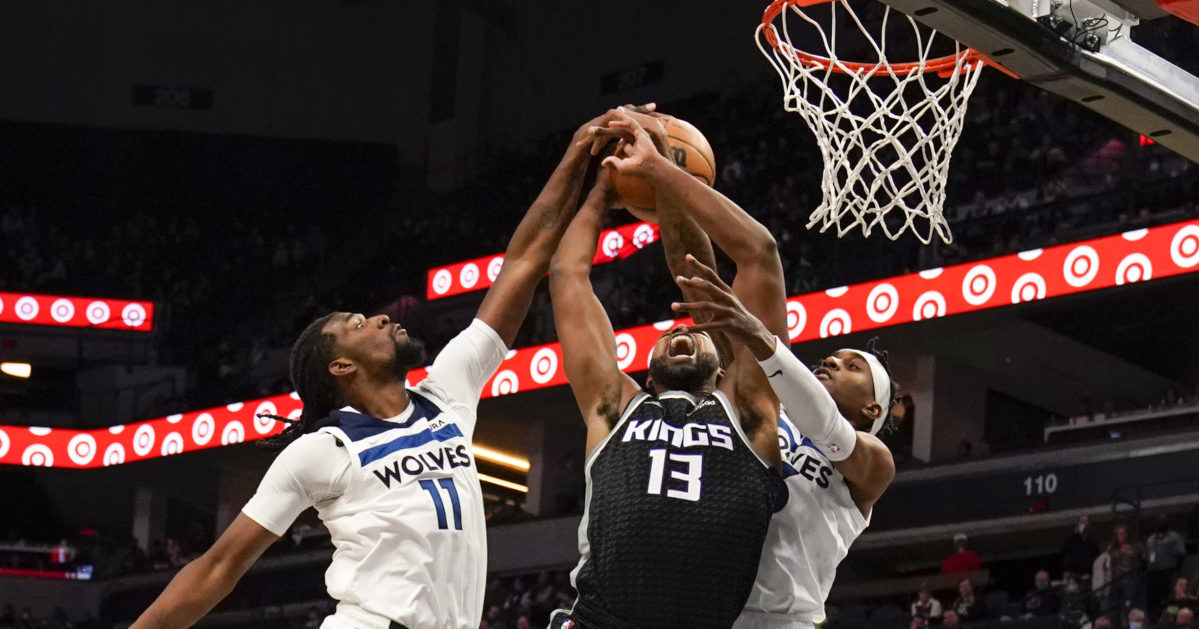 How are we feeling, Kings fans? After Monday's win, do you feel better, worse, or nothing at all? Whatever you feel, I don't blame you. I was not lying on Twitter when I said that I did not watch a single second of the win against the Detroit Pistons. I decided to take myself out of the equation and the Kings snapped their losing streak and seemingly saved Luke Walton's job. So is it me? Am I the drama? I don't think I'm the drama. Maybe I am. Well the case study continues because I had to tune in for the Kings' final game of this road trip in Minnesota. Having lost eight of their last nine games, the Timberwolves are a team that the Kings should beat, but we all know how that goes. To find out if I am indeed the drama or if the Kings are putting themselves back on the right track, let's see how they did:
Quick Stats
Outcome: Kings lose, 107-97
Sacramento Kings: 97 pts, 36.6% fg, 26.3% 3pt, 76.0% ft, 19 ast, 47 reb, 16 to
Minnesota Timberwolves: 107 pts, 50.0% fg, 27.8% 3pt, 83.3% ft, 20 ast, 35 reb, 17 to
So I guess the evidence continues to point to me being the drama. I hate this case study. Let's just forget about it.
I used to coach middle school basketball and this game really took me back to those days. The general scene from both teams was attempting some slow ball movement, giving the ball to their best player, and then hoping something good happens. There were a lot of missed shots, a lot of turnovers, and a lot of one on one action. All of these things you would expect from middle school basketball, as players are still learning the game and finding the rhythm of good basketball. So it was surprising to see extremely large, grown men who get paid millions of dollars and have dedicated their lives to learning this sport resemble 12 year-olds. But, here we are. A new low? I've lost track.
The Good, The Bad, & The Ugly
The Good
Offensive Rebounding: This felt like a game of second chances. Up until the final stretch, both teams struggled to find any offensive momentum and instead capitalized on second chance opportunities. The Kings won the offensive glass tonight, securing 20 to the Timberwolves' 10, and it was what kept them within striking range for most of the game. The Timberwolves often went into a zone defense, and the Kings capitalized on the scrambled coverage by crashing the glass and creating extra possessions for themselves. And, boy, did they need them. After scoring just 18 points in the first quarter, the Kings needed every chance they could get to cash in on points. Richaun Holmes and Tristan Thompson each had four offensive grabs, while Marvin Bagley III and Davion Mitchell each contributed three more.
The Bad
If Not Now, LEN?!: The Kings did a solid job of containing Karl Anthony-Towns in the first half. We saw them be hyper aware of him on the defensive end, often running doubles and extra help side towards him whenever he had the ball in his hands. They managed to force some sloppy passes from KAT and held him to just nine points in the first half. But it didn't last. In the third quarter, KAT doubled his point total and ultimately finished with 22 points by the end of the night. We saw him bully Chimezie Metu, Tristan Thompson, and Marvin Bagley III throughout the stretch of the third quarter, where the Timberwolves had their most successful scoring of 33 points. And I could hear just about every member of The Kings Herald screaming, "WHERE IS ALEX LEN?!" It seemed that it would have been useful to have a more mobile big man on KAT to stay in front of him from distance but also body up inside. Unfortunately, Alex Len never made it on the floor tonight.
The Basketball: This was just bad basketball all around. It became clear we were all in for a long night when the box score after 12 minutes was 18-22. Both teams struggle offensively, in many of the same ways, and with the exception of a few well-executed plays, any highlights we got to ooh and ahh at were more from disappearing defense than any brilliant offensive sequence. The final four minutes came down to one on one showdowns where Anthony Edwards and De'Aaron Fox traded some big time shots. Edwards ultimately did more, scoring 16 of his 26 points in the fourth quarter, while Fox only scored 10 of his 28 points. The Kings waited until the final minute to make a defensive adjustment and instead let Edwards cook and bury them. In a game of bad basketball, the Kings found a way to play the worst.
The Ugly
Turnovers: I am actually shocked to see that the Timberwolves managed to have more turnovers than the Kings, who made it hard to beat them in that category, as they totaled up 16 turnovers for the night. Most embarrassing of these is the handful (I counted at least four) 24-second shot clock violations the Kings suffered from. Some credit is due to the Timberwolves for being feisty on defense and getting their active hands on the ball to cause deflections. But 99% of the credit can go to the Kings for lazy passes and a poorly spaced offense. A lot of the passes that were tipped off looked like players just weren't valuing the ball. However, a lot of the turnovers were also caused by a lack of proper spacing and passing angles within the offense. So often we see a ball handler attack the paint, get stopped, and have no clear passing lane to keep the ball moving. This lack of effective spacing causes wayward passes and mid-air heaves to no one.
The King of Kings
I'm starting to regret creating this segment because it's getting harder to find those silver linings I promised. I'll just go with the easy one here because I am in pain and it is still only Wednesday. Tonight's King of Kings goes to De'Aaron Fox for leading the team with 28 points and five assists. It was promising to see him look more comfortable again down the stretch, as he attacked the basket and scored 10 of his points in the final quarter.
Up Next
Friday, November 19th vs. Toronto Raptors - 7:00 P.M. (PT)