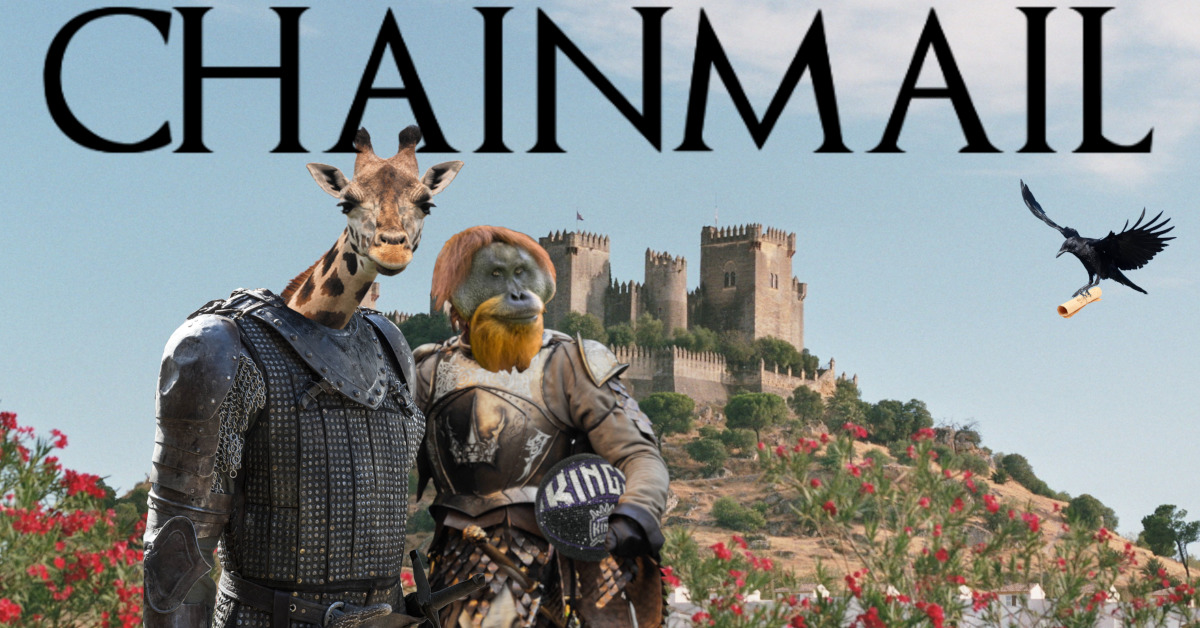 Welcome back to Chainmail! We had a ton of great questions this week, so let's dive right in, shall we?
From 1951:
Are Harrison Barnes and Richaun Holmes being traded today, next week, or in one month?
Tim: There's no doubt in my mind that the entire league knows that Harrison Barnes and Richaun Holmes are available for the right price. Barnes is an expiring contract and isn't a great fit with Murray or Sabonis positionally or on the defensive end, while Holmes' talents are somewhat wasted as a backup getting 15 - 20 minutes per game. Barnes probably holds real value across the league, while Holmes needs to rebuild his through strong play early in the season. My guess is that both are off of the team before the trade deadline in 2023, especially if contenders experience injuries early on in the season.
Will: I'm going to say that if/when they're traded they're traded sooner rather than later. Sure, Holmes didn't follow up his contract year with play to match the pay, but teams know who he is, what he excels at and the circumstances behind his dip in production next season. He'll still be wanted as a spot starter or super valuable back up big at just $11 million next season. Barnes too - teams know who these guys are and what they bring to the table. He's a good starter for most teams in this league and if things don't work out, at season's end he's an expired contract. If I'm betting, I'd bet a trade involving both of these guys gets done before the Kings head into training camp... and naturally because I've put that into the universe they'll be here for the long term.
From Tunel_21:
I feel incredibly optimistic on Fox for this upcoming season. It seems like the recipe is finally there for him to go up a level. Am I wrong for believing he will ACTUALLY take a huge leap this season?
Tim: I don't know how good Fox will be this year. As one of the resident Fox non-believers (from a star player/number one option point of view), I can't get jump-up-and-down excited about his potential next season, but I will say that the Kings have never surrounded him with more talent than in the upcoming season. He has shooters. He has a 26-year old two-time All-Star who can run the offense. He has a real coach. He has a real bench.
Now, Fox has to answer for a franchise that has been building around him for the last half-decade. Will he play defense? Will he engage for the entirety of the season? Has he improved his shooting? Is he going to lead the team or step back when things get tough? His place within the franchise, and the team's chances of success next season, depend entirely upon the answers to those questions.
Will: I don't think you can be faulted for feeling like this is the season that Fox finally rounds out his game and becomes the main man for a good Kings squad. But, a 'huge leap' as you've said? I'm not sure how much higher he has to go. I'd call you crazy if you thought he was about to morph into prime James Harden or something but I think the Kings can make a huge leap in the wins column this season if Fox even has a modest leap himself, especially if it's on the defensive end. We've been pumped faked more than once into believing that the next season was Fox's truly ascendance into the NBA stratosphere: last year it was him with that added muscle, Luke Walton's first season we were salivating over Fox's 37% from deep the season prior... the fact remains that (as was true last season as well), this is the most talented team that De'Aaron Fox has ever played on. Unlike last season, if his play doesn't translate into wins for the Kings, I'm not sure what else can be done to help make him more comfortable or set him up better for success.
All that being said, I think you should be feeling optimistic about Fox next season and I'm as hopeful as any that the all around star we know he can be is just around the corner. I'm not holding my breath, I'm keeping a weathered eye on my tailpipe for any Axel Foley wielded bananas... but there's certainly hope.
From jwalker1395:
How many MVPs is Murray going to win?

In all seriousness, seems the Kings are right on the fringe of making the play-in in the West (once again). What's your trade to put them over the tipping point?
Tim: I won't necessarily identify a player here, but Sacramento's biggest positional weak points are starting small forward and third-string point guard. While Harrison Barnes is a pretty good player, he's really been better as a four for the last several years, and Keegan Murray has shown no affinity for playing as a full-time wing in Summer League. If the Kings can find a starting-caliber small forward who plays versatile defense, they're going to be in pretty good shape.
Will: Alright, I'm gonna be stupid here and try to solve both problems and take advantage of the Knicks here as they attempt to wrangle Donovan Mitchell away from the Utah Jazz. Most deals have the Knicks sending Obi Toppin, Quentin Grimes, Immanuel Quickley and Evan Fournier's 3 year, $18 mill per year deal out to the Jazz (along with a hundred first rounders) to help get the deal done. I'd amend the deal to be as such:
Jazz receive: Harrison Barnes, Quentin Grimes, Obi Toppin and picks
Knicks receive: Donovan Mitchell, Chimezie Metu
Kings receive: Evan Fournier, Cam Reddish, Immanuel Quickley.
Now would the Knicks give up both Reddish and Quickley for the price of taking Fournier? Probably not. Send Quickley to Utah if so needed. Even without Quickley, the Kings get another big shooter in Fournier that they can also use as trade bait at the deadline for the next few years or package in a bigger deal of their own, an up-and-coming small forward who wasted under Thibs just the same as he was in ATL. Utah still gets their picks and young talent but Barnes facilitating the deal means they're out from under his money after one season and not three like Fournier (that privilege is kinda why in this hypothetical I'd push for Quickley to be rerouted to Sacramento). Knicks get their man, plus Metu as a bench guy or an easy person to cut if necessary.
Main thing here is: Kings add a 6'7 shooter who started 80 games last season and shot 39% from deep on almost 8 attempts as well as a young, high upside defensive SF to the mix. If Quickley is added, then a very talented passer and 3rd string point guard to boot all while only adding a total of $6 million to the Kings cap space. Shooters galore, baby!
From TheBufferZone:
Are our 2 most recent Lottery Picks both coming off the bench this year?

I'm somewhat expecting some sort of starting lineup of, at least to start the season: Fox, Monk, Huerter, Barnes, Sabonis
Tim: I will be very surprised if Keegan Murray comes off of the bench for Sacramento, while I'll be equally surprised if Mitchell starts. From a starting lineup point of view, the Kings can go pretty small with Fox/Monk/Huerter as the guards/wings, but that eliminates a lot of bench scoring and is also a pretty awful defensive group. It will also shift Huerter out of his natural position. Conversely, they can start Barnes/Murray/Sabonis, with Barnes being slightly out of position, but that provides size and Murray's potential defense, as well as just as much shooting. I think the Kings will go with the path of optimizing their lottery pick, rather than starting Huerter.
Will: With a competent head coach at the helm absolutely nothing would surprise me when it comes to who is starting for the Sacramento Kings. It won't surprise me in Davion Mitchell is somehow the starting shooting guard for the Sacramento Kings and it won't surprise me if Keegan Murray starts off as a primary option off the bench for the Kings to start the season. I couch my words here carefully. To START the season. I'd fully expect to see Keegan starting at 4 at some point by the end of the season... whether that's after a Barnes trade or not, remains entirely up to Monte and Co. The fact of the matter is: the Kings have more talent in areas of need than they've had in a long time, including behind the clipboard. If the goal is to make the playoffs, then absolutely all expectations are off.
From Roaddog:
Does Monte have to make the playoffs or not?
Tim: He needs to get damn close to keep his job. Right now, the Kings have the most talented team they've assembled in 16 years, but they've also sacrificed a couple of assets (Tyrese Haliburton, a future first rounder) to get this group together. That's not necessarily a good or bad thing in and of itself, but the plan has to work or it was a waste. Monte McNair has spent three years (the average tenure of an NBA GM) putting this plan into action. If the Kings win 35 games and end up as the 11th or 12th seed next year, he's gone. If they do significantly better or finish in at least 10th place, he has a shot of sticking around.
Will: I think he's getting another year regardless. 35 wins or not. He's been empowered to pick his coach and sign him to a four year deal, empowered to make franchise altering trades and go against consensus with their high draft pick this off-season. The only All-Star on this roster was one he traded a highly popular young player for and has two years left on his deal. Barring a 15 win season, Monte is getting another year.
Even if Tim's doomsday scenario comes and the Kings only win 35 games or get the 11th or 12th seed, the franchise and talking heads will simply sell it as "well everyone knows it takes longer than a year to implement defensive schemes/a culture/Brown's system and obviously they're building in the right direction" while point to someone's development or the team's increased competitiveness or some jump to 20-something in defensive rating. Monte's not getting fired this season, I'll bet all the money in LaBradfords' bank account on it.
[Side Bet though: if Monte is to leave at the end of this season, all my money of Wes Wilcox just taking over the top spot with the report being that Monte sought other opportunities while Wilcox was the main man behind the Brown hire and Sabonis trade. I've made this prediction before, right? ]
From Adamsite:
Kings still need a 3rd string PG. Who would you target now in free agency or trade?
Tim: Elfrid Payton is probably my favorite target available. He's never been able to shoot worth a lick, but he's a steady veteran who can run the offense and score a little bit in case of injury or foul trouble. There are also another handful of options who wouldn't upset me at all, from Chris Chiozza to Facundo Campazzo to D.J. Augustin. Really, just sign anyone and I'm happy.
Will: I can see reasoning for guys like Campazzo or Isaiah Thomas but I'm oddly enamoured by Mac McClung, the 6'2 firebrand of a point guard that's currently playing on the Golden State Warriors summer league squad. He's that perfect mix of David Stockton, Donte DiVincenzo and rookie Isaiah Thomas for me in that he's a floor general, he's feisty as hell and he can get rolling when he's out there for an extended amount of time. There's probably plenty of more established players that would fit the Kings roster, but McClung is a guy with enough upside and youth to him that I'd take a flyer and see what he can do for the first 20 games or so of the season.
From SMF-PDXConnection:
Take the offseason as a whole at this point, what is your rational take heading into the season versus what your gut feeling is going into 22/23?
Tim: The Kings will be a play-in team that may or may not fight their way through the tournament, although they'll be a lower seed so they would have to win two games. Anywhere from 37 to 42 wins wouldn't surprise me, while anything worse or better would be pretty shocking. De'Aaron Fox will be good but not fantastic, Domantas Sabonis will be in the All-Star conversation, and Keegan Murray will prove himself to be a fixture of this franchise moving forward.
Will: I think this team is fighting for the 10th spot the whole season, vacillating as high as 8th and as low as 12th at different points in the season before settling into the race for a final play-in spot down the stretch of the last 10 games or so with health being the deciding factor on whether or not they get to play post-regular season basketball. I've got the Kings right now at 35-37 wins (35 is where I had them preseason last year, as well) but if they all gel quicker than expected (for me) then it wouldn't surprise me to see them push closer to 40 wins. I think a big difference maker this season will be how quick the team can implement the defensive and offensive schemes they want to utilize... Brown is known for his binders of stuff and I'd venture to guess most of the players on this team aren't used to having complicated materials for the last few seasons in Sacramento. No one in Sacramento will be an All-Star, Keegan Murray will get to the Rookie-Sophomore game, maybe someone gets a Skills Competition invite or a three point shootout inclusion and ultimately the Kings will be improved but not quite good enough to call themselves a Top-8 team in the Western Conference. Next year though? Gut feeling says next year is the year, baby! (Please imagine Shelley Duvall reading repeated line after line of that last sentence on a typewriter, if you can).