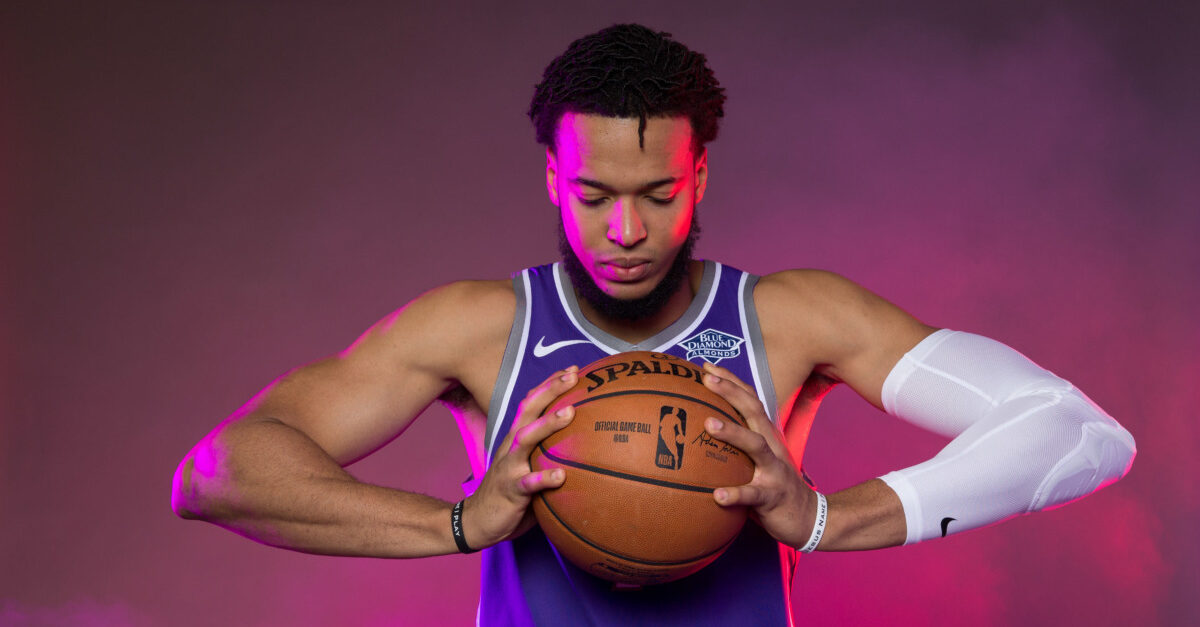 There's nothing quite like attending an NBA game as an opposing fan. Sure, it's cool to head down to the Golden 1 Center with a group of friends, drink some beers, and catch a game (okay, I've never actually done that; it just sounds cool in theory), but striding into enemy territory wearing a vintage Mike Bibby jersey offers its own unique perspective. Dapping up the bro rocking a Ron Artest throwback with no undershirt, casually trash talking with the hometown fans, and meeting up with supporters of the Kings Herald are the primary highlights of any given night. It's a hell of a lot of fun.
And yet, purely from a basketball perspective, that experience has been a typical version of basketball hell in Phoenix. Over the last decade-plus, the Suns have ranged from just as bad to much better than Sacramento, with the Kings rarely sporting a significant talent advantage. Blowouts, embarrassments, and far too much garbage time, including a 129-81 point blowout that saw Steve Nash and his crew up by 50 points in the third quarter and profuse apologies by Suns fans at the exits, have led to mostly disappointing finishes. Most nights are capped off with a shake of the head, a long drive home, and hoping for a better outing next time.
Enter the Haitian Sensation, Skal Labissiere.
Heading into the evening, the rookie forward hadn't made much of an impact in Sacramento. Skal received a DNP-CD in 49 of the first 56 games of the season and had played for more than 20 minutes just once in his short career. Two nights prior, Labissiere had put up 11 points and 7 boards in a win against the Orlando Magic, one of his best games to date, and it was becoming clear that his skill set was at least worth a look. And the Phoenix Suns certainly got a look on March 16th, 2017.
The first three quarters weren't necessarily anything to celebrate from Skal's perspective, as he didn't attempt a shot in the first, scored six points in the second, and five in the third; however, the fourth quarter was a wholly different story. With the Kings trailing by a single point heading into the final period, things were looking ugly for Sacramento. Buddy Hield and Ty Lawson, the team's two best available scorers, couldn't hit a damn thing from the floor, Willie Cauley-Stein was Willie Cauley-Stein-ing, and Dave Joerger was even desperate enough to toss Georgios Papagiannis into the game for 13 minutes. The Kings needed a savior.
Enter the Haitian Sensation, Skal Labissiere.
Thirty-seven seconds into the final period, Skal began his complete and total dismantling of Phoenix's game plan by knocking down a short jumper and managing to draw a shooting foul in the process. The made free throw should come as no surprise. Thirty-three seconds later, Labissiere once again made the Suns pay from the perimeter, hitting a thirteen-foot jumper courtesy of Tyreke Evans. The Kings led by two.
Just over a minute later, Skal drew another shooting foul, without the made field goal this time, but his two made free throws more than made up for the lack of an and-one. On the very next possession, Skal stripped Devin Booker and ended the possession by backing down Marquese Chriss in the post and sinking a hook shot right over the fellow rookie's head. Forty-five seconds later, Skal once again flummoxed the Suns in the paint, drawing a shooting foul against TJ Warren. The free throws were nearly a guarantee.
Just over a minute later, Labissiere knocked down his only three-point attempt of the evening. At that point, he had scored all 13 of Sacramento's points in just a shade under five minutes and the crowd, the Kings, and the Suns could feel it. Kings fans were screaming his name, Suns fans were asking who Skal Labissiere was, and the feeling, an all too rare one in the fandom, was euphoric. No matter what happened, no matter the end result, Kings fans, in the heart of enemy territory, were having a hell of a lot of fun. And Skal didn't stop there.
After a few minutes of the Suns staff doing everything in their power to stop Labissiere's scoring binge, and with the game's leader pinging back and forth between Sacramento and Phoenix, the Kings rookie once again shouldered the team's offensive burden. After a Willie Cauley-Stein layup put Sacramento up by two, Skal followed that up with a quick layup with 2:43 remaining. On the very next possession, Skal drew another shooting foul and sunk both free throws, and he capped off the night with a final made free throw to ice the game. The Kings walked away with a 107-101 victory.
In the end, the win didn't mean much for Sacramento, nor did Skal ever live up to that performance again in his short NBA career, but for one evening, he was a man amongst boys, a god amongst mortals, and a few, select Kings fans got to witness such a masterful performance in person.
32 points and 11 points were certainly a sensation for the rookie.