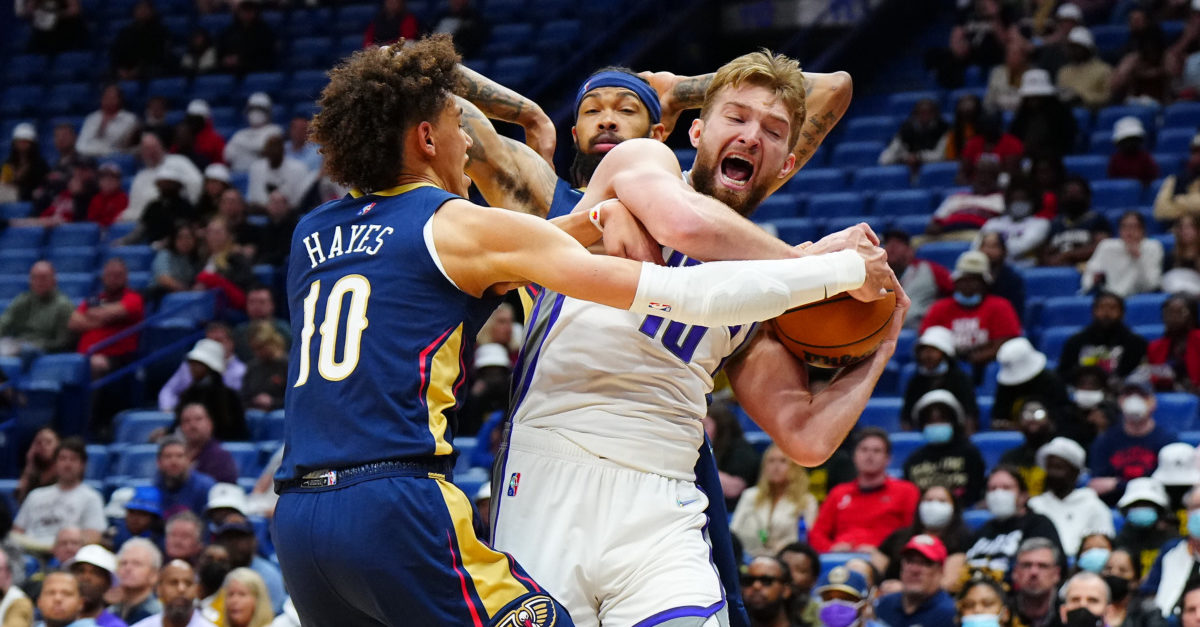 Today felt a bit ominous. With the Kings' matchup against the New Orleans Pelicans scheduled for tonight, my mind immediately brought me back to almost exactly two years ago on March 11, 2020. The Kings and Pelicans were warmed up and ready to face off in a nationally televised game, as they were both in position to fight for a late 8-seed run. But then Rudy Gobert of the Utah Jazz tested positive for Covid-19 and the NBA came to a screeching halt. Today, we are hopefully marching towards the end of the tunnel of this pandemic, but I can't help but feel some light PTSD with the similarities of the situation. This time, instead of the 8-seed, the Kings and Pelicans are in contention for the 8-seed's ugly cousin, the newly debuted 10-seed, for play-in participation. Tonight was an opportunity to see which team wants this 10-seed more (or less?). Let's see how they did:
Quick Stats
Outcome: Kings lose, 125-95
Sacramento Kings: 95 pts, 39.3% fg, 22.9% 3 pt, 68.0% ft, 20 ast, 38 reb, 11 to
New Orleans Pelicans: 125 pts, 59.1% fg, 37.9% 3 pt, 83.3% ft, 30 ast, 50 reb, 16 to
Well, if that's what that 2020 game would've been like, I'm glad we didn't have to suffer through it. The new Kings looked like the old Kings as we saw a lot of old habits resurface and a lot of defensive awareness disappear. This loss squanders nearly all of the Kings' hopes of participating in the play-in tournament as they fall to four games back from the Pelicans in the 10-seed with only 18 games to go.
The Good, The Bad, & The Ugly
The Good
Core Score: The Kings got consistent play, effort, and scoring from their core pieces. De'Aaron Fox (25 points, 6-9 FTs), Harrison Barnes (19 points), and Domantas Sabonis (15 points, 14 rebounds, & 7 assists) all led the Kings in contributions tonight. It's important that these three find a comfort in playing together and a consistency in production. Without consistent scoring from all three, the Kings will always face an uphill battle when it comes to winning games.
Offensive Glass: The Kings were persistent on the offensive glass tonight, securing a total of 12 extra possessions. Domantas Sabonis used his agility advantage over Jonas Valanciunas to grab multiple boards in one possession. Half of Sabonis' 14 rebounds came on the offensive end. Donte DiVincenzo was also really fun to watch - as a smaller guard, he showed no fear in crashing into traffic to try to gain extra opportunities for his team. DiVincenzo was able to get two offensive boards himself.
The Bad
Secondary Support: While it was good to see the Kings' three main players be productive tonight, it was equally as bad to see the lack of production from others. After having a breakout night on Monday, Trey Lyles got the return call to the starting lineup tonight. However, the result was much different, as he had just four points in 20 minutes. Justin Holiday also had a quiet night, logging just five points in 24 minutes. From the bench, Jeremy Lamb led with 12 points, but Davion Mitchell (4 points) and Donte DiVincenzo (7 points) had rough shooting nights, combining for 1-9 from the 3-point line. With how much this team still struggles on defense, the Kings simply can't afford to have two starters finish below six points, or get minimal production from their bench.
Soft Doubles: Brandon Ingram went full psycho tonight as he used his daddy long leg limbs to tear up the Kings' defense. Despite some great individual coverage by Harrison Barnes, Ingram scored 24 of his 33 points in the first half. There were multiple possessions where Barnes played as good of defense as you could expect someone to play, and Ingram still managed to lift the ball over him and hit tough shots. As an adjustment in the second half, the Kings looked to send some double coverage to slow Ingram down. However, these doubles were often soft and by the wrong person. They often left CJ McCollum and this left an easy decision and pass for Ingram to find. The intent was there, but the execution was poor.
That Dang Third Quarter: As we've seen so many times before, the third quarter is where things really got out of hand. After trailing by just four points to start the second half, the Kings fell apart down the stretch of the third quarter and went into the final 12 minutes with a 14-point deficit.
The Ugly
Hot Start, Cold Middle, Freezing End: The beginning was so promising. The Kings started out HOT, shooting 5-10 from deep and with De'Aaron Fox and Harrison Barnes finishing in double digits by the end of the first quarter. And then it was all downhill from there. By quarter, the Kings scored 33, 28, 21, and 13 points, respectively. They were able to hang around through the middle of the game, despite their declining shooting, but by the fourth quarter, it was freezing cold on the Kings' end of the floor. The most glaring stat from tonight is comparing the Pelicans' 59.1% from the field to the Kings' 39.3%. I need a hot shower after that ice storm.
Transition Defense: As always, the defense was ugly. But the ugliest part of it tonight was in transition. The Kings not only got beat on primary leak outs and just getting outworked down the floor, but also in secondary attacks. Even when all five guys had made it back past half court, the Kings still stayed scrambled and out of defensive shape long enough for the Pelicans to make a few extra passes and get easy buckets.
The King of Kings
Since stats don't matter in a 30-point loss, I want to give tonight's crown to Donte DiVincenzo. I enjoyed watching him guard the ball on defense, get after loose balls, and crash the glass as if he rightfully belonged among the seven-footers. His hard work and fearlessness were a bright spot for me in tonight's game.
Operation: M.C.N.A.I.R. Watch
Tonight's chosen charity is Alchemist Community Development Corporation, a Sacramento nonprofit which connects local communities to land, food, and opportunity. Donate here if you are able, and be sure to notify Will via Twitter (@WillofThaPeople) or e-mail ([email protected]) so he can keep track of donation totals.
Up Next
Thursday, March 3rd @ San Antonio Spurs - 5:30 P.M. (PT)