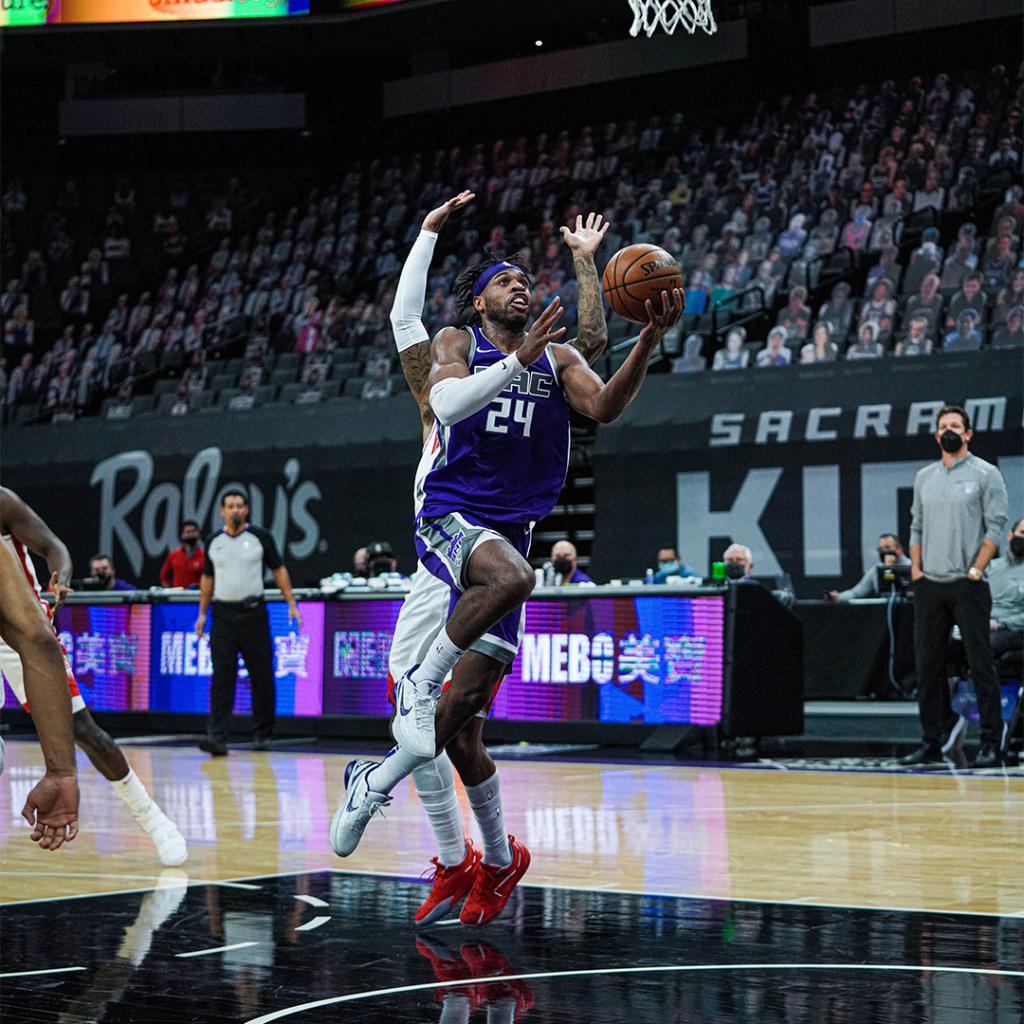 Hey there, fellow die-hards! I'm Mirann and I'm new to the TKH team and looking forward to talking some Kangz basketball with all of you. There are only a few important things to know about me: (1) I was born and raised in Sacramento, so (2) I have been a Kings fan for all 28 years of my life, and (3) I am overly dramatic about it. For anything else you want to know, you can hit me up on Twitter (@MirannLolani). Now enough about me, let's get to some Kangz.
I hope you all enjoyed a nice break from Kings basketball, free of cardiac stress and filled with much deserved self-care and relaxation. Unfortunately, the NBA doesn't care about our feelings or heart health and, after just one week, we are right back to Kings basketball. With the first half gladly behind us, we now look ahead to the uncertain future that is the second half of this weird NBA season. First up for the Kings was tonight's matchup at home against the Houston Rockets. Let's see how they did:
Quick Stats
Outcome: Kings win, 125-105
Sacramento Kings: 125 PTS, 48.9% FG, 33.3% 3 PT, 85.7% FT, 25 AST, 13 TO
Houston Rockets: 105 PTS, 41.4% FG, 24.4% 3 PT, 70.6% FT, 24 AST, 12 TO
Are you happy? Are you sad? We've reached yet another point in Kings basketball where the midnight tank train siren is blaring and you have to decide whether to hop on or remain on the platform with hopes of surviving until the next sunrise. Me? I'm pretty pro-tank at this point, but I also HATE losing. I'll be the one with one foot still on the platform as the train takes off and end up suffering great bodily injury. In short, I am impossible to satisfy and therefore every outcome leads me to the same destination: pain. But, since it's not very often that the Kings will have a 20-point win, I will focus on the rarity of this night and do my best to feel good about it.
The Good, The Bad, & The Ugly
The Good:
AN ADJUSTMENT?!: The Kings entered halftime after a cold shooting start, connecting on just 4 of their 16 3-point attempts. And then... they made an adjustment. YES. I repeat. The Kings made AN ADJUSTMENT. In the third quarter, the Kings were able to increase their lead to 20 points and it was not because they suddenly began hitting their long range shots. Instead, the Kings made a concerted effort to the get the ball inside. They attacked the paint, drew help defenders, slipped the ball to Richaun Holmes and Marvin Bagley III, and let the bigs eat. In transition, they gave up the usual quick 3-point looks to take advantage of early inside position. Going into the fourth quarter, this opened the floor up more for better 3-point looks and the Kings were able to knock down 6-11 from behind the arc. As a team who has never shown the ability to make effective in-game adjustments, this was a big step for the Kings tonight.
Bagley Baby Step: Marvin Bagley III has struggled all season long on the defensive end, with his biggest weakness being his indecisiveness. He struggles to identify when and where to be on the help side and often renders himself useless by floating in no man's land. Tonight, he showed some improvement in this area by making the leap and actually committing to the hedge for on-ball screens. As Eric Gordon or Victor Oladipo came off of screens, Bagley quickly stepped up and committed to the help. This unfortunately got him into some early foul trouble, but it was an important baby step for Bagley to feel what it's like to commit to a decision on the defensive end. Next he will need to learn how to better read and stay in front of guards long enough for his teammate to recover.
The Bad:
Early Foul Trouble: The Kings found themselves in early foul trouble, with De'Aaron Fox and Nemanja Bjelica each ending the first half with three fouls each. Marvin Bagley III picked up two fouls in the first four minutes of the game, only to be replaced by Bjelica who had to exit just three minutes later after committing three fouls himself. These would be easier to forgive if they came as a result of intense, in your grill, and over the top aggressive defense. But instead, these fouls were results of the Kings just being out of position. This early foul trouble haunts the Kings through the remainder of the game, as they have to be cognizant of their individual foul counts and often refrain from being too physical. The Kings will have to show more discipline moving forward to keep themselves in the game against more formidable opponents.
The Ugly:
Boards: Against a team where all but one player is under 6'-6", the Kings allowed the Rockets to grab 10 offensive rebounds tonight. Some of these second chances allowed for the Rockets to cut the Kings' lead down to 13 points in the fourth quarter and we all felt the heartburn starting to kick in. Luckily for the Kings, the Rockets were never able to connect enough to put a solid run together and the Kings held on to their lead. But it's still frustrating to see these kinds of lapses. A lot of the Rockets' shots were long, which resulted in long rebounds, but the Kings still showed a lack of discipline in locating a man and actively boxing out.
The King of Kings
I like to crown one person each game as the King of Kings, just to end on a good note and remind us that, no matter how dark things can get, there is always at least one thing to enjoy about this team. Tonight's crown goes to De'Aaron Fox for proving that vacation time matters. Before the break, we saw De'Aaron begin to show signs of fatigue from the condensed schedule of this season. Now that he's had a week off to recharge, we see De'Aaron back to the dominant force this team survives on. Tonight he ended with 30 points and nine assists and did so by getting into the paint whenever he damn well pleased. He had some acrobatic finishes and a nifty behind-the-back pass assist for a classic Richaun Holmes' push shot, all of which looked easy and comfortable for him. It was one of those nights that looked effortless for De'Aaron and really proved what some rest can do for a person. So use that vacation time, people!
Up Next
Saturday, March 13th @ Atlanta Hawks - 4:30 P.M. (PT)