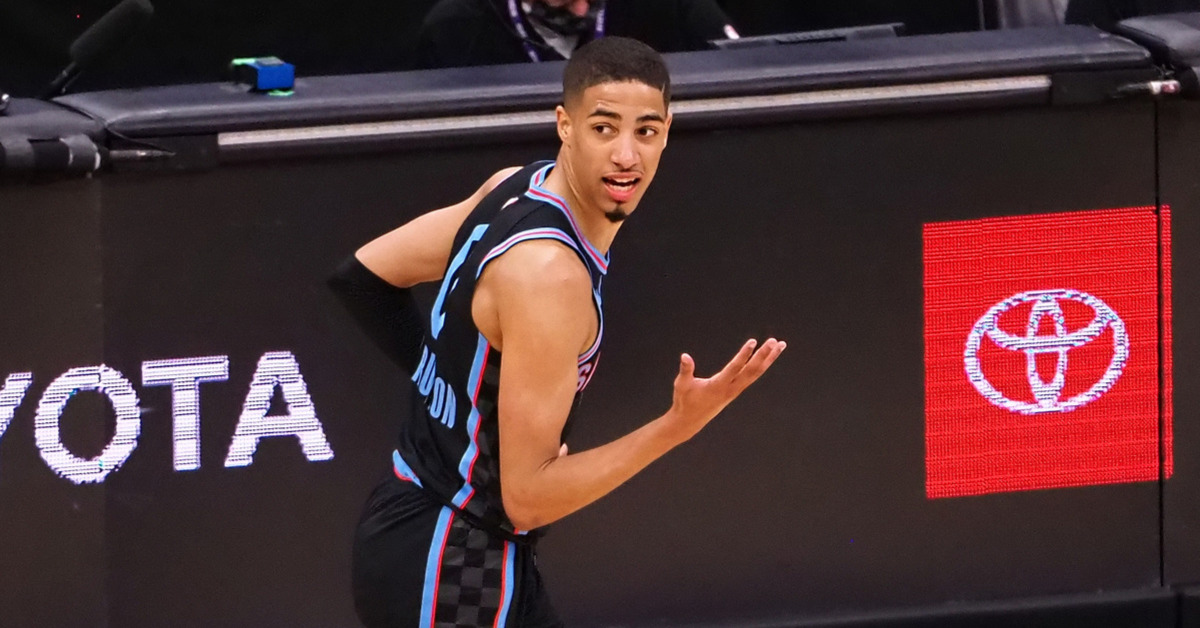 The NBA announced Charlotte Hornets guard LaMelo Ball as the 2020-21 NBA Rookie of the Year on Wednesday afternoon. Sacramento Kings rookie Tyrese Haliburton finished in third place, while Anthony Edwards of the Minnesota Timberwolves finished in second.
While Haliburton (58 games played, 13 points, 5.3 assists, 3 rebounds, and 1.3 steals on 47% and 40.9% from deep) was exceptionally consistent and efficient all season long, it's no real surprise that Ball and Edwards finished above him in the polling. The public debate for the award had surrounded Ball (51 games, 15.7 points, 6.1 assists, 5.9 rebounds, and 1.6 steals on 43.6% shooting and 35% from deep) and Edwards (72 games, 19.3 points, 2.9 assists, 4.7 rebounds, and 1.1 steals on 41.7% shooting and 33% from deep) for most of the season. If Ball had not been injured for 21 games, he may have won even more votes.
Marc Stein of the New York Times posted the full ballot, which shows Haliburton earning 9 2nd place votes and 87 3rd place votes:
Full Rookie of the Year ballot: pic.twitter.com/Lj6d9xilk2

— Marc Stein (@TheSteinLine) June 16, 2021
While losing the award may sting for both Tyrese and Kings fans, Haliburton told The Athletic's Sam Amick in April that winning or losing the award wasn't overly important to him.
Nah, to be honest I don't really care, you know? I guess it doesn't really do anything for me. If I were to win it, or if I wasn't to win it, it doesn't affect my approach at all. I'm still coming out here trying to win basketball games... It's fun, though, at the end of the day. Me and Ant (Edwards) were talking about it when we played, saying, 'They told us our draft class wasn't going to be shit,' you know what I'm saying? And there's multiple of us who are playing at a high level right now and are going to be playing at a high level for a while. I think that's kind of a fire within us, like 'Man, they told us we wasn't gonna be nothing, so let's just change that and be special.'
Haliburton was right to call the 2020 draft class something special. Given that the pandemic threw all NBA norms into disarray last year, it would have been understandable for many in the 2020 class to have struggled without the normal amount of practice time. Instead, we saw a ton of rookies make serious impacts across the league. And given that both Ball and Edwards had exceptionally promising seasons, Haliburton finishing third in the vote is no small feat for the 20 year old. Haliburton's future in Sacramento is bright, and he exceeded every expectation I had for him going into the season.
That all said - I would hazard a guess that Anthony Edwards might be taking this loss a bit harder than Hali.