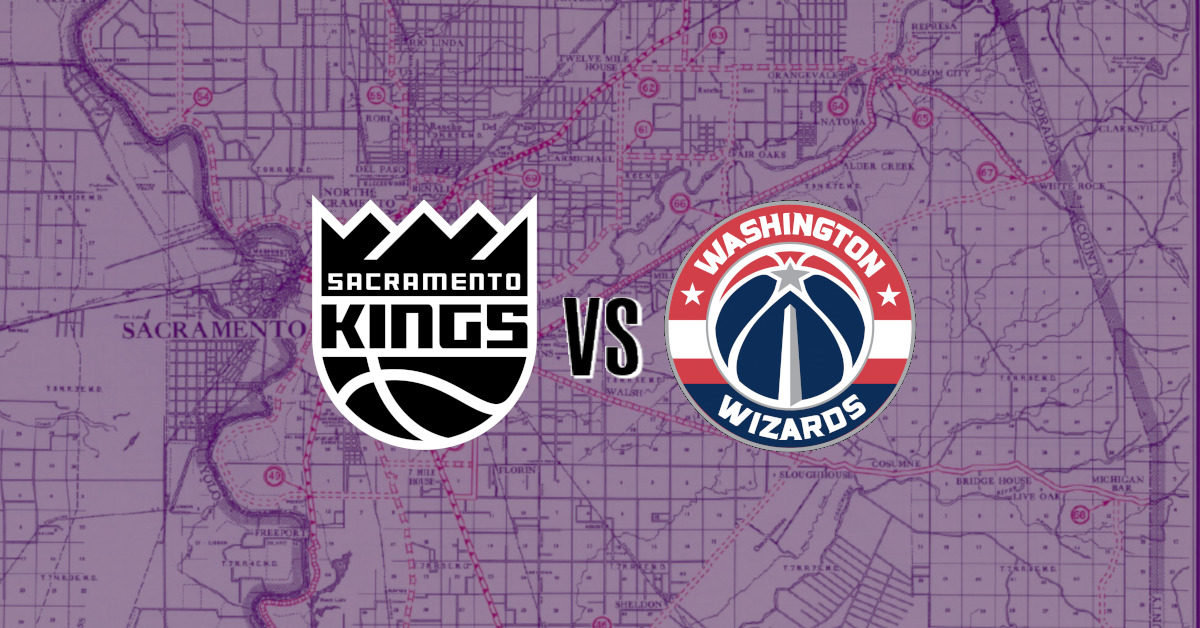 The Sacramento Kings are in our nation's capital to take on the Washington Wizards, a team that just last night was getting blown to smithereens by a playoffs ready Cavs squad. The Kings have a day of rest, have a far better record and despite Kevin Huerter's best attempts, are still relatively healthy. So why is it I get this feeling like we could be in for one?
Okay now that the reverse jinx is out of the way - Can the Kings contain the sharp shooting Brad Beal? How many body blows can Kristaps take from Domas before shattering like a plate glass window? Does Kyle Kuzma dream of those brief moments where he was in California again, playing for the best team in the state?
Let's talk Kings basketball!
When: Saturday, March 18th, 5:00 PM PT
Where: Capital One Arena, Washington, DC
TV: NBC Sports California
Radio: Sactown Sports 1140
For Your Consideration
Beal-t to Win: The Wizards are a bit of a mess this season. They're in the NBA purgatory of never bad enough to fully to slap the reset button, but never having their talents gel well enough to make a run for a serious amount of time either. This team's both lost nine games in a row and had separate win streaks of five and six games. Don't get me wrong - they have a legitimately impressive amount of talent. Bradley Beal is an All-Star level player. Kristaps Porzingis is an All-Star level player. Kyle Kuzma is playing the best basketball of his career, Deni Avdija is a budding player, Daniel Gafford has had some great games, Monte Morris has proven he can be very good under the right circumstances... there is a six to eight seed squad buried under this underachievement.
It's too early and I'm too worn out to give a Saturday afternoon game the full level of analysis necessary to really figure out just what's happening to this Wizards squad. Like most, I'm sure we can assess a fair amount of blame on Coach Wes Unseld and GM Tommy Sheppard, we can look at the reputation of the three 20 point scorers of the Wiz in Beal, Porzingis and Kuzma, who have that always dubious air of "me-first" floating around them by talking heads and pundits. The fact is - it just doesn't click like it should.
So what does click for the Wiz? Well, their offense isn't where I'd turn. They're 23rd overall in points per game at 112.7, 22nd in offensive efficiency and they're bottom ten in pace. Outside of their triumvirate of scorers, they've got Monte Morris to claim as a double digit guy at 10.3 points and Corey Kispert gets a pass at 9.9 points per game, because, boy, have I been there Corey. You're a 10 point a game guy in my eyes. They're 25th in three point attempts and 18th in percentage. They're just north of center of the pack in terms of 2 point attempts and 10th in percentage at 55.8% from inside the arc. They draw a bottom ten amount of free throws, they're 24th in offensive rebounds and they're 18th in turnovers. Again, this is a team fighting for a play-in spot. These are the numbers they should have - I just... There's just some squinting going on at the numbers. Maybe it's a basketball players vs. hoopers thing. This team should be better.
On defense, the Wizards fare a little better. They give up 113.2 a contest, 14th best in NBA and top out at at 20th best rated defense. They're 6th in the NBA in defensive rebounding, block the 6th most shots while committing the 5th least amount of fouls. They're 23rd in steals, but hey, can't win them all. The Wizards do a great job at running teams off of the three point line - while teams shoot just near NBA average of 36% from deep on them, those opponents shoot the 5th least amount of threes. That 5th least in player fouls comes in handy too - opponents shoot the 5th least amount of free throws against the Wizards to top that off.
Coming into this afternoon's game and down the home stretch of the season, you see pretty clearly now what the Kings have to do to get it done on this leg of the road trip. Washington is 4-8 since the All-Star Break and they've lost four of their last five games. They've got three players primed to go off - contain them and you win the game. Huerter's injury should probably keep him out today and against Utah on Monday as well. Good thing the Kings are deep as hell with talented shooting guards. The Wizards feel like a team that would let Terrence Davis go for a random TD 30 point game.
Just take care of business. Treat the opponent with respect and step on their throats early, then don't let up.
Prediction
Kyle Kuzma tries to defect at halftime. Daniel Gafford comes with him. Keegan Murray and Deni battle a bit, Sabonis gets Porzingis in early foul trouble and Kessler Edwards has a few defensive possessions on Bradley Beal that make you blush.
Kings: 134, Wizards:118