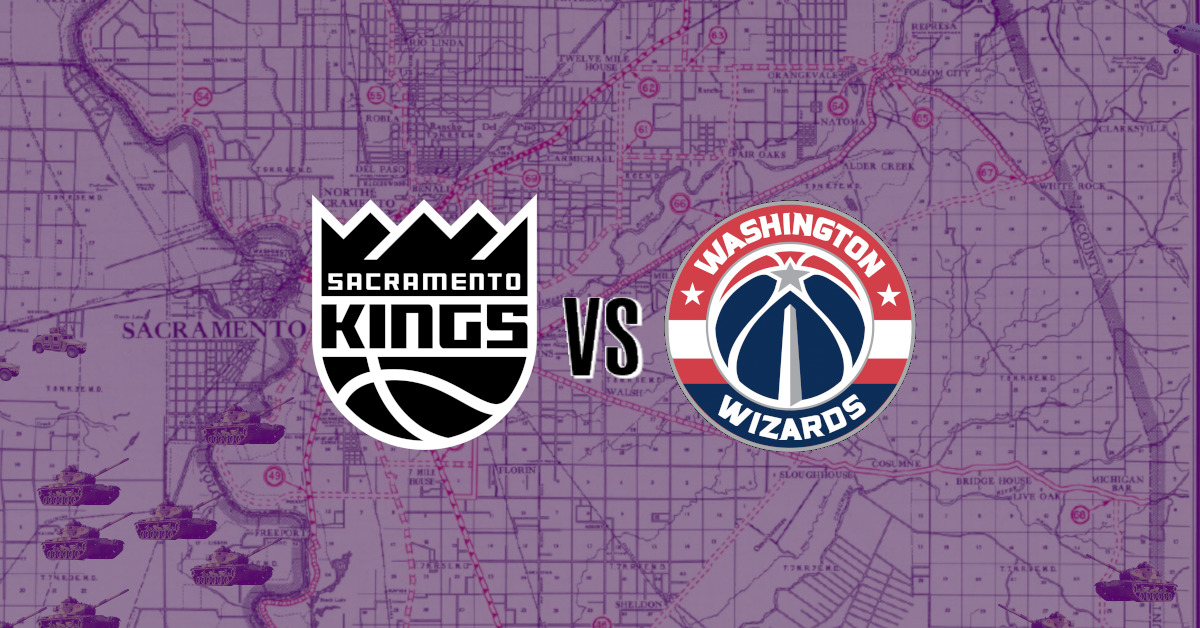 To anyone still connected to the space-time continuum in any meaningful way - Happy St. Patrick's Day! To everyone else unmoored and bobbing in a sea of never ending Wednesdays: there's a Kings game today, it's the seventeenth of March and if the sun is at it's highest point in the sky when you're reading this, well then its around noon! Also, I'm sorry to report that it is still Wednesday.
The Kings are in Washington D.C. tonight to protest the use of win percentage to determine lottery odds as they attempt to curry favor with the basketball gods in order to land a Top 3 pick in this upcoming draft. Sure the Kings might have gone on a little win streak in the middle of all this, but look how bad they've proven they are! And how nice are the Kings for attempting to get the old people off the sinking ship first before it plummets entirely into the cold depths of this massive tank! (Please, Adam Silver, I beg you.)
On the other side of things, the Wizards had reeled off their own reality bending win streak of seven in eight games only to see them fall right back into their ways - losing six of the last seven. They also have a healthy Russell Westbrook and the leading scorer in the NBA in Bradley Beal so, don't start writing a positive recap yet there, Mirann! Alright, let's get this thing over with. Let's talk Kings basketball.
When: Wednesday, March 17th, 4:00 PM PST
Where: Capital One Arena, Washington, DC.
TV: NBCSCA - Mark Jones on the call.
Radio: KHTK Sports 1140 AM
For Your Consideration
No Russ-ing to Beal-eve In This Squad: I know I was a little extra down in my preview the other day against the Hornets, maybe tilting into morbid and for that I have to say, we're going to be absolutely swimming in it by the end of this season without some major changes! This train of thought is barreling through the desert of discontent, on fire, looking for some unsuspecting cows to crush on my metaphorical cattle guard, while I'm holding onto the roof at the caboose, choking on the smoke and waving a Jimmer Three Pointer Foam Finger like I'm Slim Pickens at the end of Dr. Strangelove.
Every trade rumor that dies, every single national reporter mentioning that the Kings seem more intent on keeping vets than originally thought, it's fuel for this loco-motive. There's only so many times one can hear Mark Jones say "De'Aaron Fox is playing MAD AT SOMEONE... and the Kings are now down sixteen." before their brain turns to absolute soup. I'm there. I've been there before in previous seasons but, boy am I there now.
Should we hope that the rest of this supposedly easy second half schedule will save The Kings Herald from converting one of our offices into a padded cell? Let's sneak a peek at the rest of the month: Kings are at the Celtics and Sixers on back to back nights - not a good start. They then take on the Cavs on the Kings' third game in four nights - Cleveland isn't good but they're talented and play hard, so anxiety remains. Then it's the Hawks and Warriors in their own back to back - not really feeling the love here, schedulers. Then it's the Cavs again and finally, the Spurs twice in three days. So that's eight games between now and April and the Kings should be favored in absolutely zero of them. If you're going to argue that Cleveland has the same record as the Kings and the Kings are more vet-ladened and therefore should be considered the favorites, I posit back to you the sound of a small puppy farting into a microphone with high echo. Tie goes to the team that's made the playoffs in the last three presidential administrations. Strap in, folks. This season isn't done trying to hurt you.
Tonight the Kings take on the Wizards, a team that swapped their injury prone, long-term star point guard for another injury prone, star point guard in the hopes of shaking things up for Bradley Beal, a man who at any second could demand a trade and the league collective would just say "yeah, he probably deserves that." That being said, I've seen those who think the Kings could swap Hield, Haliburton and three first round picks for Bradley Beal and I've got to just mention that there is no universe in which that deal is 1) accepted, 2) another team doesn't top it 3) is something Bradley Beal would want, then commit to this team long term. I know it's fun to make trades in our heads and convince ourselves that it could happen. That one isn't happening nor would it happen from either side. So tonight when Bradley Beal goes for forty-five and eight assists, it isn't because your deal was good. It's because the Kings are bad, the defense trying to stop him is bad and Bradley Beal isn't.
Hey, get this for a ray of sunshine: the Washington Wizards give up .1 more points per game than the Kings do, making this a match-up of the two worst defensive teams in the league. Oddly enough, they're also 9th and 10th in points per game, with the Kings once again slight ahead of the Wiz. Wow! So many points, so little to play for! Some things to watch for in this game, if you decide to do this to yourself: The Wizards shoot more free throws than any team in the league, a problem for a Kings squad that's so handsy they could find themselves in the penalty during a call-your-own pick up game. The Wizards also foul the second most in the NBA so hey, if Fox decides to play a game at full tilt and his screensaver mode doesn't kick in the second the Wizards make a run in the second half, I'd say the Kings have a decent shot at making up what they give away. I think that's it, you have a solid idea that this team is less than mediocre, right?
Prediction
Someone told their friend at the water cooler yesterday that both Jerry Reynolds and that other guy have both mentioned the Kings moving due to financial problems in recent weeks and their friend told them that they were probably being sarcastic or at the very least over-inflating those chances for the sake of discussion or comedy. That friend at the water cooler was right and the Kings don't leave Sacramento for 35 years. The Kings also win this game.
Kings: 132, Wizards: 129