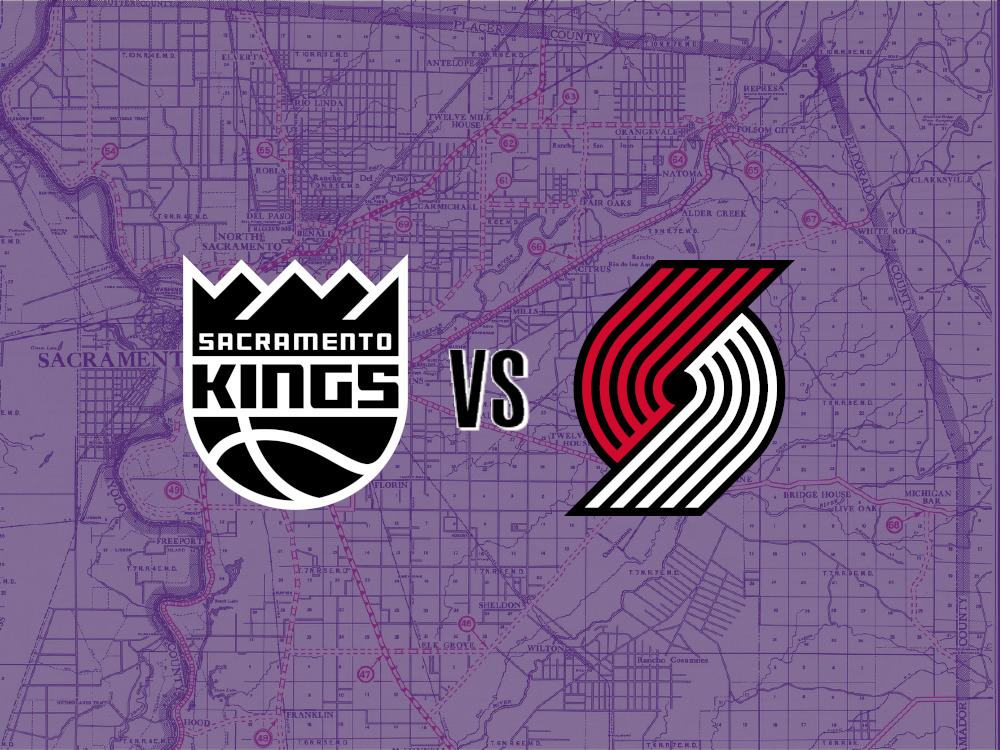 Time is a flat circle and so is the number in the win column for the Kings after they were taken down Friday night by the hot shooting of the Blazers, who had 6 players score over 15 points and shot 17/34 as a team from the deep. Outside of pop-ups ads I found on my friend's computer back in high school, I have never seen people revel in the ecstasy of being beaten like Kings fans were with every possession that end up in the hands of Trailblazers big man, Harry Giles. Snarling after blocks, shimmying after windmill dunks - Harry Giles smacked the hell out of the Kings in his debut for the Blazers with 18 points and 14 boards. The Kings deserved ever bit of it and boy did the fans of both teams rejoice.
Aaaand now, we have to see it happen all over again. That's right! Tonight, the Sacramento Kings take on the Blazers in Portland and will be facing off against Damian Lillard, CJ McCollum and Stickola Jokic himself, Harry Giles. Will the Kings rally back and even the series? Can Giles put on a repeat performance? Is the game even televised?Who cares! It's preseason right, Vivek?
When: Sunday, December 13th, 6:00 PM PST
Where: Moda Center, Portland, OR
TV: N/A , Kings.com will have a stream for viewers in Sacramento area.
Radio: KHTK Sports 1140 AM
For Your Consideration
The Light of Other Days: Rebuilding has been a topic on the minds of Kings fans for well over a decade. There's been various incarnations of the rebuild in Sacramento, a cycle of not quite bottoming out, rising with a few young players surround by vets too quickly, disappointing end to somewhat successful starts to a season and then trading players, firing coaches or GMs and then, not quite bottoming out again. Watching Portland on Friday night was a reminder of a couple generations of rebuilding and the failure of the Kings to do it right, even just once. Famously, Damian Lillard was the pick for the Kings in 2012, right up until the moment that Thomas Robinson's name was called. CJ McCollum was the man the next year, right up until Ben McLemore's name came out over the loud speakers. Zach Collins was drafted by the Kings in 2017 on behalf of the Blazers, who swapped him for the picks that would end up becoming Harry Giles and Justin Jackson, instead of say, Donovan Mitchell who went #13 or De'Aaron Fox's teammate at Kentucky, Bam Adebayo who went the pick after. The following year in 2018, the Kings traded their 37th pick, Gary Trent Jr., to Portland for two future second round picks. Mr. Trent recently found great success in the NBA Bubble, averaging 16.9 points points per game in Orlando while shooting 50.7 percent from three. I could speak further of recent bigs like Skal Labissiere, the former future draft steal who slid to the Kings in the draft and who later was sent packing up north, or rant again about the option that now infamously wasn't picked up as a punishment to Harry Giles for his off-season workout regimen - but I'll leave it here.
Spanning multiple general managers, multiple young Kings stars and half a dozen or so coaches, the Kings mishaps in the draft, trades and free agency manifest themselves best within the reflection of the Portland Trail Blazers. It's tantalizing to stare into those other realities. What could DeMarcus have done with a Dame, or a CJ. How would Vlade's tenure been different if he'd have stuck to #10, reached a bit for Mitchell or Adebayo. Even something smaller like Vlade being concerned about his job and keeping the 37th pick in Gary Trent Jr. and what help he could be, even as a trade chip or insurance. We now have to face the reality that Harry Giles is gone and while he's just as likely to flame out as he is to catch this league on fire, the reality remains. The Kings have let talent pass through the grasp every way imaginable. Somehow, some way the Blazers seem to find themselves at the center of various incarnations of Sacramento shooting themselves repeatedly in the foot.
This is no grand conspiracy, no curse. It's worse. It's simple chance, distilled from one bad batch of decisions down it into one pretty damn good basketball time. The fruit of Sacramento's woes into the wine in Portland's toasting glasses. I don't hate Portland, I don't even feel jealous of them (anymore). It's just passionless reality.
Goddamn, does it suck.
Will Discusses Relevant Basketball Now: I guess I should talk about the actual games at hand for the three of you who don't give two shits about my ranting but have also somehow made it this far. First, I want to say that the Kings shooting fifty three pointers and hitting sixteen of them was pretty damn funny. The Kings newly revamped offense boiled down to "smoke'em if you got'em" and most of the night, the Kings didn't have'em. This will improve with time and obviously pre-season is the time to be trying this stuff out, but I did chuckle a bit at the predictability of the shot and the result.
I was pretty pleased with the rookies that came in and played. Haliburton looked passive and was looking to get rid of the ball as soon as he could, but I think he did it with a measure of control and found guys open for shots, they just couldn't knock them down. His defense was solid and I think he shows signs of being an absolute havoc-machine on that end if the Kings can tailor their team to be aggressive in the passing lanes. Ramsey and Woodard both looked good in garbage time. I have high hopes for both, but I really do this Ramsey could be a Bobby Jackson type off the bench for the Kings here in a few years and I don't know about the coaching staff, but he has a green light to shoot it, deep down in my heart. Buddy dropped 23 in 23 minutes and I think we're going to see him as a 25 points a game scorer this year. That trade value is gonna climb through the roof, even if they have to give him 30 shots a game to do it, dammit! Fox was going through the motions, looking somewhat bored but he has nothing to prove in these games. His outside shot feels like it's regressed a bit, but he's put on a decent amount of muscle and I think this could just be getting out the new season jitters too.
The game Sunday night should be more tinkering with the line-ups and more allowing of shots to get put up. Fox is gonna clank some threes, Buddy is going to show that he's working very, very hard on the defensive end and I think they'll tell Haliburton to look for his offense a little more. Or not. The head coach of the Kings is not good.
Prediction
Harry Giles tries to put on a repeat performance and we all love every moment of it. He gets in some foul trouble this time around and gets pulled for being a little too aggressive with things, but no matter, his point is proven. Haliburton records 7+ assists and gets over the double digit mark in points too. Richaun Holmes pushes in a three.
Kings: 122, Blazers: 117