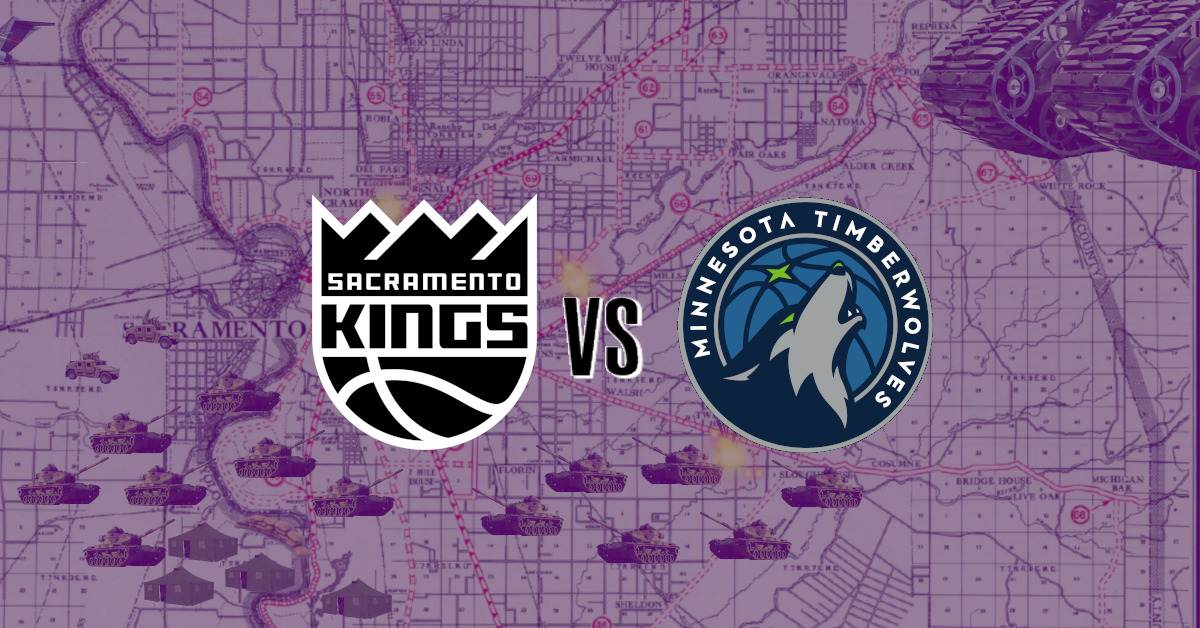 The Sacramento Kings have an opportunity to win back to back games for the first time since the end of March but to do so, they'll have to best a Minnesota squad that's already snuck up and strangled the Kings once this month already! Winners in two of their last five games, the Wolves are slowly figuring out where their injury-riddled pieces fit with one another just what their new head coach expects of them. Joining me today to help preview the game is Leo Sun, from Canis Hoopus. Last game we did our pessimistic takes, today's game features our hyper optimistic takes on the team and tomorrow's game will be our realistic views on the team..... or pessimism part deux! I'll be in his recap over there after the game, so feel free to dust off your old Vox account *gasp* and come say hi.
When: Tuesday, April 20th, 7:00 PM PST
Where: Golden 1 Center, Sacramento, CA
TV: NBCSCA - Kyle Draper on the call
Radio: KHTK Sports 1140 AM
For Your Consideration
No Wrong Way to Root for Rese: So I'm not really going to jump into the discussion on "casual fans" that cropped up after the win against the Mavs. It looks like Greg's writing an article on it as I type. You're allowed to be happy with the Kings first win in 9 games. You're allowed to be disappointed or nervous about an impending win streak (which isn't happening). You aren't casual if you've paid enough attention to the Kings to know they're on a nine game losing streak and also know they final beat someone. It's literally all fine. Without further delay - here's Leo's view of things to come!
Wolves Outlook:
Following a 21-point blowout loss to the Houston Rockets and a postgame Zoom session full of quotable memes that we're so accustomed to, Anthony Dufresne plops himself down in the bus next to his teammates. Malik Beasley, donning a high fashion outfit and jerry curled hair, leans over to show him a Bleacher Report tweet with various angles of his massive dunk on Kenyon Martin Jr. The whole team gathers around, excitingly pumping up their electric young rookie despite the loss.
Ant: "That's da beauty of a poster, you feel me? They can't get dat from you. Haven't ya'll ever felt that way that way about a dunk?"
Karl-Anthony Towns, wearing a matching red jumpsuit, murmurs from the opposite end of the bus.
KAT: "I had a mean dunk on Willie Cauley-Stein as a younger man. Lost interest in posters though. Didn't make much sense in blowouts."
Ant: "That's where it make da most sense doe. You need 'em so you don't forget."
KAT: "Forget?"
Ant: "Forget that... we could be a franchise not made of bricks. That there's something we can build that dey can't get to. They can't touch. It's yours."
KAT: "What you talkin about?"
Ant: "Hope"
KAT: "Hope? Let me tell you something my friend. Hope is a dangerous thing. Hope can drive a man insane. It's got no use in Minnesota. You better get used to that idea."
Ant: "Like Ricky did?"
It's been a rough season, no doubt. Both on and off the court. However if you could swap situations with any other fellow league bottom-dweller, would you do it? I'm talking about your Detroit Pistons, your Houston Rockets, your Orlando Magics, your Cleveland Cavaliers, your Oklahoma City Thunders, or your Minnesota Timberwolves. If you consider the Sacramento Kings in that bunch (
Hey, I didn't say I did. Just saying IF you did
), which team do you have the most
Hope
in? It's clear that the Wolves have the best individual player out of that entire sinister seven list of franchises, who's
just
25 years old, in
Karl-Anthony Towns
. The Wolves also have a legitimate candidate for most exciting rookie in
Anthony Edwards
, next to Aleksei Pokusevski, and of course my personal favorite, Tyrese Haliburton. With all things considered, the Wolves are still in the best shape they could possibly be to
finish with the top odds
to land themselves a top 3 pick in the lauded 2021 draft class. All of these teams have warts in their front office, but only one of these teams is finally receiving a
change in ownership
which will also
keep the team in their home of Minnesota
(#HereWeStay). Despite often being crucified for some of his bigger decisions as General Manager,
Gersson Rosas
has a roster which is
5-5 when fully healthy this season
. As for coaching, while Chris Finch is still learning the street names of Minnesota, he's managed to guide the Wolves to a
3-6 record
since having his 2 franchise players, D'Angelo Russell and KAT, healthy. All 6 of those losses were to playoff teams, while the wins were against the Heat, Bulls, and Kings. Not too bad.
I've written some 2,000+ words of Timberwolves optimism which was quite a cathartic experience for me. In the vein of our Pessimism v. Optimism v. Realism series, if you care to read about potential Wolves outcomes moving forward, feel free to look no further and simply
click here
.
What if Coach Finch is a superhero? 🦸‍♂️

What if Jalen Suggs is the answer?? 🔮

What if Beal & Cunningham are coming??? 🏆

Tickle your imagination in Choose Your Own Adventure fan fiction for how the Wolves figure it all out.@Y0Leo x @jakesgraphs https://t.co/32kPq7MMLI

— Canis Hoopus (@canishoopus) March 9, 2021
The locker room is scattered with confetti on the moist, but sticky floor due to the bottles of champagne which were just uncorked and emptied. KAT slides to the ground, cradling the Larry O'Brien trophy with memories rushing through his head. He could have never imagined leading the Timberwolves to a 2026 NBA championship, just 5 years removed from having a league-worst record. Just before this fleeting moment of privacy ends, Towns notices a pair of Jordan 1s laying in the corner of the locker room. They were the Retro High OG all blacks in Ant's shoe size which seemed to have no earthly business being there. As he picks them up, a folder piece of paper gentle flutters out from the inside. He curiously picks up the note.
Dear KAT, If you readin' this, you got out the finals. And if you come this far, maybe you'd come a little further. You remember that ol' Minneapolis dynasty, don't you? I could use a big man to help us get this second ship on its wheels. I'll keep an eye out for you and the weight room ready. Remember, KAT. Hope is a good thing, maybe the best of things, and no good thing ever dies. I will be hoping that this letter finds you, and finds you well. Your friend, Ant-y.
Tonight's Preview:
With the Wolves having nothing to play for and the Kings (according to Vivek) having everything to play for, that means both teams will likely do the opposite of what they should do, as they have all season. The Timberwolves are now toeing the perfect balance between winning just a few games to keep the fan base engaged for the remaining quarter of the season, but still losing enough to preserve their bottom 3 record. The Wolves will try to take advantage of this back-to-back in Sacramento to build their first winning streak since opening the season 2-0. They are fresh off an ass whooping in Los Angeles where they were down 38 points at one point. The Clippers had their way with the Wolves to the tune of 21 three pointers on .500 3P%, as Minnesota fans and brass continued to pout "Why does every team seem to hit a buncha 3s against us? It really feels like just bad luck and variance where the other team is just on..." to no avail. The Wolves give up a league-worst .395 3P% among many other league-worst defensive ratings.

Oh wait, what's this? I'm being told the Sacramento Kings are
also
not good at defense. With a
league-worst 118.3 DRtg
, and by a good margin, I don't think much defense is going to be played tonight (again). The immovable object meets the unstoppable force, as they say. In their previous meeting, Wolves fans were treated to the unexpected return of D'Lo, but an even more unexpected efficient shooting night (by his standards) pouring in a team-high 25 points on just 19 shots in 24 minutes of play. In an ugly game where the Kings led most of the way thanks to De'Aaron Fox and Harrison Barnes getting whatever they wanted (Combined 52 points on just 30 FGA), Sacramento went full KANGZ (Am I doing that right?) in the 4th quarter, getting outscored 34-24. Terence Davis and Delon Wright EACH ended up taking more shots in the 4th quarter than Fox and Barnes did...
combined
. Sneaky tank job, or just bad coaching? That's the very same question that Wolves fans asked on a nightly basis until our failson was finally dismissed. Have ya'll not gotten there yet?
Will here: before we finish... For your viewing pleasure - We had extra time on our hands not writing about playoff implications so we both decided to drop posters for our optimism based on the film we've most often quoted to each other over the years.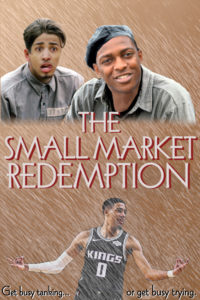 Predictions
Leo
I fully expect the Kings to improve from their 9 for 36 three point shooting performance from their previous matchup. Buddy Hield, who somehow didn't hit a trey in the double-digit win against the Marvin Bagley-less Mavericks, should get loose for about 10 3PM. Yep, freshly inspired by his 1.0 version, Steph Curry 2.0 will post 33 points tonight.
Starting center Hassan Whiteside will casually stroll to 20 points and 13 rebounds while looking completely disinterested the entire time. Except for the one time he's going to dunk on Juancho Hernangomez and flex on him like he just climbed Mt. Gobert. 10 of his rebounds will come flat-footed.
Future Sacramento Kings coach, David Vanterpool, will focus all of his energy on limiting De'Aaron Fox tonight. The paint shall be packed and he'll see tons of bodies all night, finishing to a hard-earned 12 points. After the game, Kings and Wolves Twitter will go wild over a long conversation that DV, Fox, and KAT will have on the court after the final buzzer sounds. Is Fox joining his Kentucky Wildcat brethren in Minnesota? Or is DV and KAT heading westward???
Hield, Harrison, and Hassan, which I will creatively dub "Triple H," will be the only thing going for the Kings tonight. Ricky Rubio, the true king of the 2009 draft (Nope, I haven't let that go yet), will drop a 30-point triple double tonight. You heard it here first.
Anthony Edwards outduels Tyrese Haliburton... again? Will's original bet that Ant will outpace Tyrese in PER gets a little bit more interesting tonight.
KAT will put up a beautiful 20-8-8-5-6 stat line. A 5x5 if you will. KAT's running up teams... 5 times 5 is 25... F*CK THIS PLACE! (Sorry, I had to)
Photoshopped Game Previews will forever live on at TKH.
Will
You've read enough today so I'll simply drop my scores and encourage you to come over to CH tonight after the game and see me give my positive side of things over there!
Kings: 126, Wolves: 119