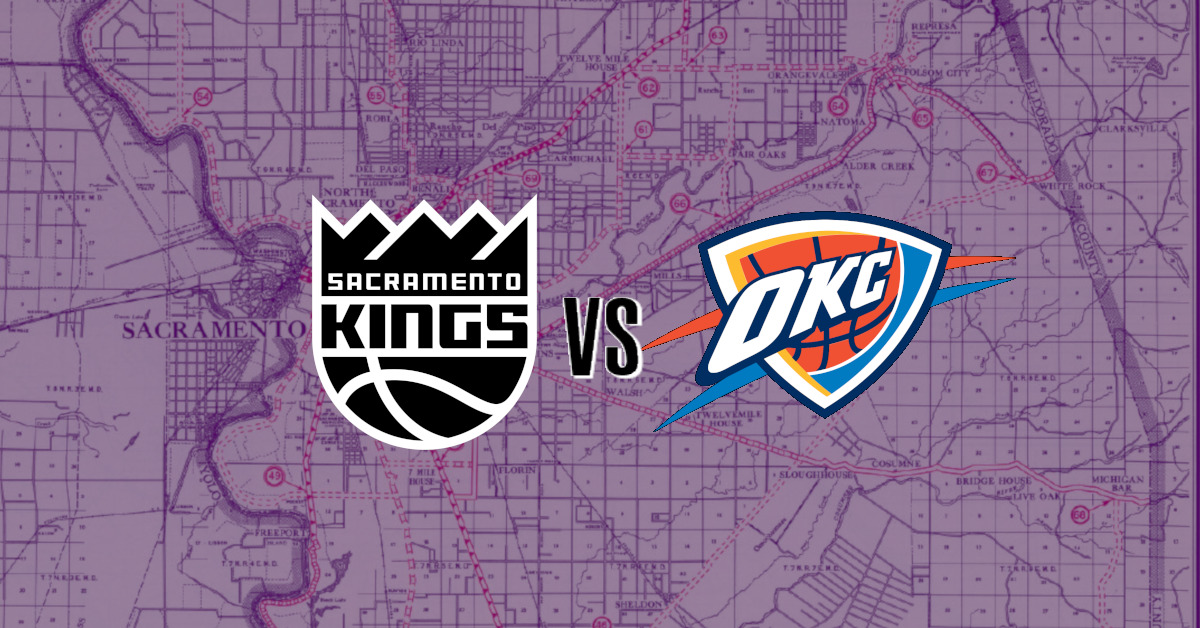 The Oklahoma City Thunder are in town and Poku ... wait... what? POKU IS IN HEALTH PROTOCOLS???? Okay, okay. No worries. I can still, still roll with this.
The Oklahoma City Thunder and in town and rookie guard Josh Giddey is... WAIT GIDDY IS TOO??? Not a problem, I guess.
The Oklahoma City Thunder are dragging themselves into Sacramento today and coach Mark Daigneault has got his... his... OKAY NOW THIS IS GETTING RIDICULOUS.
Shai Gilgeous-Alexander, Lu Dort and whatever remains of the Oklahoma City Thunder team have been wheeled into the G1C tonight for a game against a Kings squad finally recovering from their outbreak of COVID. Can the Kings respond after embarrassing the hell out of their coach Sunday night or are they going find new, terrifying ways to further inflict pain upon Alvin Gentry? Where there's a will there's a way and baby, look whose talking to ya!
Let's talk Kings basketball!
When: Tuesday, December 28th, 7:00 PM PT
Where: Golden 1 Center, Sacramento, CA
TV: NBCSCA - Mark Jones (play-by-play)
Radio: KHTK Sports 1140 AM
For Your Consideration
Tanks for Everything: Hey here's a fun fact that certainly won't give intestinal distress to anyone who still cares about Kings wins and losses: the Thunder have currently won four of their last five games and are even with the Kings in the Western Conference standings. Oh, another fun fact: that whooshing sound you just heard was thousands of people in unison rushing around various houses around the greater Sacramento area, looking for some pearls to clutch. The Thunder, often used as the "I could NEVER support a tank like that!" example, come into tonight's game against the Kings even in the standings, with the best overall player between the two teams, a far younger, more exciting cast of players around them, a much, much better coach and to top it all off, an absolute trove of picks to improve the team in ANY way that their GM sees fit. Sure, getting down low isn't for everyone - I tried to Pop, Lock and Drop it the other day and blew my kneecaps through the garage door, but if this season hasn't already slapped Kings fans in the face with it a dozen times already, the Kings are getting lapped by every single team that was down in the dumps with them a few years ago. You might not like hearing it, but eating the 7th-10th pick in the draft every year isn't honorable and sending away the older or fed-up pieces of your failed core to drop and collect young assets isn't the end of your fandom or even that embarrassing. The 10th seed we obsess over isn't an accomplishment or a benchmark of success. Squeaking into the playoffs for one or two seasons then hoping for ???, isn't a long-term solution. I promise you: this franchise, this fanbase would be far more invigorated if OKC swapped rosters and anyone who says different, just isn't paying attention.
Now, do I expect OKC to finish with a better record than the Kings this season? No, but it's entirely possible from a talent stand point. OKC is helmed by a fantastic GM with an ownership group that has allowed him to play out his decisions in crafting that team for the future and I'd assume he'll start selectively sitting a young star like SGA or up and comers like Josh Giddey or Darius Bazley. Because he's smart. Because he's got a plan that involves a decade of playoff runs and a true championship window by the time he's through. The best laid plans of mice and men, and such, sure. Nothing is set in stone. But having a vision, continuing that vision through a couple of losing years and mistakes and then that vision showing major signs of promise are all things that the floating, aimless Kings have yet to show for in 15 years.
The Kings should absolutely win this game tonight. SGA is playing like an all-star but his surrounding cast and coach are all decimated by injuries. Sure I said they won four of five but that was with a full cast. SGA and Lu Dort are going to have to go crazy just to keep them in it. That being said, it's the Kangz. Anything is possible - save for maybe them making a string of good decisions.
Prediction
Poku breaks protocol, comes to sit with me and my friends at the game tonight. I pick him up and waving him around to distract OKC players while they shoot their free throws. He reaches 11 rows up without turning around and steals chicken sandwiches from somewhere on the concourse. He asks if I want to go see where Sam Presti keeps his chronovisor. I say yes...
I wake up. I overshot my afternoon nap and missed the game. Kenny Thomas and Deuce Mason are arguing about what the definition of "hard work" is and WebEx is again looking like a bootlegged 2009 version of Skype.
Kings: 131, OKC: 109