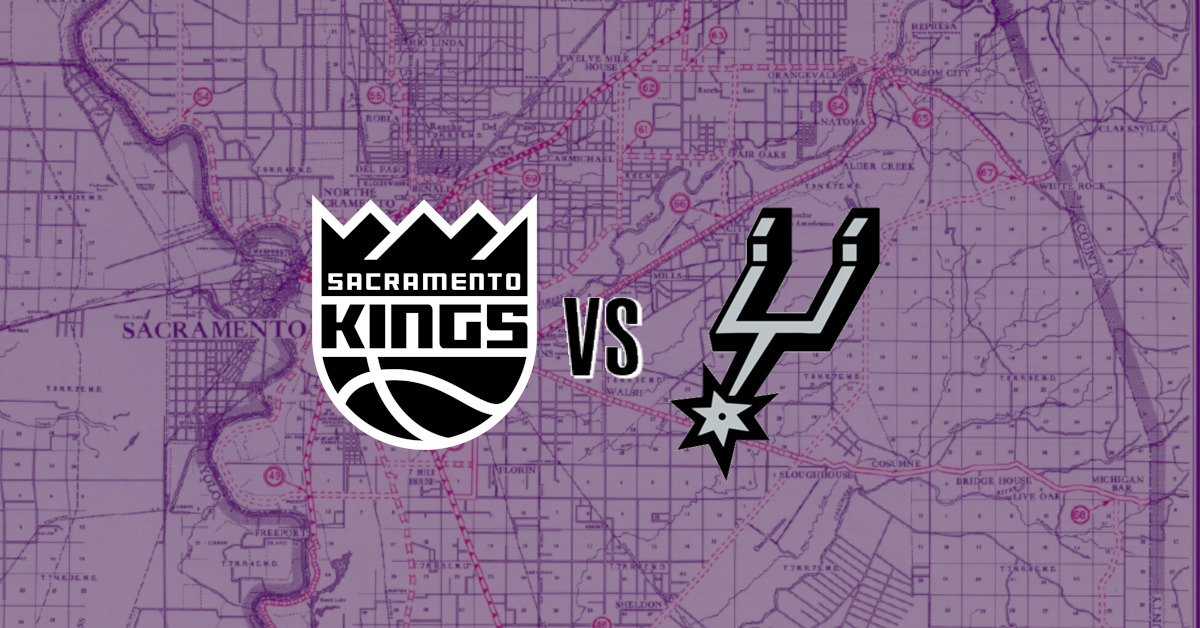 The Kings are in San Antonio tonight for their first meeting against Gregg Popovich and the large basket of children he found while wandering in the woods. The Spurs have been one of those mousetrap teams the last few years for the Kings: a perfectly winnable game by all stretches of the imagination that fans just feel a bit spooked by due to VIBES. They're young, inexperienced, without a single true star player and yet, as soon as you think the Kings have the game in the bag... SNAP. After all, this is the first time the Kings have played the Spurs since a fourth quarter comeback secured the 10th seed for good from the Kings, thus extending Sacramento's streak of April vacations to 15 seasons.
Can this medley of young talent take down and veteran team hell bent on hurting everyone that loves them a couple times a week? Can Harrison Barnes continue this torrid offensive pace? Will the real De'Aaron please stand up?
Nawwww probably not! Let's talk Kings basketball!
When: Wednesday, November 10th, 5:30 PM PST
Where: AT&T Center, San Antonio, Texas
TV: NBCSCA - Mark Jones (play-by-play)
Radio: KHTK Sports 1140 AM
For Your Consideration
Never Bet Against Pop: Well, the Kings are 0-2 since I injected some positivity in my previews... take this recognition of such as a humble apology for dipping my toes into the river of goodness. Speaking of good: The Spurs - they aren't! To be fair, they probably aren't meant to be world beaters. A deep draft approaches with game changing talent, Gregg Popovich still gets to do what he loves but free of any star egos, and the Spurs still get to play spoilers to any good team on any given night. Gone are the DeMar DeRozans, Rudy Gays and Lamarcus Aldridges of this weird, semi-competitive half decade of transitioning the Spurs have been traveling through. Now? Now it is all fresh young legs, plus well, Doug McDermott (who has played a total of seven years in the league) and Thaddeus Young (14 years in and just there to collect a check and his free weekly container of Metamucil, and go home).
The Spurs are kind of where you'd expect them to be in the pecking order of things. They're 19th in the NBA in points per game at 107.4 and 13th in the league in opponents points per game at 107 flat. Two of their three wins have come against the Orlando Magic and one coming against the Bucks, but generally, they've lost to the teams better than them (plus a random OKC game) and beat the teams they're even with or better than. I'm going to rapid fire some stats at you and you can grab what you want and draw whatever conclusions you feel like and they're probably right. Good job ahead of time, by the way. The Spurs take the second least amount of three pointers and free throws in the league, and that's fine because they're rocking the 7th worst percentage behind the arc and the absolute worst from the charity stripe. They're also first in the league in field goals made per game which meaaaans... they jack up a ton of twos and make them at a 52.2% clip, good for 13th in the NBA. They're second in the NBA in assists, they're eighth in the league in turnovers and they're 23rd in total rebounds per game. On the defensive end, they're sixth in both steals AND blocks while also finding a way to foul at the third lowest clip in the NBA. Wonders never cease with a Popovich led team.
The Kings need a good game tonight. Sure, they've already defied some early expectations from curmudgeons like myself, but they're also not definitely out of any woods in terms of Kangzing this season up. With the Spurs tonight and OKC on Friday night, these are the games a playoff team would take advantage of and get back to what was working in their early season victories. De'Aaron Fox has still yet to shake off whatever is haunting him, Tyrese Haliburton's back will be a little question mark hanging over his head for a game or two and the Spurs, the Spurs work their asses off. This isn't a guaranteed win by any means and if the Kings come in a assume so, they're gonna end up giving up a random forty-piece to Lonnie Walker or something. This is a day and a game the Kings definitely need to stack.
Prediction
The Kings will play with their food for three quarters, then in the fourth Buddy Hield and Tyrese Haliburton will put on a shooting display that would make the Alamo jealous. Buddy goes for 30 plus. Hali scores 15 in the final frame. The skeleton of some old white settler gives a thumbs up from his worm-warped coffin because I got you all to remember the Alamo.
Kings: 115, Spurs:103