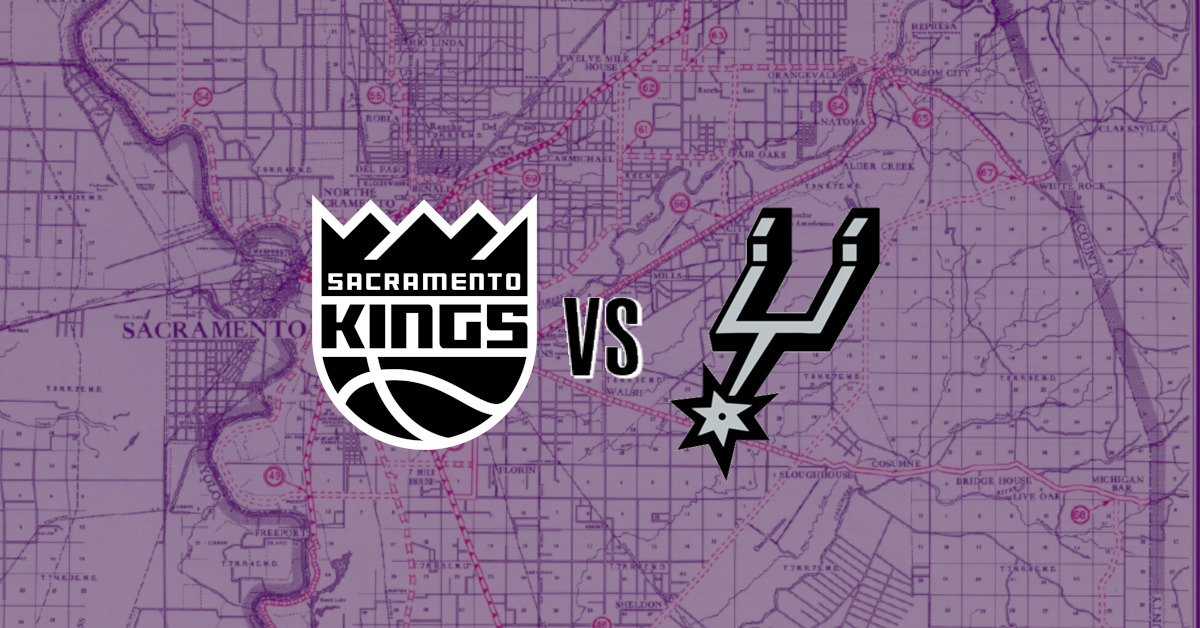 The Sacramento Kings are in San Anto- no, no wait, we've just getting word they did not leave New Orleans after some plane trouble last night and are instead currently somewhere outside of Sabine National Wildlife Refuge after walking the whole night through. They've got roughly 5 hours to make it and at least that many if they jog to get to Houston so… man, who knows what's happening tonight.
This is where a better man would find a way to drop an "Amarillo by Morning" reference - but I'm not that guy, pal. It's time to transition to basketball for a moment! The Spurs are 1-2 since the All-Star Break, a break in which the team actually had a man worthy of an All-Star appearance, triple-double machine, Dejounte Murray! Can the new look, same result Kings continue to find a way to make their dying heaves of air interesting or are we all destined to tune out yet again, sacrificing our time in from to the TV to the basketball gods in the hopes of a lotto pick destined to climb?
Let's talk Kings basketball!
When: Thursday, March 3rd, 5:30 PM PT
Where: AT&T Center, San Antonio, TX
TV: NBCSCA - Mark Jones (play-by-play)
Radio: KHTK Sports 1140 AM
For Your Consideration
The Ox-Fox Incident: Before we get started I have to say there was just an absolutely plethora of cowboy movies that I wanted to hamfistedly cite here, I just picked the absolute dumbest one for the title. Starting a paragraph about not getting over Monte trading Haliburton? Unforgiven. Want to discuss the reason the Kings lost in New Orleans last night? The Shooting. Not sure how Donte DiVincenzo and the rest are gelling just yet? The Misfits. Want to go out on a limb and predict the Grizzlies in the finals AND get in another rant about tanking? How the West Was Won. I can literally go on with these all day. But I'll slow my roll.
Remember last year when the Kings made one final, idiotic push for the 10th seed and all they had to do was beat a limping Spurs squad to really cement their spot… and going into the 4th quarter they were up big and then absolutely fell apart and lost in pathetic fashion? Well memory is falliable so whether you remember it or not, it happened, it happened that way and there is absolutely no other truth I'm willing to accept. Also, the Kings are now absolutely gasping for air, grasping at straws, trying to pull themselves up for one final push to that 10th spot… and the Spurs can be merciful tonight and step on Sacramento's throats once and for all.
Now, don't get me wrong, I'm not suddenly grumpy and throwing a fit about where the Kings should be or what they should have done. The play-in was always a daydream. It was a daydream when they brought Luke Walton back and said he was the coach to get them to the playoffs, it was a daydream after the Kings bushwhacked the Hornets and hit a franchise record number of threes, it was a daydream when they traded for 35% of their playing time for new players at the deadline. Daydreams are nice to have, destructive to have too often and well, always tend to escape us without coming to fruition. I'm glad that Monte McNair hedged his language in the press tour he did post-deadline, stating that it would be nice if they made a run but they weren't really aiming for it as a hard, fast goal.
Just thought of another one. Wanna hype up Trey Lyles outstanding performance a couple of nights ago? The Tall T.
The rest of this season should be as blatant a tank job as can be done without permanently discouraging De'Aaron Fox or Domantas Sabonis. I know the smart thing is to stagger their minutes so there's always one of them on the floor but if I were the GM putting pressure on a coach that might not be long for this NBA world, I'd be telling him to keep their minutes in perfect alignment, save for foul trouble. Let the bench play you out of games, give Fox and Domas all the time in the world together and then maybe with 10 games to spare hit them with an off-arm elbow injury and yank every thing out of the walls. Regardless of your wants and needs and intentions for after the draft lottery, winning culture isn't going to be established in these final handfuls of games. You want some extra camaraderie between star players? Get a top 5 pick to get you on the path towards winning meaningful games. You'll see lots of hugs and fist bumps if this team is .500 in January next year. Use the pick to trade for vets if you hate me, use it to draft the next Scottie Barnes if you have a heart… but use this time to invest in your team's future, the present be damned.
As for the game tonight? It should be fun. I love Pop and have never bet against him in all my decade of thinking "man next year might be the year the Spurs fully collapse!" The Spurs would have been my team if the Kings left for Seattle I think and much like the girl you didn't ask out in middle school because the timing was never right, you still have a soft spot for those maybe-but-didn't loves. The aforementioned Murray, Devin Vassell, Keldon Johnson… they're a nice young core of guys to build around. I hope this isn't Pops last year, but if it is… I'll be absolutely gutted for the NBA and excited to see his complete transition into Napa Don Nelson.
Two more to close this thing out. Wanna talk about Richaun Holmes freak injury luck this year and how his shooting fell off a cliff after getting smashed in the eye again? One Eye Jacks. Randomly talk some smack about the Lakers? No Country for Old Men.
Prediction
Josh Primo is gonna be the random guy to score 20+ on the Kings tonight. Pop retires at the end of the season and the Spurs quickly name Kenny Atkinson their new coach. Sacramento riots at the news.
Kings: 104, Spurs: 103