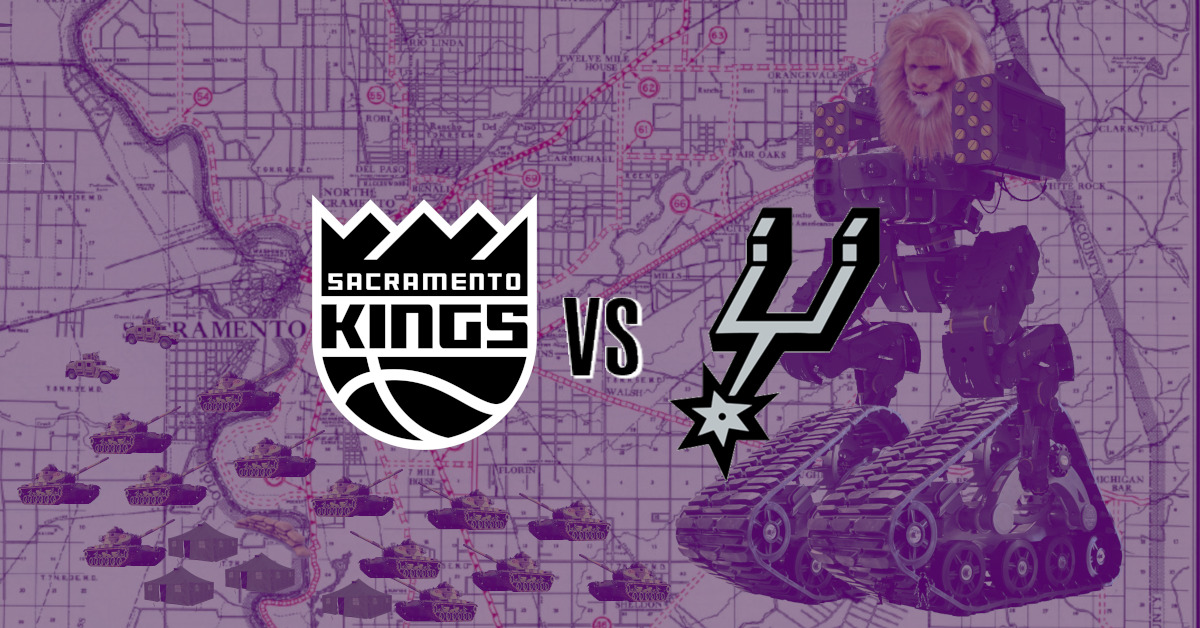 The Sacramento Kings aren't mathematically eliminated from the play-in hunt and thus play a hypothetically important basketball game tonight against a reeling San Antonio Spurs trying their best to cling to the 10th seed and final play-in spot. The Spurs are 4.5 point favorites despite coming into tonight losing their last five games while the Kings have won four straight, including two in a row without arguably their three best players. With a win tonight, the Kings would draw to within a game and a half of the Spurs with 5 to go and clinch the tie-breaker between them. Those are the facts.
Let's talk Kings basketball.
When: Friday, May 7th, 7:00 PM PST
Where: Golden 1 Center, Sacramento, CA
TV: NBCSCA - Kyle Draper (play-by-play)
Radio: KHTK Sports 1140 AM
For Your Consideration
So I have to preface this the way we all have to preface everything right now with fans of this loss concussed franchise - I'm good with however you want to fan. People are getting wrapped up again in the season and that's not a bother to me, standing outside on the sidewalk with my tear soaked " '21 Top 5 Pick!" penant. A win would be fun, especially considering the tank went fully off the track the moment Haliburton decided to become an All-Star in De'Aaron Fox's absence and then went off down a deep ravine once Wright decided to become an All-Star in Tyrese's absence. Gunning for the play-in game is quite obviously not what I or many others wanted, but please remember that this silly franchise has pretty much never done what was expected, or smart, or desired by large contingencies of fans. That comes with the contract you sign when you enter this universe - whatever the Kings should be doing in your own mind, they're going to find one way or another to do either A) the opposite of what you want or b) the most painful version of the thing you're hoping for. Random angry commenters or twitter users might try to tell you you're wrong or stupid for liking or disliking what's happening and if you're still a fan of this team, trust me - they're right. But, they're also fans, so it's just one ass farting in the direction of another because it's unhappy about the pants they're currently in. Pay them no heed.
That all being said, you idiots are falling for it again. (Joke) Tonight's game is absolutely a must win for the Kings. The path to the play-in game goes through San Antonio and to have any shot at all, they have to win tonight basically. I don't know for certain, because math is hard and Tim's playoff tracker article had too many words but other armchair twitter experts have pitched the same premise for the game, so I feel like there's some plausible deniability here if the Kings lose to the Spurs and still luck into a mathematically unlikely play-in spot anyways. The point is: Kings MUST win tonight. Against Gregg Popovich... and the Spurs. A team that is always prepared for and understanding of the moment. "But Will!" you scream, "they've lost five in a row! They're schedule is so damn difficult going forward!!!" Yes, you are right. Their last five games they've lost to Miami, Boston, Philly and Utah twice. Did they look good? Not particularly. Are they missing Derrick White something fierce? Absolutely. Prior to those five losses, the Spurs whipped the Detroit Pistons, beat the Pelicans and a smoking hot Washington Wizards team. So, yes, the Spurs are down and at their most vulnerable moment of the season tonight, but this downfall might also be a bit overplayed and the Kings odds slightly more exaggerated. Delon Wright is amazing, it sounds like Harrison Barnes is day-to-day and thus could come back tonight to try to get these Kings over the hump, but at the end of the day, the Kings are still missing De'Aaron Fox, still missing Tyrese Haliburton and still coached by Luke Walton. That's a tough pit to climb out of for any team, but with this Kings squad, in this moment - it's all the more daunting. And, yet - unbelievably, the game still has to be played and the thought creeps in more and more that well, maybe, just maybe, they've got a shot.
My (obviously conflicted) advice: Leave everything past tonight at the door. Don't worry about the Kings easy schedule, don't worry about the Spurs difficult schedule. The Spurs are on a losing streak facilitated by playing incredibly difficult teams, the Kings have overcome injuries at the worst moment to play some really good basketball and give themselves a shot at a spot that they have no business having a shot at. Forget the nine game losing streaks, forget tanking and every kid Cade Cunningham through Corey Kispert. The Kings have a game with stakes and a group of underdogs that have to find a way to beat one of the winningest coaches of all time and his team of equal or lesser talent. Watch the game. Leave everything else at the door. We're all going to look like idiots tomorrow regardless... because we're all still fans of this fate-forsaken team.
Prediction
Sacramento beats the pants the off of the Spurs. Gregg Popovich retires immediately after the buzzer sounds. Mr. Wright-on-Time gets a triple double with steals. Harrison Barnes comes walking out of the tunnel just as the tide turns for the Spurs and scores 15 points in the fourth including a game-clinching three. The hype train leaves the station. There's pandamonium in the streets and Vivek Ranadive doesn't check his bank statements for the first time in two years. Hope reigns supreme in Sacramento again. The Kings go on to lose the next five straight.
Kings: 124, Spurs: 117