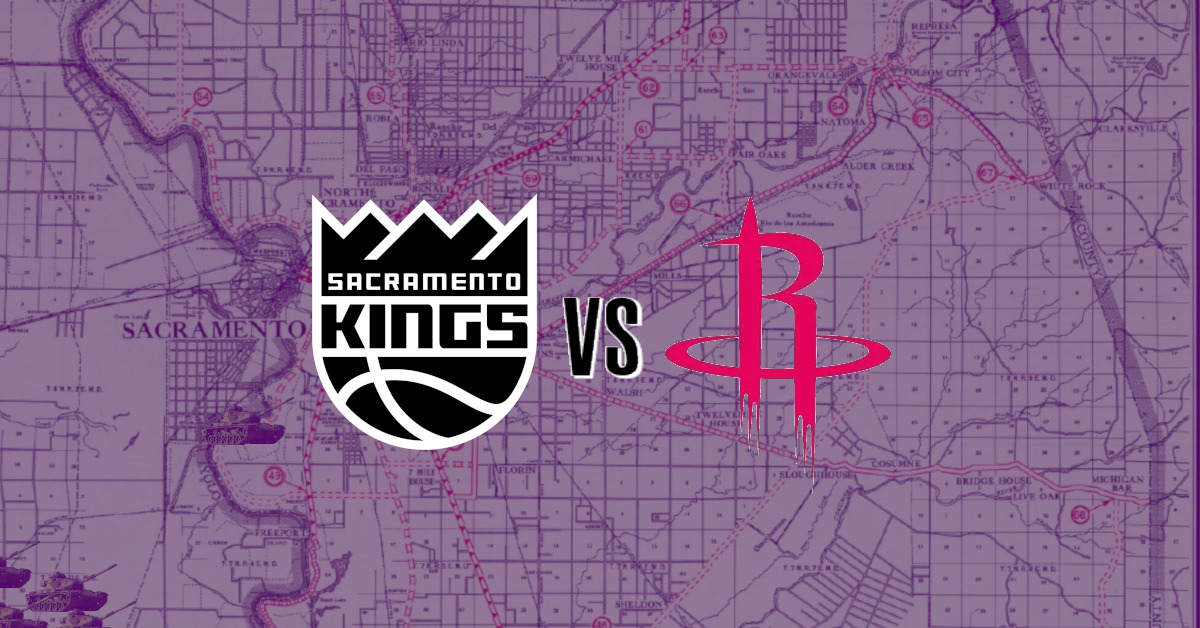 I'm not going to blame the pandemic's ability to warp time or my own busy schedule of late, but has it really already been a week since I've had to sit down and think about the Sacramento Kings playing basketball? I... I thought I had more time. Seeing as how I don't - The Kings are in Sacramento and taking on one of the two teams in the West that are worse than they are.
If it were up to me, I'd stop the preview right there. This could be a Grampa Simpson hat rack gif moment come to life. I walk into the preview, drop the fact that 24 of the last 26 games these two teams have played have ended in losses for them, pick up my hat and walk out the door, ready to enjoy the rest of my day, sans all thoughts of cellar dwellers. Instead, I'm going to get to spill facts on a team that has lost thirteen straight and quietly hope for the Kings to be their slump buster, for no other real reason than I'll be damned if Tillman Fertitta has a better shot of seeing Cade Cunningham in his jersey than we do.
Only 36 games to go.... Let's talk Kings basketball!
When: Thursday, March 11th, 7:00 PM PST
Where: Golden 1 Center, Sacramento, CA
TV: NBCSCA - Mark Jones on the call.
Radio: KHTK Sports 1140 AM
For Your Consideration
Like Any Good Christian Wood: I feel bad for Stephen Silas in a way that's hard to describe. Like, he's still making gobs of money to coach basketball, but man did the basketball gods not make it easy on him this first season in Houston. Brought in to coach a dark horse contender for a championship, Silas saw the exchange of Russell Westbrook, then the pouting and eventual removal of franchise icon James Harden from the team in an incredibly short amount of time. He's juggling an entirely new cast of players on this team with very little familiarity with each other and one of the two new building blocks, Victor Oladipo, has turned down their contract extension offer and is now on the block himself.
Christian Wood, the worst kept secret in the NBA prior to this season, has fully broken out and is now the guy that all the casuals at the office (if you still had an office) have said they've been calling a star for awhile now. He's great and a real tool for Houston to have on that contract moving forward and, well, he's been injured for a decent portion of the season and won't be back tonight. In fact, a bunch of players aren't rocking and rolling tonight. Kings killer, Eric Gordon is out with a knee. Like most of his career, Dante Exum is out with something. Rodion Kurucs, Danuel House, and David Nwamba - all out.
I'm not going to jinx this by listing the players the Kings are getting back and finally healthy, but that rookie everyone raves about is good to go. In fact, besides the previously known injuries to a young, body slammed center and a G-League firebrand, the only basketball player currently out for the Kings is a guy who's closing in on a month of COVID protocols.... I avoided names. We're safe from the reverse jinx.
Tonight's game against the Rockets is going up tempo and high scoring. While the rust will be there from a week off, the Rockets aren't going to suddenly go away from what they've been doing all season - they run at the 3rd highest pace in the NBA and pray to all that is good that their shots are falling. Boy, do I mean shots. Despite being the worst three point shooting team in the league in terms of percentages, the Rockets launch 40 a contest, the third highest mark in the league. Now that's kind of expected to be the case with a team that had planned for James Harden to be the sun in which the revolved around, but on the other hand, the price of official NBA backboards aren't cheap, especially for Tillman Fertitta, and the Rockets are smacking them of the rim at an alarming rate. Some other items to throw at you for context in this game - the Rockets are the third worst rebounding team in the NBA, they're third lowest in assists, attempt the tenth most free throws but are bottom seven in percentage. They're bad! They do most stuff, fairly badly!
Speaking of something on the other end of the universe from bad, it's my pleasure to announce that we have a new writer and teammate here at The Kings Herald! We spoke to a good number of people, read a lot of fantastic writing and tonight, win or lose, we'll have a recap from our newest member and a stand out from the crowd: Mirann Tsumura. Mirann's a 28-year old Sacramento native and a life-long Kings fan, a civil engineer by day and had started up her own personal blog about the Kings during the bubble last year before joining us. Now, to the reasons why I tried to have her fired this morning: she's not a fan of gold in jerseys and also said that I "had to see" the film Lady Bird. Sadly, Greg said that wasn't grounds for dismissal, but if I have any say, she's on notice!
We are all greatly looking forward to reading her work here, as should all of you! Please join me in giving Mirann a welcome today and feel free to pester her in the recap tonight!
Prediction
Trying to impress the one writer at The Kings Herald that isn't entirely jaded, the Kings reel off their first big time win this season. A rested Fox runs circles around John Wall, Victor Oladipo pouts that he's only the second best trade asset on the market behind Buddy Hield and Tyrese Haliburton drops 20 points, 8 assists to remind everyone who the people's champ for Rookie of the Year is. Mirann wins a Pulitzer for her recap and leaves for a much better opportunity this weekend!
Kings: 127, Rockets:110