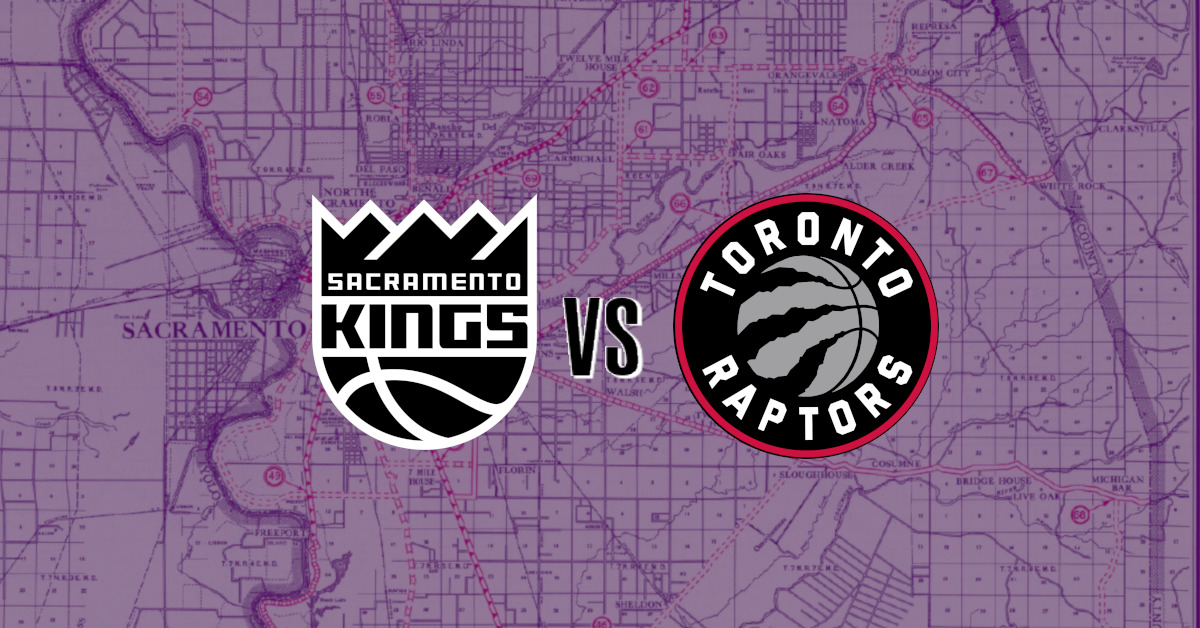 Happy Friday and congratulations on surviving another week of the downfall of civilization! I would ask you how you're doing but, well, I want my comment section to look like it belongs to a website that follows basketball and not the stuff under granny's latest Facebook post. I want to speak about a different group of unexpected losers coming to a capital city: The 1-6 Raptors are in town! You know the ones currently playing out of Tampa due to a pandemic locking them out of Canada? The ones with Pascal Siakam, Kyle Lowry and coached by Nick Nurse? Yes, yes just won a championship two years ago and then were like the second best team in the Eastern Conference last year? They're currently sporting the second worst record in the East and I'm venturing a guess here in thinking that they're looking at the Kings as their best chance at a turnaround game. Let's talk Kings basketball!
When: Friday, January 8th, 7:00 PM PST
Where: Golden 1 Center, Sacramento, CA
TV: NBCSCA -  Mark Jones on the call.
Radio: KHTK Sports 1140 AM
For Your Consideration
Tampa Your Expectations: So before I get into discussing the actual game at hand, I wanted to take a second and give an extra moment to Marvin Bagley III. The kid has struggled in his first eight games back after what was basically an entire year off from basketball, has had his name thrown around over TV and online because of his father's quick trigger fingers (and Marv's subsequent refusal to discuss it), and there's still a broad swath of people who are pretty dour about his chances to regain his status as an elite player from the '18 Draft class. That's a lot to take for anyone, but especially for a young guy. We all know this. I haven't said anything new. But what I will do is praise the guy for having a damn good game against Bulls on Wednesday night. That version of Marvin, the locked-in version with good touch from outside and engaged on defense - that's all Kings fans could ever want. 21-12 with 2 steals and 2 blocks is nothing to stick your nose up at and I'm glad to see him respond to criticism (including mine) on the court. Now, he needs to replicate 85% of that for a season for me to start seeing the worm as having turned, but I'm glad that he a good game against a decent team during all this stuff.
So now, how bad are the Raptors? Is this an early slump as they look to find a cohesive unit amongst all their new acquisitions in a new town? Well, for one, they're the worst shooting team in the league right now: last in total field goal percentage, eighth worst from inside the arc and though the try to make up for it by shooting more threes than anyone else in the NBA they've got the seventh worst percentage from deep. Maybe they're used to being stored in a cool dry place, but that sun and sand isn't doing anything but adding extra wear and tear to the rim and backboards at the arena there in Florida. Another thing to toss of the pile here is that the Raptors don't have the defense or rebounding like they've had in recent years. I'm not necessarily saying they're a bad defensive team, just worse than last season and that can absolutely cost you wins early in the season.
Gone are the likes of front court stalwarts Marc Gasol and Serge Ibaka and the Raptors have truly suffered for it. This season, they're a bottom seven rebounding team compared to eleventh last season, dropped from the second best team in regards to steals per game to ninth, and while they're eighth in blocks this year they're also foul the third most in the NBA, a rise from thirteenth in block but a slide from twenty-first in fouls. A team known for being greater than the sum of their parts has suddenly become a team that is exactly the sum of their parts and have struggled stringing that tentative thread of  narrative back around the team. It hasn't quite happened yet but if they don't start righting the ship, suddenly, expensive questions start getting asked. The Raptors have a 34 year old point guard making $30 million a year and his back-up making $21 million. They've got Pascal Siakam sinking back to Earth a bit after unbelievable growth year after year, but is he enough to anchor a championship contender. Can he and OG Anunoby really be the core that attracts others to this team? Don't get me wrong, I love Kyle Lowry, Fred VanVleet and this entire Raptors franchise as they're currently being run. They're just running out of losses before changes will need to be made.
In terms of Sacramento's chances tonight: this is absolutely one of those games that Kings of years past would lose and everyone would complain about how they really let this one slip through their fingers. It's the stinker at the end of a three game win streak that sends the Kings back down into a spiral. The Raptors earned their 1-6 record but I also am very wary about a team this good suddenly being this bad without a major injury. They're moments away from turning it back on, and with Siakam scoring a season high 32 the other night to break out of his slump to start the season, I wouldn't be surprised if this team starts ripping off some long win streaks.
Last thing, while all of Toronto's bigs this year have really, really struggled to start the season I want to give a shout out to Alex Len, who rumor has it wanted to leave the Kings for a winning basketball team and immediately cursed the Raptors into this abysmal start. You truly are a former Kings player, Alex.
Prediction
Raptors get pummeled into the ground like a goofy ass Velafrons on the Yucatán Peninsula 66 million years ago. Marvin Bagley continues his aerial assault from deep hitting another couple of three pointers and getting his first highlight dunk since I was still in my 20's. Tyrese Haliburton locks up Kyle Lowry like he was Mike Fratello on the '06-07 Grizzlies. Buddy Hield shoots better than 26%!
Kings: 113, Raptors: 104