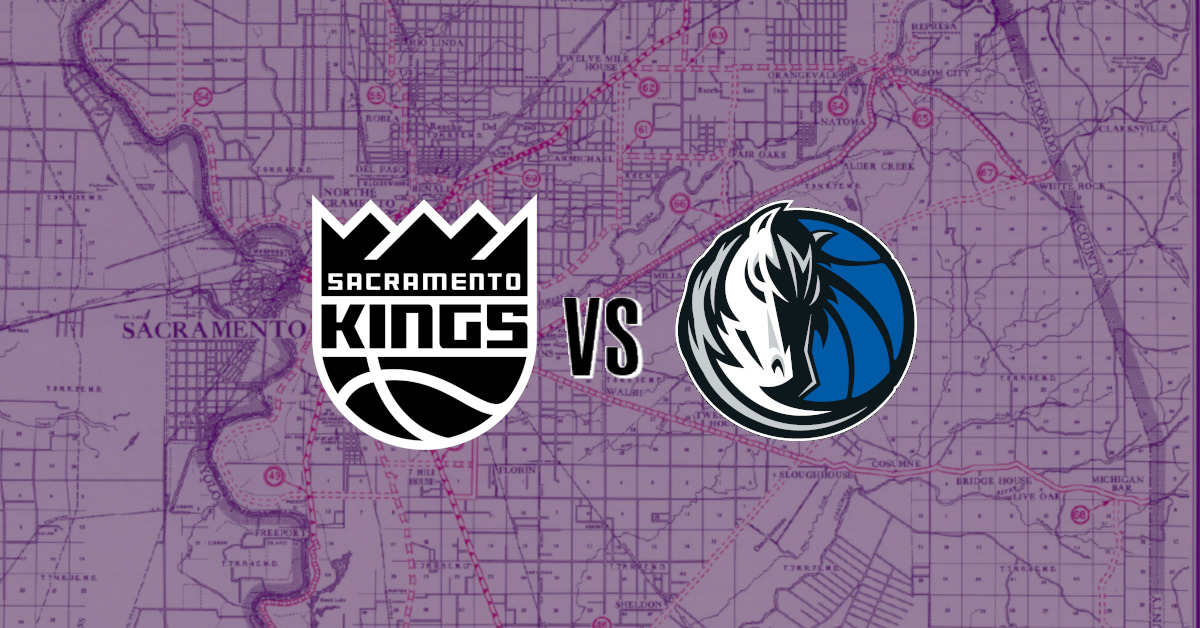 The Sacramento Kings have claimed their first PACIFIC DIVISION TITLE in 20 years but will have no time to celebrate today - they've got an old fashioned country western shootout to get ready for. Yes, the Kings are in Dallas, with a chance to dash the Mavericks hopes of a play-in berth just a bit harder against the rocks. With just a half game of separation between the bed Mark Cuban has made and the Oklahoma City Thunder, the Mavericks absolutely need the Kings to cough up a loss and save a disappointing season from slipping into a total disaster. Can the Kings get themselves within a game of fifty wins? Will Keegan Murray get hot again tonight and decide to go for 300 three pointers to cap off his rookie year? Does Mike Brown have in his possession the Warriors play that forces all five Maverick opponents to line up on the wrong end of the floor?
Let's talk Kings basketball!
When: Wednesday, April 5th, 5:30 PM PT
Where: American Airlines Arena, Dallas, TX
TV: NBC Sports California
Radio: Sactown Sports 1140
For Your Consideration
Stop Kidd-ing Around: This Mavericks squad is a bit of a shit show. They've lost seven of their last eight games, they've got Luka on the mic seemingly every night discussing the way he used to enjoy basketball and how much he missed certain ex-Mavericks like he's Dirk in a ten-year retrospective of his career, they've got Kyrie on the edge of challenging fans to take his spot in the rotation if they can - it's dark times in Dallas at the moment. On February 5th the Mavs were two games above .500, 6th place in the West. They're 5 games under and sitting at 11th with zero momentum headed into these final few games. The Oklahoma City Thunder, a team that people were ready to retract at the beginning of the season for damaging the league with their blatant and egregious methods of team building, sit a half game above them for the final play-in spot.
A quick aside here: Tony asked this question the other day on the pod and it's been stuck in my craw ever since - would you trade this Mavericks team for this Kings team moving forward? Yes, they're a mess but a true megastar of Luka's abilities is hard to come by in these parts. And my answer to that question belies where I feel like the problem really is for the Mavericks - if it was just the players, I'd think about it, if it was the management and coaching staff, it would be a hard pass. Because, despite the drama, despite Kyrie being a controversial figure (to put it mildly) and Luka annoying a decent number of fans with his in game antics... I truly don't think they're the problem. Those two should be able to lead a decent squad to a Top-6 finish out west. But you look at the surrounding pieces, you look at the schemes of this Mavericks squad and in my mind, it's pretty easy to see that Nico Harrison and Jason Kidd are the grindstone around the necks of this squad. Refusing to re-sign a should-have-been All-Star in Jalen Brunson, swapping for Christian Wood only to bring him off the bench, sending the best defender on a bad defensive team away to fix the mistake of the Brunson decision. Hell, just bringing Jason Kidd in for an interview should be a fireable offense at this point, but then hiring him when your franchise has been absolutely wracked with 20 years of sexual harassment and workplace misconduct issues finally coming into the light... the Mavericks are rotting from the top down, in my opinion.
Okay off the high horse for a second here - Luka and Kyrie are both probable to play tonight after some discussion on whether or not they were going to shut the duo down for the season and try to save their pick. They should be playing. As nice as it would be to say that this dramatic ass team looks doomed from the start, the Kings just lost to the Spurs this weekend and I'm still not over it so... consider this the last stand for the Mavs. They're going basketballs to the walls, they're fake bumping into coaches so they can spill drinks and gain extra timeouts, they're throwing out conspiracies about David Stern not being dead and him paying the refs to give the ball to the wrong team - Anything and everything to get to a play-in game.
Except paying Jalen Brunson.
Prediction
A cellphone lights up and silent buzzes on the duvet of an Alaskan King sized bed. A shower head drains its water from the vaulted ceiling above and a very large man stands underneath it, badly humming along to Frank Sinatra's "My Way". The phone goes dark. The man steps out of the shower, slips into his robe. The phone lights up again but the custom goose down drowns out any noise. It goes dark again. The man reaches into a white oak cabinet for a Reinast titanium toothbrush while standing at the marble sink - the day's cigar smoke still lingers on his breath. The phone goes dark again. He continues to hum. A text comes through the phone. He turns out the bathroom light. He walks to the bed, grabbing his phone, placing it on the wireless charger on the nightstand next to him without even looking at it. The man slides into his silk sheets, then into a dreamless sleep.
In a parking lot in Dallas, Texas, Luka Doncic sits with a sweating medium coke and fries that grow colder by the second. He opens his phone for the fourth time in ten minutes. He's waiting for a reply. Tired of waiting, he goes to his texts, finds the unsend button on a paragraph he'd spent four years trying to write and waited just thirty seconds for a response, then sends a new text.
"Sorry, butt dial. Hope everything is well, Vlade!"
Kings: 126, Mavericks: 117