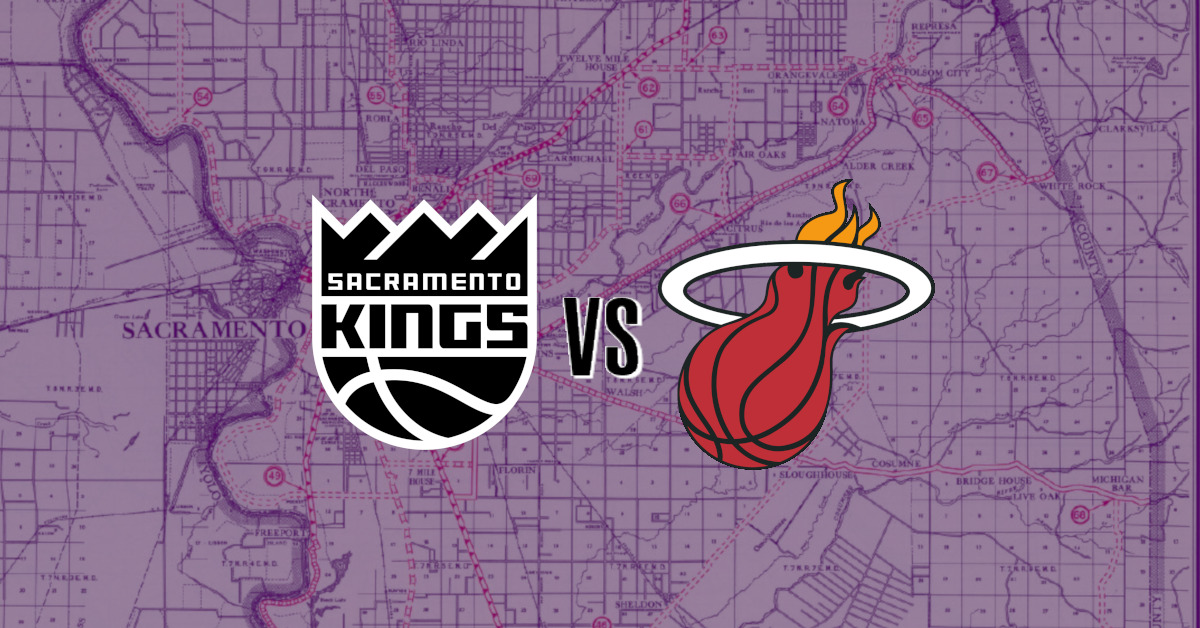 It's the dawn of a new year and wouldn't you know it but the Kings are in the same familiar territory they left 2021 in: looking up in the standings at a bunch of teams and an absolute fight if they're hoping to make the post-season any time soon. The Miami Heat are in town, owners of the 4th seed in the East and only two games out of the top spot - winning seven of their last eight contests to close their year. Oh, have I mentioned that the Heat currently have TWELVE players out right now, with seven in COVID protocol??
Welcome to the first double reverse trap game: the Kings are playing a team they should lose to, who now have three starters and a million role players out, who now are employing a bunch of G-Leaguers which the Kings seem unable to beat, which the Heat will know and look past... wait. I've got the spins. Watch out for both the Kyle Guy and Nik Stauskas revenge games because, well, they're both getting minutes tonight for Miami.
Let's talk Kings basketball!
When: Sunday, January 2nd, 3:00 PM PT
Where: Golden 1 Center, Sacramento, CA
TV: NBCSCA -Mark Jones (play-by-play)
Radio: KHTK Sports 1140 AM
For Your Consideration
Nobility or No Ability: The Heat are absolutely smashed with injuries and COVID cases - the former is unlucky, the latter is just operating a business in Florida. That being said they still have more than enough talent available to toss the Kings like the largest cook at the restaurant tosses a two-mimosa-too-many brunch queen. Jimmy Butler for one is more than available, he's ready made for moments where he can flex just how on-his-shoulders games like this really are. Kyle Lowry, though aged, is still very much a danger to go off against a backcourt as unwilling as the Kings to play consistent defense. The guy Nik Stauskas sees in the mirror every morning, Tyler Herro, absolutely has the feel of someone ready to drop a forty-nugget on this squad: he's a known scorer, young with a twinge of annoying on-court personality traits but juuuust random enough that everyone in Sacramento could yell "well, DUH, it was him" as the final buzzer sounds. There's one other guy, a lot more obscured to the casual fan of the NBA that would fit that bill tonight. In the absense of Bam Adebayo and Tim Maxwell's professional albatross Dewayne Dedmon, Omer Yurtseven will be the guy to get the start for the Heat. If you can remember back through the fog of disappoint to the sunlight of the Summer League, you may remember seeing him on your screen, averaging a 20-10 with 3.5 blocks and just under 1.5 steals a game. He was someone who stood out as far too good for the Summer League and their orientation toward more guard centric successes. He went for 27 and 19 against the Lakers Summer squad at the California Classic in Sacramento and every single one of those points and rebounds was well earned. With Richaun Holmes unable to catch a break this season and now in protocols himself, it wouldn't surprise me at all to see Yurtseven to want all the smoke from the Kings back-ups.
We'll cut it there. You know this Kings squad well enough by now that there needs to be wholesale changes somewhere to get more out of them than a 25 point loss to the Maverick's bench unit. They should be the underdog tonight even with twelve dudes out for the Heat. We don't need to talk about it too much because we've been talking about it, since I was 17 years old.
Prediction
Omer Yurtseven makes me look smart and goes for 20-10. Nick Stauskas also goes for 20-10... 20 shots and 10 points to show for it. Jimmy Butler and Kyle Lowry pull the ol' Tommy Devito getting made scene from Goodfellas on him at The Sawyer-Kimpton after the game. Kyle Guy gets a nice ovation though!
Kings: 104, Heat:102