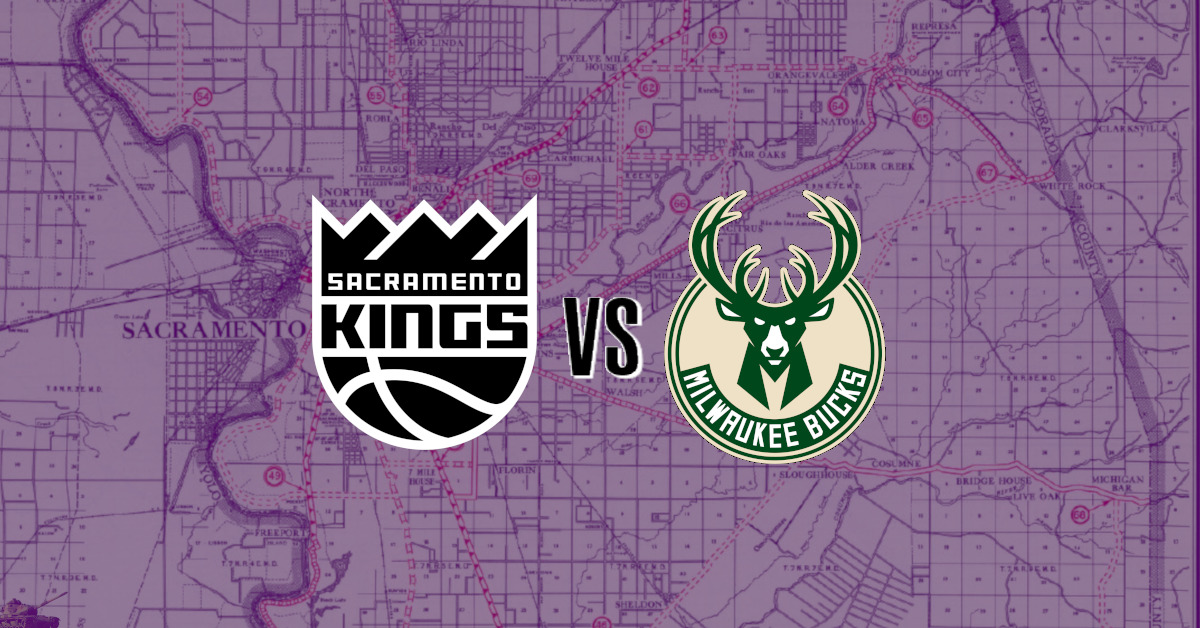 Well, the Kings have now lost six straight games, the Bucks have lost FIVE of their last six and I have officially lost the plot of what I'm supposed to be doing here. Like every season, I curl up into a ball of frustration, surround myself in a cocoon of Kings content and then after a drop in expectations for Sacramento, I emerge - a flitting moth of sarcasm and nihilistic indifference. Well, that time has come and I have officially started emerging from my stasis. For now, I've moved into what they call "cool substitute teacher" phase. I'm chill, we're just watching movies, so if you want to talk to the people around you, just keep your voices low and don't bring up any asinine deep state conspiracy bullcrap. For the nerds who want to actually be taught something and do their homework on this game, I might have something for you to do too. Soon though, as the losses pile up and I dig further out of this annoyance of a season, it's going to get much darker in here and much, much weirder.
Alright, so where was I? Kings are in Wisconsin. Okay, nice, love cheese. Jrue Holiday is out, very cool, not for him but for us. Mhmm. Mhmm. Okay lets go do the fun stuff! Let's go talk about "Kings Basketball" !
When: Sunday, February 21th, 6:00 PM PST
Where: Fiserv Forum, Milwaukee, WI
TV: NBCSCA - Kyle Draper on the call.
Radio: KHTK Sports 1140 AM
For Your Consideration
Keep on Milwaukeeing: So we'll make this a full collapse into the sea here by starting with the fairly mundane - The Milwaukee Bucks. I mentioned up top that they've lost five of their last six games and while I do think they're generally struggling, their competition in that five game losing streak was tough. Those five losses were to Phoenix by one, Utah by 14, OKC by 5, then Toronto twice by 11 then 14. They snapped that streak by beating OKC on Friday by 13. For a team rolling through some injuries and some general basketball malaise, that's a fairly tough five games. Not all that excusable when you have one of the best basketball players on the planet but, hey, I'm the cool sub so... whatever man. Someone pointed out on the Bucks subreddit that after starting last season 52-9, the Bucks have gone just 25-23 since the COVID shutdown. Now whether that's teams having the time to figure them out, players attempting to do their jobs during a global crisis or the lack of fans in the stands to hype them up and keep them focused, I couldn't tell you. What I can tell you is that trend is, well, not, not, not, not good for the long term sanity of previously mentioned demi-god. I like the Bucks as a team, I hope they figure it out and I hope whoever opened their goddamn food trap and cost us watching Donte DiVencenzo in a Kings uniform stubs their toes very hard today. Not, like, permanent damage. But there should definitely be cussing and a little nail indent on the coffee table leg.
The Bucks are still worlds better than the Kings. They're second in the NBA in points per game at 118.9 a contest, they're fifth in the league in pace and keep teams to 112 points a game, sixteenth best mark in the league. they're Top 5 in offensive rating and Top 10 in defensive rating and again, when trying to figure out whose the favorite in this one, just look to which ever side has Giannis Antetokounmpo. They're more often than not the favorite. For a team lead by a guy that's shot is as consistent as Sacramento winter weather, the Bucks take and make a ton of threes. They're sixth in the league in attempts and third in the league in percentage, shooting over 39% from deep as a team. They're second in the league in total rebounds, eighth in the league in assists and they're ninth in turnovers. So basically, they shoot well from everywhere, they're willing, intelligent passers and they go hard after the ball when they miss. All bad news for a Kings defense that couldn't defend a bowl of cold, soggy spinach from a five year old's fork with a brick wall and a completed algebra test as the only pass to get through it.
On the defensive end, the Bucks are nineteenth in blocks, but ninth in steals and fifth in player fouls, so if you were hoping the Kings could just get to the line all night and take some key players away from the Bucks, well, I'd probably place that hope somewhere else. Like in Dogecoin, as all intelligent people have already.
It's Sunday. It's the Bucks. We get it.
Film of the Night
Eventually, these will be better themed and corresponding to the city, mascot of which the Kings are playing but for now, I'm going with more of a light, loosey-goosey thematic feel. The movie that I'm recommending for tonight:
Annihilation (2018) Directed by: Alex Garland
(R-rating)
What IMDB Says: A biologist's husband disappears. She puts her name forward for an expedition into an environmental disaster zone, but does not find what she's expecting. The expedition team is made up of the biologist, an anthropologist, a psychologist, a surveyor, and a linguist.
What Will Says: I don't know what kind of person this makes me, but this is one of my favorite movies of all time. It's not my go-to movie to watch, in fact, I can only bear to watch it once or twice a year since it's come out. But there is something to the way this film was crafted that I have a deep love and appreciation for. First off, this has been described as a Lovecraftian sci-fi horror film, so don't sit your kids down to watch this. It's not a slasher, but there is a 'The pick for the Sacramento Kings is in!" style dread that permeates this film. Imagine if Wandavision had different Marvel characters and instead of playing with TV shows tropes, the Hex was screwing with everyone's perceptions of time, space and matter. As the two best actresses from the Thor franchise, Gina Rodriguez and Company make their way further into "The Shimmer" to find a team of missing scientists, this atmosphere builds and culminates into one of the most unexpected and strangely beautiful climactic scenes I've seen on film. The sound design and score are both amazing in setting the tone, the way everything looks inside "The Shimmer" is as beautiful as it is unsettling and I've spoken to three or four different people who drew vastly different conclusions from what this movie was attempting to say and each was equally touched from the conclusions they've draw. It's a piece of art where you get to lay your own life on it and it spits back an answer.
I had read the book and was excited to see Alex Garland's next feature after Ex Machina and so when I came home for the holidays, I took my high school aged sister to go see it at the time. There's a scene near the end of the film with some of the actors detained in a house with something happening else where.... people who have seen this movie know exactly what I'm talking about. Watching my poor, sweet sister's face drop and jaw hit the floor was an all-time great family moment for me and she still gives me crap when the movie gets brought up in family discussion.
Where to Watch:
-Hulu (Premium Subscription)
Trailer
Prediction
Someone is going to absolutely hate the movie I recommend. De'Aaron Fox will get back to 20 plus points per game tonight and Kevin liked my corny jokes on our Kings Herald twitter account so much last night, he'll retire my number on the spot and I won't have to do it again as a lifetime achievement award!
Kings: 125, Bucks: 121