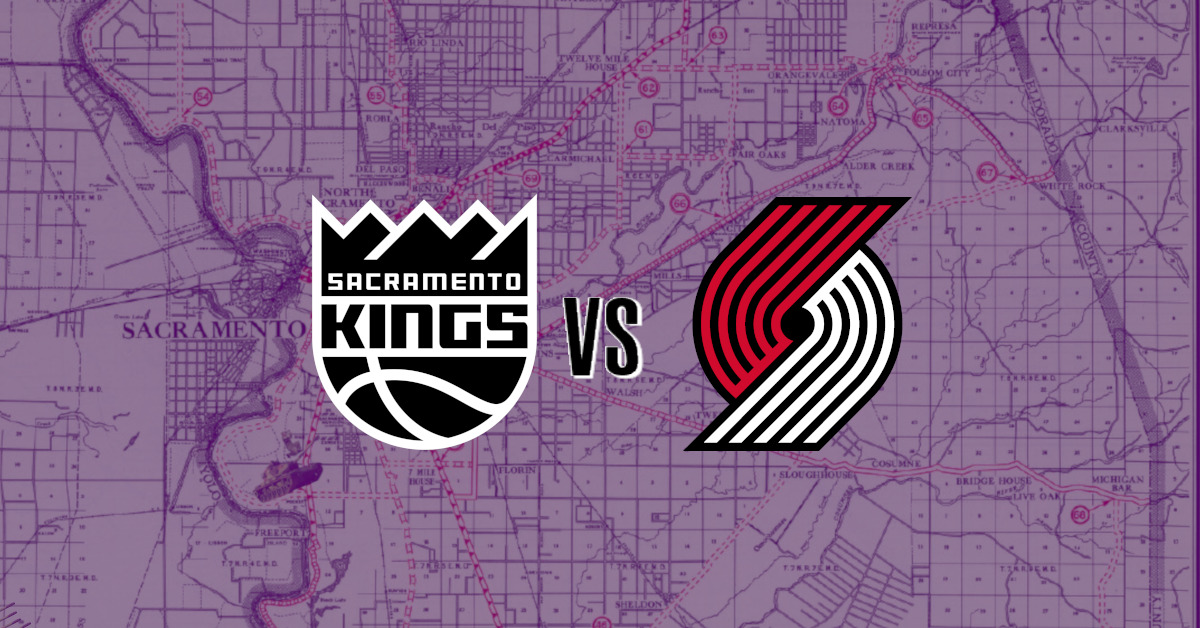 The end to the first half of the NBA season is finally here. Only 48 minutes of hard fought*, intelligent** basketball*** between us and a well deserved break from watching this team! Plague with terrible defense, a star that seems to turn it on when he wants to and two vets that take place disappearing into the night, the Kings remain bad.... but with slivers of hope here and there just to keep fans hooked. Tonight's game against the Portland "What-Ifs" is a back to back for both teams, with dark horse MVP candidate Damian Lillard declaring Dame Time in the last few seconds of a game Wednesday night in San Francisco. Can the Kings finish strong? Will Portland pull an LA and sit their most important pieces before the All-Star Break? Will we even see Luke Walton and staff after tonight? Let's talk Kings basketball.
*lethargic
**bone-headed
***hubris directly in the face of all sports gods.
When: Thursday, March 4th, 7:00 PM PST
Where: Moda Center, Portland, OR
TV: NBCSCA - Mark Jones on the call.
Radio: KHTK Sports 1140 AM
For Your Consideration
Silver Linings: I've been one of many to scream from the top of my caps lock about this team and the direction they're headed in and if you've somehow managed to stick around long enough to read this, I really don't need to tell you that. For 10 games, the Kings season rested on a knifes edge and it felt almost possible (not possible, but almost possible) that the Kings had reached the apex of Kangz - finally, in a year where it was a no brainer to be a bad team, the Kings were suddenly turning that corner. Against all odds, with zero bench help and a bad coach, the Kings had three starters having their best season as pros and a 12th pick in the draft looking like the Rookie of the Year. Those were fun. I said so with the greatest hesitancy, Tom Ziller wrote about breaking out Kings memorabilia and dipping his toes in the water of fandom again. It made teeth-clenched semi-believers out of a good deal of people even when flying in the face of all logic. Sports are weird and sometimes bad teams just get hot and stay hot. Well, that obviously wasn't the Kings.
I've done a lot of thinking on this season and why, past the extremely obvious, most people seem a bit more heightened in their emotions in regards to this team. Obviously we set aside the playoff streak, living in a pandemic and all that entails. I've settled a bit on where some of this extra emotional pizazz is coming from: the GM spot. With Vlade, we knew exactly what he was doing at all times. You could set your watch on draft day, free agency periods, the trade deadline that he was going to pretty much do the routine. Also, he spent a TON of time for a modern GM in various media outlets, talking to the fans, telling them what was happening and to have faith in his build. Even when the signings were iffy, draft picks bad and trades suspects, we knew roughly what would happen before it happened.
With new GM Monte McNair, its silence. No coddling of the fans. Zero charming quips and loveable figurehead becoming less loveable by the day. Even speculation on what he might do is just stretched from what the other GM's did while they worked together and pulled from one or two sound bites from MIT Sloan Conferences from 2016. We have his almost deal with the Bucks, which doesn't tip his hand, we have his basic passing of the free agency period and then we have each other to fight over the direction of the team. This isn't necessarily a bad thing, we just, are not in any way used to it. This is that anxious period after hearing "just wait till your father comes home and sees this mess of a team you've made!" but before the car has crept into the drive way. A lecture, a swat or a belt might becoming for us and all we have to do is watch the clock hands. Was that the door to the garage opening?
There is hope though. Fox has shown flashes of stardom that another coach might be able to unlock that gets him to that point every night. Tyrese Haliburton is the star role player we all hoped he'd be someday and he's getting there on a much shorter timeline than expected. The Kings have decent vets with trade value and good locker room presence, all their own picks for the future and a million different avenues they can go down in the next season or so. The Kings have proven then can play on one side of the court with any team in the league, even if they can't hang on the other with a good middle school squad. Most directions a competent GM chooses will eventually lead to a playoff appearance. Some like myself want a more extreme method to help make up for these 14 years of losing. Some want a more conservative approach so that they can get there and worry about the rest once they've found their way there. None of these are wrong, just different ends of an unstable spectrum of expected success. The evaluation period of the season draws to a close, in 21 days the Trade Deadline passes. We're in the beginning of the end of the beginning and it's all about to become a lot more chaotic.
Odds and Ends: So I've tried a different couple of times to get a sportsbook segment in here, but I've always either been too poor to play or too busy to really study the stuff and now I'm both, so I figured, what better time? This is also something that has been requested in the past by more than a few and I am happy to oblige a tryout to see if this can become a regular. Bear with me as the first few of these will be long as I explain the various things and what they mean.
Money line: Portland - 190 | Kings +155
Against the spread/ATS: Portland -5 (-112)| Kings +5 (-109)
For reference, I found these odds at this site here. I'm going to drop an explainer in here for the first couple of times to help familiarize those who aren't big into sports betting, so if you're a pro, feel free to jump into the comments and criticize the hell out of these explanations.
For those of you who don't know about betting the money line, the team given the negative number is the favorite and the positive number is the underdog. An underdog winning will obviously always pay out more money than a favorite and the longer the odds the bigger the return. For example, the Blazers are at -190, which means you'd have to bet $190 dollars to win $100. Meanwhile, the Kings at +155 means that if you bet $100 and the Kings win, you're cashing in 155 bucks. This one is simply, who wins the damn game.
If you've decided to bet against the spread, it's not enough for the team you've chosen to win or lose the game. If you've chosen the favorite, that team also has to win by more than a specified amount of point (aka: the spread) in order for them to €œcover." Spreads are meant to even out the total number of bets made on either team, but ultimately create a handicap in favor of the underdog, where that team will only have to lose by less than the spread that's given. So, for example, tonight the favorite Blazers are giving up 5 points, meaning they have to win by 6 to cover; otherwise, a bet on the Kings would win.
With the Kings in the middle of this skid and suddenly looking banged up in their game against LA, the Kings really look gassed and with Tyrese Haliburton injured, the Kings are the underdogs for a reason. It wouldn't surprise me at all if Fox sits tonight with that bum shoulder he seemed to be working on. Now, Portland could pull a Lakers and rest their star to give him an extra day of recovery before the All-Star Break and it is their second night of a back to back, so there's always a chance the Kings catch a break here and run out there without Portland at full strength. If I'm betting on the Kings, I'd probably drop money on the spread. The Kings and Blazers will both be playing tired after their close wins yesterday and the more chaos there is, the better chance the underdog has. If the Kings can keep Buddy Hield scorching hot and Fox isn't sitting, they've got a shot at keeping it close.
Prediction
Your heart will pang that Will didn't do his movie section for the second game in a row. But Will! What about Goonies, or Stand by Me or Kindergarten Cop. I'd have bet money that you reference "Itz notta TOOMA" somewhere in it! (They'll return after the All-Star Break)
Kings: 122, Blazers: 117