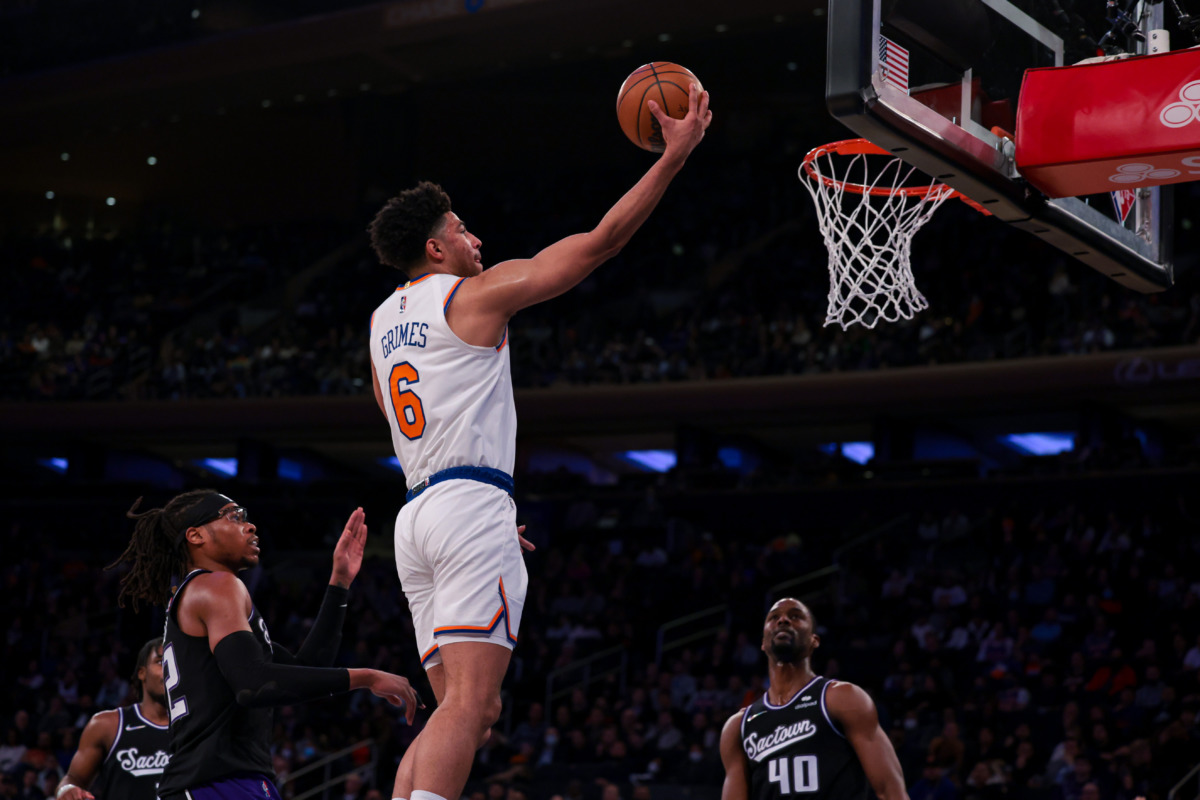 The Kings walked into Madison Square Garden tonight without their best player, De'Aaron Fox, for the 4th straight game thanks to some pesky left ankle soreness. Head Coach Alvin Gentry revealed pregame that nobody in the organization was concerned about a serious injury here, and that "with a guy like him, you err on the side of caution."
I find Sacramento's slow approach to Fox's return interesting in light of all the 'win-now' trade rumors and speculation surrounding the team at the moment. There doesn't seem to be a ton of urgency to get Fox back out on the court as the organizations play-in hopes continue to slip away, and let me be clear, I think that's great.
Fox shouldn't be rushed back. The Kings shouldn't operate as a win-now team heading into the deadline. Maybe these two events aren't related, or maybe they are. Or maybe they are holding out Fox because they're working on a trade involving him, and don't want to risk further injury blowing that up. Or maybe there is nothing noteworthy happening here whatsoever. I don't know.
Either way, speculating about which direction the Kings are going to take heading into the February 10 trade deadline is infinitely more interesting than the basketball right now, but this is a game recap and we have to talk about it, so let's talk.
This game was pretty bad! The Knicks dominated the Kings on the glass in the first half 27-18 in large part because Sacramento couldn't buy a bucket. The Kings shot just 37.8% from the field and 53.8% from the free throw line in the first two quarters of basketball tonight. Tyrese Haliburton struggled. Harrison Barnes really struggled.
To add insult to injury, one of the most disappointing players on the Knicks this season, Evan Fournier, couldn't be stopped. Fournier dropped 18 points on 7-9 shooting on the Kings in the first half alone.
I'm using first half numbers here because those are the only minutes that weren't glorified garbage time. Tyrese Haliburton's final stat line looks pretty nice– 21 points and 8 assists on fairly efficient shooting– but the Kings never really made this one interesting, and proceeded to get beat to the tune of 116-96.
If we're being real, it's tough to get invested in anything that's happening with this team right now. Half of the roster is featured heavily in trade rumors, and the other half should be, so I'm finding it difficult to break down any of this in detail when so many of the parts are going to change in 10 days. What's the point?
With that being said, one player worth investing some time in is Davion Mitchell. Davion has struggled offensively this season, but since joining the starting lineup (I understand this is only his 3rd straight start) we've seen some really encouraging stuff. He followed up a 20-point night in Atlanta with a 15-point night in Philly, and dropped another 18 points and 6 assists against the Knicks tonight.
The Kings need to find some purpose in this, another disappointing season, and figuring out who Davion Mitchell can be on an NBA team might be priority #1 heading into post-deadline basketball. He's passing the first test as a starter, and we'll see where it goes from here.
In better news, Will Griffith's Operation M.C.N.A.I.R. rolls on. For updates on that, you can find him on twitter here, and if you have the means to donate, we're focusing on the California Food Literacy Center this evening.