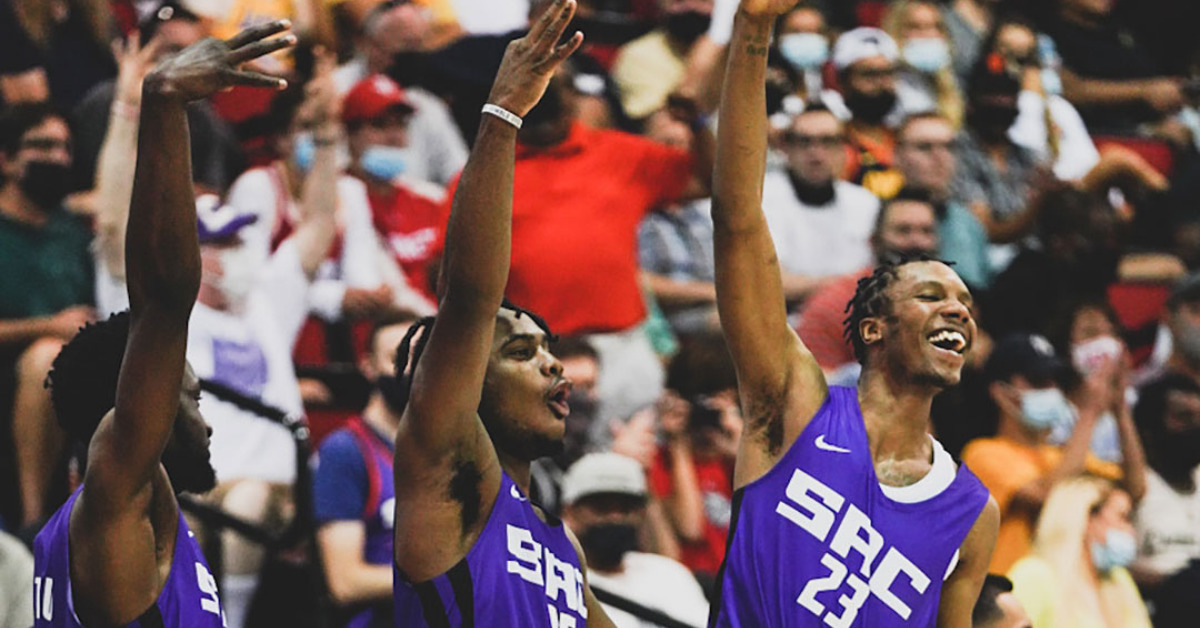 Sacramento's summer league squad moved to 2-0 in Vegas Tuesday night following a convincing 89-75 victory over Corey Kispert and the Washington Wizards. Louis King led the way for Sacramento with 16 points and Caleb Homesley had a game-high 17 points for Washington.
After three summer league games in which the Kings could barely hit the broad side of a barn, Sacramento made 14 of 34 three point attempts, with Louis King going 4/6 and Ade Murkey making 3/5. On the other end, Washington only made 24.1% of their 3PA (7/29), with all the makes accounted for by Homesley, Kispert and Mason Jones.
Davion Mitchell didn't have a marquee matchup this game like he did against Charlotte with Bouknight, but he still had some fun moments, especially on offense. Mitchell hit his first two three point attempts and also connected on another long jumper. It was nice to see him connect from outside after struggling with his shot in his last two outings. He finished the night with 12 points and 4 assists and was able to sit the entire 4th quarter and get some well earned rest as the Kings had broken the game open by that point. Defensively, he was tenacious as always and even saw a few possessions guarding the much bigger Corey Kispert to end the first half. Mitchell's best defensive highlight of the night came in the third quarter when he seemingly forced a backcourt violation with a timely strip of the ball, but the summer league officials instead called a foul. Hey, even refs have off nights.
Jahmi'us Ramsey had perhaps the most impressive plays of the night, and seems to be fully recovered from his recent ankle injury. Ramsey was aggressive in attacking the basket and also hit a few jumpers. His best move of the night was this splendid take to the rim where he showcased some stellar body control in mid-air:
How do you even do this pic.twitter.com/BxB7kJTd2e

— CJ Fogler AKA Perc70 #BlackLivesMatter (@cjzero) August 11, 2021
Ramsey finished with 13 points, making 5 of his 8 attempts from the field.
Neemias Queta finished with a quiet 6 points, 6 rebounds, 1 assists, 1 steal and 1 block in 21 minutes, but the stats don't tell the whole story. His presence inside altered quite a few Wizards shots, and on offense, he shows tremendous passing instincts. While he only had one assist, he routinely made the correct pass, and quickly too. One bad habit he has however is an unnecessary gather dribble when catching the ball near the rim a.k.a the Jason Thompson special. With his size, he could and should just go up with it and I'm guessing that will be a focus of his development with the Kings coaching staff.
Overall it was a great team performance by a Kings squad that looked far more comfortable than the Wizards, which makes sense given that this is Sacramento's fourth game together compared to just the first for Washington. Bobby Jackson has his squad playing great defense.
Sacramento now has a couple days off before they resume action on Friday against Desmond Bane and the Memphis Grizzlies.
Random Observations:
Chimezie Metu looks smooth out there, and you can see a lot of growth in him from this same time last year. He does need to be stronger with the ball in his hands though, getting stripped near the basket a couple times. He also needs to box out better. Overall a solid performance though.
I know King was our leading scorer and I didn't talk much about him, but there really wasn't too much to say. He was hitting his outside shot really well and played some solid defense too. His struggles from the California Classic seem to be in the rearview mirror and he is looking more and more like the player we saw towards the end of last season. That's what we want to see as Summer League progresses.
Ade Murkey had a really good night shooting the ball, going 5/7 overall. He's a bit undersized but he plays with energy on both ends.
Jordan Schakel got his first action with the Kings and had a couple nice moments but also forced it a bit as well. Schakel went 0 for 5 from distance.
Robert Woodard II had probably his best Summer League game yet... and still didn't look that great. 5 points and 3 rebounds with 2 turnovers in almost 18 minutes isn't going to cut it. He just doesn't look all that comfortable out there, especially when he has the ball in his hands.
Matt Coleman makes some very head scratching decisions, but even with that, he finished with 10 points on 4-6 shooting with 3 assists and 3 steals.
Giannis, Kostas and Thanasis were in the building tonight to watch little brother Alex, who checked in for the final 4:21 of the game. The results were... not pretty as Alex went 0-2 including a bad miss from the corner. Still it was cool to see all the Antetokoumbros out at Summer League supporting their brother.