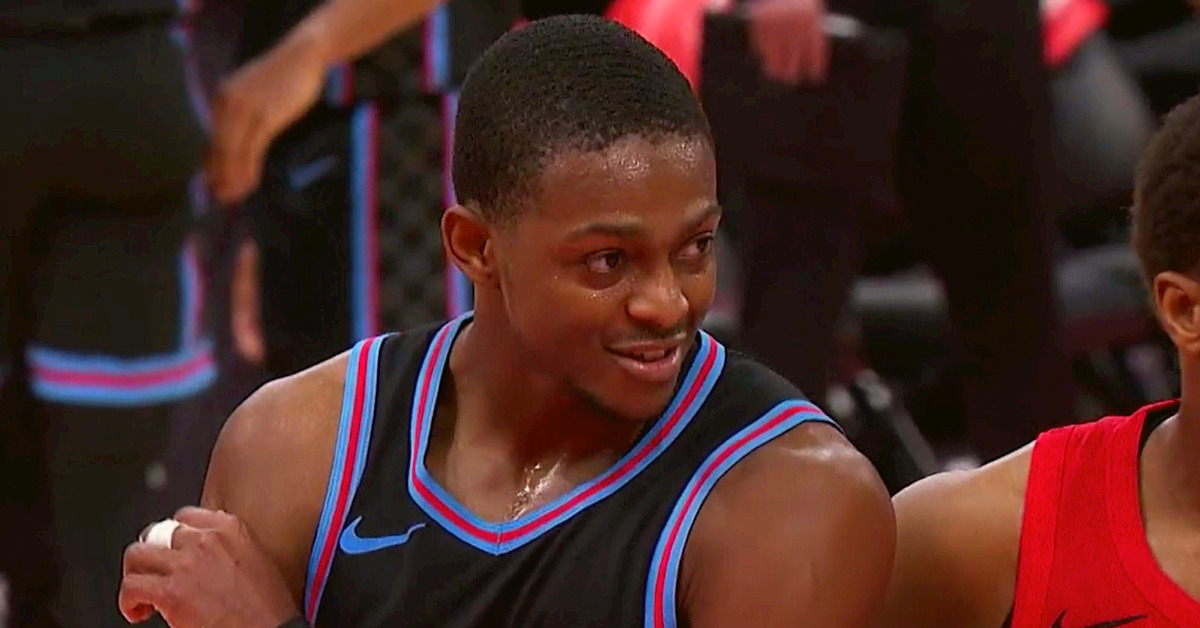 KangzThe Kings started tonight's game absolutely scorching hot from deep and pass-happy as hell, and managed to hang on after some late game Kangzing to secure a vengeance win against the Toronto Raptors, winning 126-124.
De'Aaron Fox was the leading man for the Kings for most of this game and finished with 24 points to go with 4 assists and 2 rebounds. He controlled the pace of the game, showed off his lightning quick speed with a series of dazzling contested layups and generally did what De'Aaron Fox does. He wasn't perfect, with 7 turnovers tonight, but this was a night where he looked like the best player on the floor. He also took a shot to his left knee with about 4 minutes left in the game and I wouldn't be surprised to see if he's questionable for tomorrow's game in Miami. Rookie Tyrese Haliburton did everything but score efficiently tonight, going for 10 points, with 6 rebounds and a career high 11 assists to add to it. Haliburton started rough with two very rookie-esque passes for turnovers in the first quarter but made up for them with 6 assists in the first fifteen minutes of the game. While his shooting 4-10 overall and 1-7 from deep is not great on the eyes, Haliburton was doing what Haliburton does all night and it didn't feel nearly that rough. His one made three came at a critical moment in the fourth and he shot it with absolute confidence despite his earlier struggles from deep.
The first quarter of Friday night's game was all Harrison Barnes. He was perfect in the first - going for 13 points, 4-4 from the field include three makes from deep. Barnes finished with 26 points, 7 rebounds, and 5 assists, but it was his strong start that got the Kings the early lead that they never really looked back. Buddy Hield had himself another big game from behind the arc and he's starting to look like he's finally found his footing after the first 15 or so games saw him struggling. Buddy ended up with 22 points, going 5-8 from deep.
Richaun Holmes got beat up on all night and more than a few times the guy got mauled going for rebounds only to have the refs swallow their whistles. He chipped in 5 points, 5 rebounds, and 2 blocks but was plagued with foul trouble the whole night. Late in the game as Toronto closed the gap to single digits, Holmes was assessed his 6th foul for a shrug that wouldn't have knocked an empty Big Gulp on its side. His obvious frustration spilled over to him in the arena tunnel obviously fuming at what had happened and honestly, his frustration is well deserved. The refs were a bit lopsided tonight and most of it was turning a blind eye to Holmes getting bushwhacked all night.
Marvin Bagley might have only played 20 minutes tonight but he still found a way to be noticed, adding 7 points and 5 rebounds with some memorable play in the first half. He was still targeted often for some isolation against Pascal Siakam, but held his own, especially in the first when he had back to back possessions where he put the clamps on the guy. He also had a great offensive sequence where he backed Siakam down and then threw an old school Boogie Cousins spin on Siakam for a score. Pascal then came down on the other end and on a spin dribble at the top of the key, froze and dropped Bagley on his way to an open dunk. He's improving, not perfect.
This game saw the Kings pulling ahead at the end of the first and then maintaining their cushion right up until the point where Kings fans felt comfortable in their chances of seeing the Kings winning their third in a row. Sure, Toronto got within two a couple of times but the Kings executed late against a decent team and never truly felt like the game was slipping away. This goes down as a two point game, but it rarely felt like that.
Random Notes on the Night
Notes: Marvin Bagley is really starting to love those corner threes. While he was only 1-4 from deep tonight, his confidence in that shot is starting to show.
When Hassan Whiteside gets the ball, it's headed towards the rim. The man has no need for extra passes. 16 points on 6-7 shooting means it worked out for Sacramento tonight. He also added 9 rebounds and shot 4-6 from the free throw line.
Kings started 7-12 from 3 in the first quarter to the Raptors 2-7. They finished the game shooting 16-36 while the Raptors with 13 -32.
The Kings had 19 assists in the first half of this one. The ball movement was crisper than it's been in weeks and I found myself enjoying watching the game. Like, truly enjoying it.
Aron Baynes, the Raptors starting center for sixteen of their games this season, recorded his first free throw attempts tonight. Toronto.
The Kings don't have much time to think about this one - they have a game tomorrow evening at 5 pm in Miami! I'll see you all tomorrow morning!