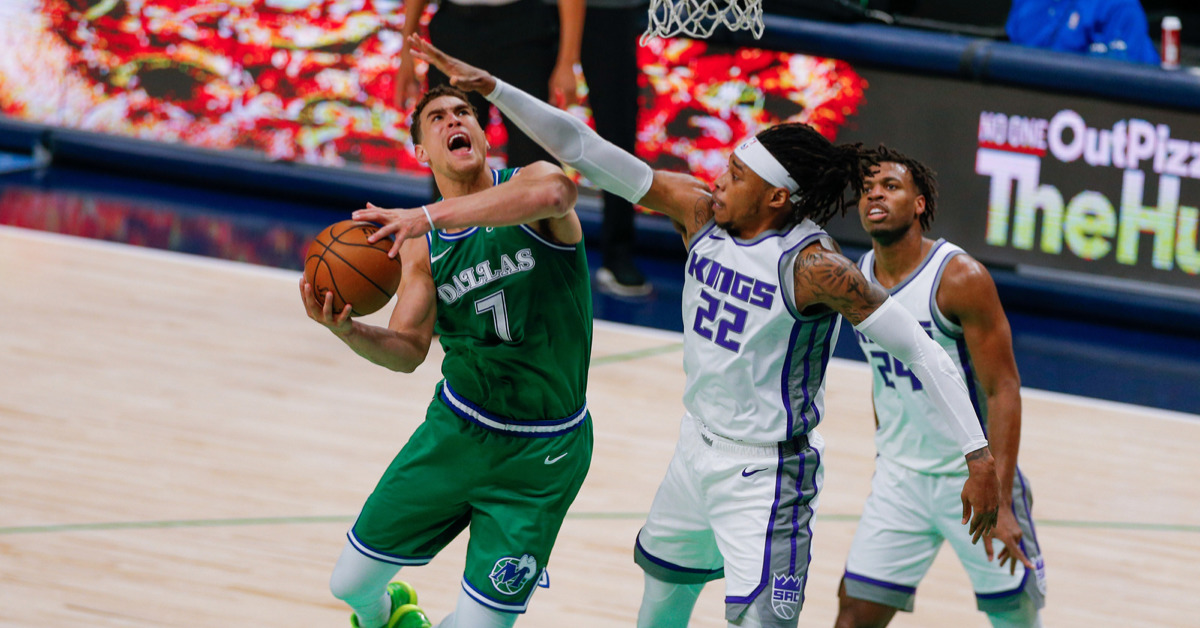 We are just two weeks away from the conclusion of the 15th season in a row of roasting in basketball hell. Hold on to your butts, people, we're almost there. The Mavericks came into this game on the second night of a back-to-back and the Kings were riding the one-game win streak they started in LA against the Lakers. And considering that the Kings have bested the Mavs both times so far this season, this had potential to at least be somewhat fun to watch. Let's see how the Kings did:
Quick Stats
Outcome: Kings win, 111-99
Sacramento Kings: 111 PTS, 55.6% FG, 39.3% 3 PT, 62.5% FT, 27 AST, 19 TO
Dallas Mavericks: 99 PTS, 42.0% FG, 17.1% 3 PT, 80.6% FT, 15 AST, 16 TO
I wish the Kings could have just played the Dallas Mavericks 72 times this season. With five Kings in double digits and huge performances from Marvin Bagley III, Buddy Hield, and Delon Wright, the Kings remain the Mavericks' worst nightmare. Our hearts all collectively shattered as we watched our beloved rookie exit the game with a leg injury in the third quarter, but the Kings rallied together to pull out the win for their young leader.
The Good, The Bad, & The Ugly
The Good:
Defensive Energy: The Kings showed a consistent amount of energy throughout the night. It got them into some early foul trouble, with five players entering the second half with two or more fouls, but it was encouraging to see them being aggressive on the defensive end. This energy forced the Mavericks into 16 turnovers and allowed the Kings to produce offensively in transition. One of the best transition plays was a Buddy Hield pass up the sideline to Terence Davis in the corner who took two dribbles down the baseline for a dump pass to a trailing Damian Jones who then had an acrobatic finish for the and one. It is this version of the Kings that we all love to see.
The Wright Guy: No De'Aaron Fox. No Harrison Barnes. No Tyrese Haliburton. This did not set up a good scene for the Kings entering the fourth quarter. Despite a 15-point lead, knowing that Luka Doncic was still on the floor gave the Kings a tall hill to still get over in the remaining 12 minutes. But Delon Wright saw things differently - he had eight of his 14 points in the fourth quarter and each one came at important moments down the stretch.
Buddy Shooting: Buddy Hield found some early shooting success as he hit 3-4 from deep in the first half and finished 6-10 for a total of 27 points. It's been well known for awhile now, but Buddy Hield can certainly shoot the ball. His biggest hit came with 1:37 remaining in the fourth to give the Kings a strong nine-point lead.
The Bad:
Buddy Dribbling & Passing: While Buddy has proven his worth as a 3-point shooter, he has yet to show consistent strength in other offensive skills. Buddy had four turnovers tonight and even a few other near turnovers. His passes are often weak and easily picked off and his dribbling consists of mostly east to west movement rather than north towards the rim. My biggest concern isn't that he keeps trying to do more (he did have some success tonight in getting to the rim), but that Luke Walton seems to freely allow him to. My ideal version of Buddy Hield is a 2-3 maximum dribble limit whenever he touches the ball. His shooting is too good to waste time and energy on him trying to create his own shot. Instead, I would love to see Buddy learn how to move off of the ball and find sneaky screens for catch and shoot 3s. But until he has a coach that implements an offensive system for Buddy to thrive in, I feel as if Buddy is unable to reach his full potential.
The Ugly:
Defensive Execution: The Mavericks were without two main scorers tonight in Kristaps Porzingis and Tim Hardaway Jr. This left the obvious Luka Doncic, who averages 28.6 points per game, and the next leading scorer after him is Jalen Brunson, who averages 12.4 points per game. It would seem that the obvious defensive strategy would be to force the ball out of Luka's hands and challenge other Mavericks to have career nights. Instead, the Kings stuck with single coverage on Luka all night. Although a relatively slower night for him (30 points, 6 assists), the Kings suffered in foul trouble for most of the night because Luka was able to bully his way to the line going one on one.
The King of Kings
This one was easy. We got the very best version of Marvin Bagley III tonight as he finished with 23 points and nine rebounds. By the end of the first half, he was already having his best game we've seen. But when Tyrese Haliburton exited the game with a  leg injury, we all wondered who would step up to carry the load, and Bagley became THAT dude. All night long he looked confident, active, and agile. With those three things, we saw him attack the basket with decisiveness and grace at the rim. He still had some turnovers from mishandling and improper footwork, but these were easily overshadowed with his consistent effort and skill. One play that particularly stood out to me was in the second quarter when Bagley looked to attack Maxi Kleber with a spin move but lost the handle on the contact and lost the ball out of bounds. In a game where there were complaints after every play, Marvin Bagley III chose differently and instead immediately ran back on defense. Compared to his draft counterpart, Luka Doncic, this had humility and sportsmanship radiating off of Bagley's body and he certainly outshined everyone tonight.
Up Next
Tuesday, May 4th @ Oklahoma City Thunder - 5:00 P.M. (PT)