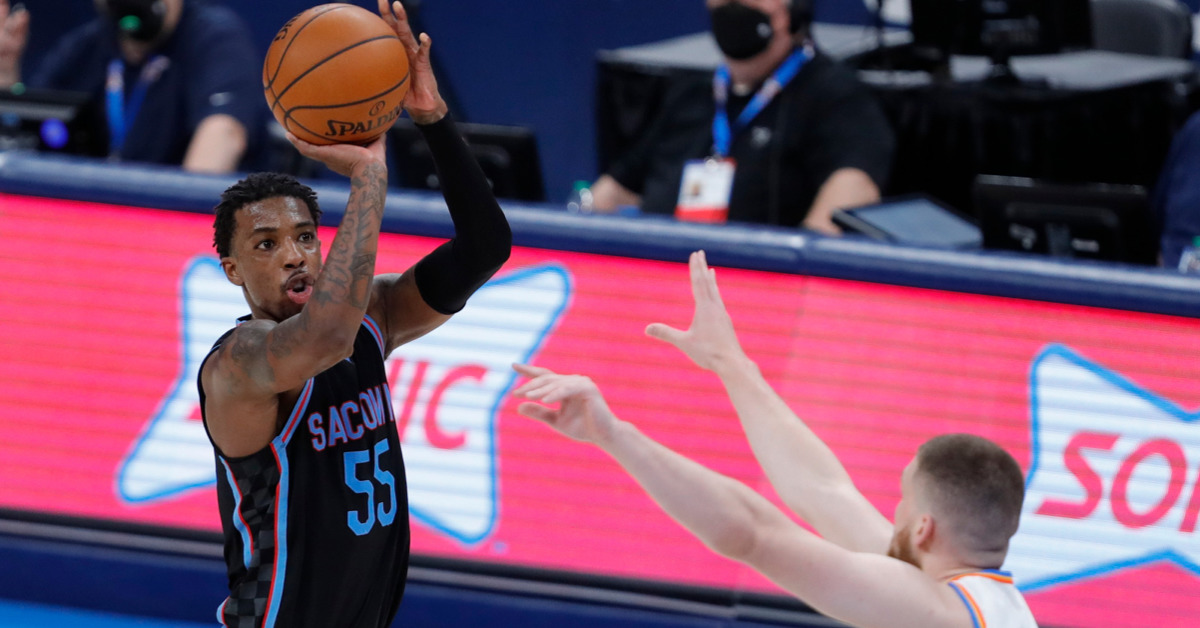 Kings fans were still waiting for final results from Tyrese Haliburton's MRI heading into the game tonight, but the biggest takeaway from Tuesday's matchup vs. the Oklahoma City Thunder was that the Kings were optimistic on the severity of Hali's injury following a Luke Walton pregame update.
Haliburton was also shown on the Kings broadcast standing up and talking with his teammates, which is not something you'd expect to see if there was fear of a real serious knee injury here.
Hali is still in good spirits and supporting his teammates 👏 pic.twitter.com/quG0aPMr5S

— Kings on NBCS (@NBCSKings) May 5, 2021
Thankfully that optimism and speculation held true. ESPN's Adrian Wojnarowski reported shortly after the conclusion of tonight's game that the MRI revealed no ligament damage in Haliburton's knee, but he would likely miss the rest of the season. Great news, all things considered.
ESPN Sources: Sacramento Kings guard Tyrese Haliburton has no ligament damage to his left knee, an MRI revealed, but likely will miss the rest of the season. Haliburton won't require surgery and is expected to make a full recovery.

— Adrian Wojnarowski (@wojespn) May 5, 2021
Alright, let's talk about the game that doesn't matter against two teams with wildly different starting lineups than they entered the season with. These are some end-of-season ass lineups if I ever saw them, and the game had that kind of energy to it.
Starters:

SAC
G - Delon Wright
G - Buddy Hield
F - Maurice Harkless
F - Marvin Bagley III
C - Richaun Holmes

OKC
G - Theo Maledon
G - Luguentz Dort
F - Isaiah Roby
F - Darius Bazley
C - Moses Brown

— James Ham (@James_HamNBA) May 4, 2021
Despite injuries and other lineup weirdness, the Kings have a more talented roster than OKC when healthy, and had a more talented unhealthy roster than OKC tonight. Sacramento played like the better team for a majority of this contest, but turned in one of the most atrocious late 4th quarter performances you'll ever see and nearly gave this game back to the Thunder. They ultimately did not, and secured a sketchy 103-99 win.
I don't know what the Kings were doing in the final five minutes of this one, but it was all wrong. Early shots in the shot clock when bleeding time would have been the optimal move, bad threes, weird defense, and completely aimless play on both sides of the ball until Delon Wright bailed them out with what was essentially a game-winning layup.
How did he make this one? 🧐 pic.twitter.com/tFNv65GORv

— Kings on NBCS (@NBCSKings) May 5, 2021
Wright was good all night, contributing with real nice all around performance that included 13 points, 9 rebounds, 8 assists, 4 steals, and 4 blocks. Terence Davis and Buddy Hield led the Kings in scoring with 18 points each. It wasn't a particularly noteworthy night for the rest of the Sacramento's roster. Bagley and Holmes looked decent for stretches. Justin James poured in 13 points but was a -18 on the evening.
This was not a game you need to go back and rewatch if you missed it live.
The Kings were able to hold the Thunder's weak offense to just 99 points tonight, and that was the difference in this game. Despite the absence of Fox and Haliburton, the Kings still had enough scorers to put up points against the Thunder's G-League defense.
This was the only 5th time this season that Sacramento has held an opposing offense to under 100 points in regulation, and they are 5-0 in those games. The Kings only allowed 99 points vs. the Thunder tonight, and that's your ball game.
The Kings have inexplicably won their 3rd straight game without De'Aaron Fox, and improved to 28-37 on the season.
Next up: the Pacers in Indiana on Wednesday night.