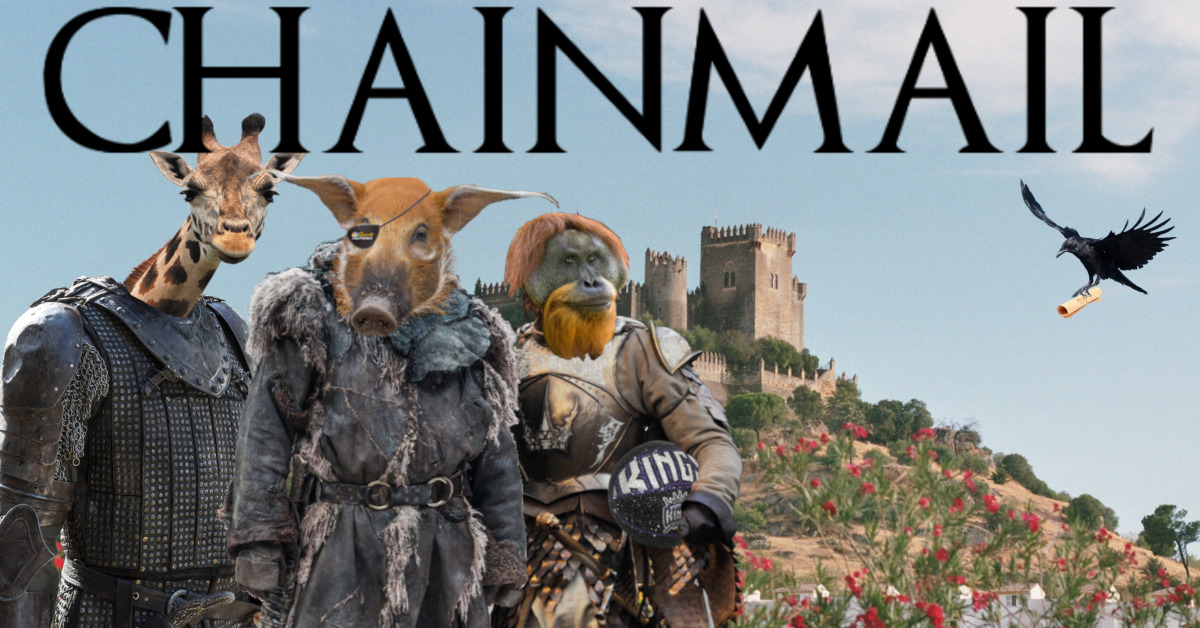 Welcome back to Chainmail! This week, we have the privilege of welcoming Sacramento Kings insider James Ham of NBCS to the mailbag to answer some of your questions. We're talking keeping Harrison Barnes, trading Harrison Barnes, pushing for the playoffs, tanking, and much, much more!
Let's dive right in!
From 1951:
Fox, Buddy, Barnes, Rese and Bagley cost about $85m next year. Holmes is unsigned.

Advocate for those who want to keep Barnes €" show me a realistic roster next year and show your work. Just saying €œtrade Buddy€ is not enough, show me a realistic trade and convince me another team wants him at his current cost.
James: You lost me at €œshow your work.€ In all honesty, the Kings base roster - Fox, Buddy, Tyrese, Barnes, Bagley and Holmes isn't all that bad. Dealing away Hield won't be easy and his ability to stretch the floor is a big reason why Fox has any driving lanes at all. Giving away Barnes in a salary dump will only leave a 35 minute a game hole in the Kings' rotation.
The roster for next season might look similar, but with the likely departures of Cory Joseph, Nemanja Bjelica, Jabari Parker, Hassan Whiteside, Glenn Robinson III and one or more of the younger players.
Where the Kings can realistically improve is by adding better versions of the players that won't be back. They need a center that can block shots, but keep up with the pace of the Kings' offense. They need a defensive minded guard that can push the tempo. They need a bigger 3-and-D wing and a stretch four that can run.
Players like Robert Woodard, DaQuan Jeffries and Jahmi'us Ramsey can be part of the roster and might fill one or more of these roles, but Monte McNair has his work cut out for him.
In a perfect world, the Kings would use expiring contracts with second round sweeteners to add one or more of these pieces at the trade deadline. They should be able to find another player that fills a void in the 2021 draft.
They'll have some salary space to work with and the fact that Holmes only has a $6.5 million cap hold allows the team to go out and use what space they have and then potentially bring him back on a full mid level or maybe a little higher.
None of this is sexy, but with improvements expected from Fox, Haliburton and Bagley and some savvy additions in the draft and free agency, this team could perform better next season.
Tim: I think there's probably a market out there for Buddy Hield, assuming that he's the definitive odd man out to generate some cap flexibility for the offseason. The Pelicans, Mavericks, and Sixers all need shooting and have the right type of contracts to consummate a deal, so if the Kings are determined to move Buddy, they can get that done.
I will disagree with James in his assessment of the roster. "Not that bad" isn't exactly a great trajectory, especially when considering the cost and the age of this group. If we only trade one of Buddy or Barnes, most of the team's available cap space will be used to re-sign Richaun Holmes, assuming that he's a priority moving forward. I don't think he can be brought back using his early bird rights or even the mid-level exception. We need cap space or he walks.
If that's the case, there isn't really a way to add better versions of Cory Joseph and Nemanja Bjelica, and that's not even concerning one's self with the possibility of improving the starting lineup, which isn't up to par either. The MLE can only go so far, and next year's crop of free agents isn't exactly world-shattering either. We can hope that the Kings find another quality player in the draft, but betting on that late lottery pick to be as good or better than Tyrese Haliburton isn't a particularly wise path.
Going back to Barnes, if the Kings feel he's irreplaceable in the short-term, they can keep him if they're willing to make other sacrifices down the road, such as letting Holmes go in free agency if he gets too expensive. Personally, I think this team isn't getting to the 10th seed at full strength to even battle for the final playoff spot, so if a team offers any decent value for any of the non-core players, Monte McNair should pull the trigger.
Will: I love how these first answers are a slow descent into Kangz-centric nihilism. If the starting roster + 6th man for opening day next season is Fox, Buddy, Tyrese, Barnes, Bagley, Holmes my soul is going to miraculously gain mass and bust through my rib cage like a Xenomorphic chestburster doing a Marshawn Lynch impression. This team's core is Fox and Haliburton. Fox. Haliburton. I know I have to live in a real world where acquiring ONLY young assets is apparently not a recipe for long term success and so I'll safely assume that at least one of those three vets is still on the team next year, but if I had my druthers, Buddy and Barnes would be gone at the deadline and Bagley would get the rest of this season to be evaluated and then more than likely moved in the off-season (I can keep him on a bench role next season too if he shows improvement in the back half of this season too, I'm not picky with him). Holmes is young enough that he can be a moon around Planet Foxiburton, but only for the right price. Paying through the nose for anything outside of an absolutely unquestionable elite center is a quick way to mediocrity and so if he doesn't want what reigning Sixth Man of the Year Montrezl Harrell got, I feel confident that another center looking for a spotlight can be found. I'm sure he's earned $15 mil a year, but if the market says $7-9 mil a year, that's all I'm willing to pay.
Veteran presence can be found at every position literally every single off-season and for far cheaper than what Barnes and Buddy are making. 25 players come of the book ever season with the 'winning mentality' some of you crave. The Garrett Temple's, Iman Shumpert's, Kent Bazemore's, Kosta Koufos' of the league - those guys get acquired in trades and picked up on the cheap every single year. The Kings can find productive fill-in starters for whatever position they don't draft for this off-season. Will Buddy's shooting be missed? Hell yes. Volume shooting like his is never easily replaced. But a leap from Haliburton and extra shots for Fox can smooth those deficits. The goal moving forward toward next season should be to unload costly vets, surround Fox, Haliburton and semi-high '21 Draft pick with cost-effective, decent veterans, allow Fox the space to grow as a leader and franchise guy, use the cap space to facilitate other team's trades for draft assets and play whoever of the young outer rim players like Guy, Jeffries, Woodard, Ramsey etc. enough to see if they can be a piece of the team moving forward. This team can be turned around in a year, two years depending on the choices that get made. It doesn't have to be a five year plan. But, they cannot stay their current course.
From LandParkJimmer:
Why should the Kings trade Barnes? Yes his contract isn't cheap and he's not all that young (still only 28), but he can still ball as he's been proving and is a great locker-room presence. Do we get enough in return to justify the trade or is this really more of contract dump?
James: You aren't going to get straight value for Barnes. The question the Kings have to ask is whether they can replace even part of what he brings to the table via trade or free agency.
Barnes is having a career year, even if his last set of games is less than stellar. He has a declining scale contract and he is a player that you can put out on the court and get league average production for 35 minutes a game.
He's a leader behind the scenes, sets an example for the young players about how to maintain your body and he is one of the best community representatives in the league. He has another five years of very solid basketball in front of him and it's very unlikely that the Kings will get more than a salary dump, a young player with potential and marginal draft compensation in return.
The sticker price of $38 million over the next two seasons is steep, but name five Kings over the last decade that check all of the boxes that Barnes does.
Tim: Trading or not trading Barnes probably comes down to your belief in this particular roster. If you think they can make a legitimate run at the 8th seed, keeping him around is easily the best option. Conversely, if you think winning seven of eight was a fluke, and losing seven of nine was more indicative of this team's season-long projection, dealing Barnes is probably the right move.
It's true that Barnes is the third-best small forward of the playoff drought if he ranks below Rudy Gay and Ron Artest, but the Kings past stupidity shouldn't necessarily impact their future decisions. I don't want to compare Barnes to players of the last ten years, I want to compare Barnes his counterparts in the league right now, and I think he's about an average starting forward. He's not easily replaceable, but he's also not irreplaceable. He's solid.
Will: I ranted on the last question a bit so I'll keep it short and say that I agree with Tim here. Schrodinger's Barnes has already shown that he's both good enough to keep the Kings in some games they should have lost but also not good enough to completely overcome his talent of disappearing for stretches of games at a time. I'm one of the people Tim listed above that believes this good stretch, while encouraging and fun, was also a fluke and not indicative of the overall direction the team is headed. I'm high enough on this draft class to think the Kings could greatly improve the trajectory of the franchise by focusing on giving guys like Jeffries and Woodard a chance at the forward spots for the rest of the season and collecting a decent draft pick. As such, I think Barnes return of a young player with upside and a marginal draft pick plus cap space is worth losing him. The evil tankie in me knows he'll win us a game or two by himself in the second half of the season and every bit helps. As for the other parts that are missing: I put the onus on Fox and any vets acquired to help with leadership and community work. If Fox is being paid the max, he should be the leading voice in the locker room. Next year will be his fifth season, so it's time for HIM to be the vet presence.
From BBmuteman:
Is it better to get very limited minutes and practice with the NBA team or a lot of minutes on the G League team? I'm just wondering if the young guys, Ramsey, Woodard, and Guy, might be better off in the G League bubble or playing with the kings riding the bench.
James: It's better to get Woodard and Ramsey as much 5v5 court time as you can get them. They lack experience, which can only be gained by playing in game action. With the compact schedule and Walton focused on an eight man rotation, the team just doesn't have any true practice time, just a lot of film and walkthroughs this season.
Without a summer league or true offseason, this group is in danger of being left behind. Woodard has absolutely shined in his opportunity and Ramsey is showing some promise.
But without the bubble, these two would be sitting and watching the entire season.
Tim: I'm with James, here. Woodard and Ramsey were getting very little practice time with the team due to the compressed schedule, so getting them on the court is a huge plus. I also love that the G League bubble has plenty of former NBA players trying to mount a comeback, as well as the Ignite team, so the rookies are getting a real opportunity to compete against NBA-level competition.
With Luke Walton focused on winning games and saving his job, there is very little chance that Woodard or Ramsey would be given a shot at rotational minutes, so I'm perfectly happy for them to get 25 or 30 minutes of playing time in the bubble
Will: Three for three on this one. There are a ton of NBA ready guys that are playing in the G-League anymore and getting NBA style minutes against NBA level players is invaluable for a group that missed out on the regular rookie routine. Ball out young ones, we'll see you in the second half of the season!
From GregoryI:
If the trade deadline was this week, what should Monte do? Go all-in for the playoffs or trade for assets?
James: I would go all in for the playoffs if the deals make sense beyond this season, but I'm also jaded from covering the team for 11 seasons.
A winning culture starts with...winning. A losing culture happens when you don't give a squad enough depth or talent to compete. Welcome to the 2020-21 Sacramento Kings roster.
I would shop all expiring contracts, the stack of second round picks and try to improve now. Even if you miss playoffs, there is a chance that you add a major piece like the team did when they acquired Barnes. At worst, you want to build some momentum for next season.
Lastly, I love the top 5-6 players in the 2021 NBA Draft, but my concern is that the Kings are going to be just good enough not to land one of those players. After that group, it's a mixed bag of potential, just like every other draft and banking on finding another Tyrese Haliburton in the back half of the lottery is a fool's errand.
Tim: Earlier this week, I wrote that this team was built to lose, and I don't think Monte McNair can really depart from that plan, outside of an insane run by this team. To James' point, there may be some win-now/future-building moves out there, like a John Collins trade, but those transactions are going to be few and far between. If something along those lines is a possibility, count me in.
Assuming a Collins or an Aaron Gordon or a Lauri Markkanen type player doesn't become available for the right price, the Kings probably need to punt on the season. I don't believe they'll be bad enough for a bottom-4 finish, but if they're not making the playoffs anyway, they may as well cash out where they can and gain better lottery odds in the process. For example, the 14th pick has a 2.4% chance at jumping into the top-4, while the 7th pick carries a 32% change at a top-4 selection. That's not exactly a small difference.
Will: A winning culture starts with winning talent. Try to think about a team that made a championship run without an elite player or coach... I know you didn't just think about the '14 Atlanta Hawks, coached by Mike Budenholzer. While Fox and Haliburton are steps in the right direction, this team just isn't a talented enough team to get anywhere long term, from both a player and coaching stand point. Prime Fox and Hali can drag this team to play-in games for 5-7 straight years, but if the goal in Sacramento is to win a championship, there needs to be a serious upgrade in coaching, as well. If I squint really hard I can see that Luke Walton and staff have done enough this season to prove why Vlade Divac might have thought he was the man for the Kings, but at the end of the day, he sets the tone, he decides the rotations, he does the scheming and the Kings plain don't have it. You want to keep Walton as your coach and gun for a playoff spot? You better have an All-Century talent like Lebron Ja- oh, oh wait. No, that didn't end well either. Talent is what wins in this league, talent is where your winning mentality will derive from. Either hire a coach talented enough to drag 5 good guys to the playoffs through scheming or acquire player talent that covers the deficiencies in their coach. Kings don't have either.
From RobHessing:
The Kings' recent run: Fad or fashion?
James: Which run -- the 7 wins in 9 chances of the four game losing streak? My opinion is that the Kings have a solid base and when they are playing together, they can compete on a nightly basis, as long as they are 100 percent healthy.
When you take away even one of the main six players (Fox, Hield, Haliburton, Barnes, Bagley, Holmes), the lack of depth on the team becomes glaring.
Unfortunately, the schedule is so compact that players are running out of gas and the team hasn't been hit with a true covid scare or a major injury. Without an infusion of reliable NBA talent, this team is going to have a tough time finishing this season on a high note.
So fad and fiction is my answer. They can win, but they desperately need help. They aren't a 7-2 team or an 0-4 team, but they can be a 7-6 team, if that makes sense.
Tim: The Kings aren't going to lose seven of every nine games, nor are they going to win seven of every eight, so I would say both of those runs are more fad than fashion. However, their overall record (12-15) feels more indicative of their place in the league. A 36-win pace in an 82-game season feels about right.
Will: I think outside of Fox, they've vastly overperformed as a team so far. It's been enjoyable to watch, but it's an illusion brought on by unnaturally lucky circumstances regarding COVID and injuries. Tim wrote a whole article this week on the Kings being built to lose and I think it's pretty damn accurate. The lack of a bench wasn't a bug in this years team, it was a feature, designed to acquire higher end talent at the end of the season while not looking so terrible that it can be called an outright Process-level tank. In hindsight, this run probably wasn't long enough to save Walton's job and with injuries starting to show and the trade deadline approaching, I doubt those winning ways return.
From bgord:
When we get everyone back from the g-league and health, what do you think the rotation should look like?
James: The same. Woodard and Ramsey are young and still need a lot more time to get their feet wet in the league. There may come a point when the Kings pull the plug on the season and play the young guys, but keep in mind that Walton is coaching for his future as well.
Jeffries is more likely to get an opportunity before Woodard and Ramsey, but if the season spins out of control, all bets are off.
Tim: Get Cory Joseph all the way the hell out of the rotation. For some reason, we still want to pretend that Joseph is an effective defender, but that's simply not the case anymore. The Kings actually surrender 3.9 more points per 100 possessions with Joseph on the floor, which is the worst rate of any rotational player on the team. Yes, even worse than Marvin Bagley and Buddy Hield. The Kings score 7.1 fewer points per 100 possessions with Cory Joseph on the floor, also the worst mark on the team. Give Kyle Guy his minutes. Give Jeremy Lin his minutes. Give Will his minutes. I don't care, get him off of my television.
Oh, the question was about the rotation. Well, that's my answer!
Will: I... I will take his minutes. I've got like a bunch of COVID weight to lose and an Achilles with scar tissue but, I accept on behalf of the tank.
James is absolutely right in that Walton is coaching for his future - not just with the Kings but in the NBA and as such, any vet that is left on this roster is going to play until the call comes from on high to wrap it up. Maybe they'll cut Joseph's minutes for Kyle Guy and in the last ten games give Joseph a few games to rest so Guy and Ramsey can play 2nd and 3rd string but... that's all we can reasonable expect. Copy and paste the same if Barnes is on the team past the deadline but with Jeffries and Woodard.
From Peja:
Fox and Haliburton appear to be the backcourt for the kings for the next 5 plus years. What do you do as a front office to add talent around them? What kind of talent are you looking for?
James:It does appear that Fox and Haliburton are the future backcourt for this team. If this is the case, then I would design my team in a similar way that the Trail Blazers have built their squad with Dame and CJ.
You need length, versatility and shooting at both forward and a big man to play off of in the middle. You also need a major scorer off the bench and plenty of positionless players.
I think Hield, Barnes, Bagley and Holmes can be a part of this plan, but the team needs a lot more. I also like the versatility of players like Woodard and Jeffries, but it's too early to tell if they can stick in the league.
Monte McNair chased Derrick Jones Jr. in free agency, which is the player archetype the team will likely look for. When Blazers were at their best, it was with players like Mo Harkless and Al-Farouq Aminu covering for their guards and spacing the floor.
Tim: Yes, Fox and Haliburton are the future of this team, and they're going to be the best guard duo in the league in a few years. As far as building around them, the Kings need to find a core that can run and defend with both of those guys. A long, defensive-minded wing would do wonders for this entire organization, while finding a permanent rim protector (potentially Holmes?) is also going to be key. This upcoming draft will hopefully be the last high pick the Kings see for a while, so targeting one of those needs is a must moving forward.
Will: Tim is drunk on yogurt pie with that assertion about the best backcourt in the league but I like his confidence so I won't try to argue. One thing that is nice about a backcourt like Hali is that there is plenty of scoring, playmaking, defense and long range shooting to go around so no real holes need to be prioritized. Are the thin physically? Sure, but give it some time. I do think they need either a defensive or offensive anchor, maybe even both. Fox's scoring has been great this season and he's really been a good #1 threat for the Kings this year, but ultimately I see him as a 1b to someone's 1a. I feel similarly about Haliburton and his defense. He pops on the eye test as far as a defender, but having a lock down forward or a big shot-blocking center could do wonders for Hali moving forward. There's a ton of flexibility in where the Kings can grow this season and beyond and it isn't just because they're lacking everywhere! Yay!