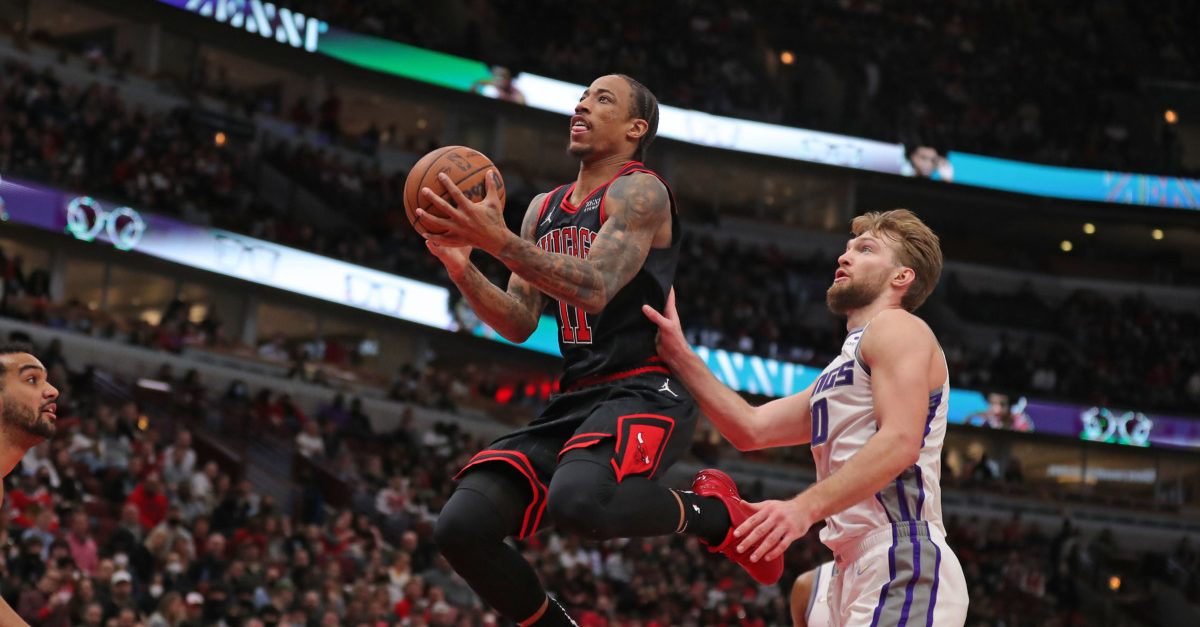 We've made it, Kings fans - the coveted All-Star break, heavy emphasis on the 'break' part. How are we feeling about it? Typically, I am desperate for the respite from Kangz basketball by now. It's usually around this time that the Kings have fully squandered all hopes and lie somewhere around 20 wins. Well, they came into tonight's final matchup before the break with 22 wins, so that part hasn't changed much. BUT, the big difference is that my soul is on its umpteenth resurrection as this team has once again given me something to raise an eyebrow at. The Fox & The Ox seem like a match made in heaven, right down to the rhyming nicknames, and so I'm back in, baby. While I always look forward to a little mental break, for the first time in a long time, I am also looking forward to more Kings basketball after the All-Star festivities. But before we could all get to that rest, the Kings had to first face the Chicago Bulls tonight. Let's see how they did:
Quick Stats
Outcome: Kings lose, 125-118
Sacramento Kings: 118 pts, 51.2% fg, 40.0% 3 pt, 90.9% ft, 24 ast, 36 reb, 13 to
Chicago Bulls: 125 pts, 50.0% fg, 41.4% 3 pt, 95.0% ft, 25 ast, 47 reb, 13 to
It was a hard fought battle, but the Kings came up short to the best team in the Eastern Conference. Though suffering from some injuries, this Bulls team proved that their success this season is no joke. Led by DeMar DeRozan, who made what felt like 50 incredibly tough shots, the Bulls executed down the stretch to hold off any attempts by the Kings to take back this game.
The Good, The Bad, & The Ugly
The Good
Fox & Ox Connection: The Kings started the game hot, opening with a 7-0 run and a lot of infectious energy. De'Aaron Fox and Domantas Sabonis showcased their natural chemistry early on with some beautiful plays to one another. One included a back door cut by Fox and a perfectly placed pass by Sabonis. Then on the next trip down, Fox returned the favor by finding Sabonis on a roll to the basket for an easy two points. The beauty of this duo's playmaking ability is amplified when they are able to find each other and connect on these types of plays. Fox led the Kings tonight with nine assists, with Sabonis following closely behind with eight of his own.
Third Quarter Bench: During the second quarter, the bench unit struggled to put together successful sequences on either end of the floor. However, they made up for it by stepping up in the final minutes of the third quarter. As De'Aaron Fox and Domantas Sabonis got their rest, the Kings' second unit held it down. In the final three minutes, after trailing by nine points, Donte DiVincenzo either scored or assisted on the Kings' 11 points and ultimately cut the Bulls' lead down to two. On the other end, Moe Harkless anchored the defense as DiVincenzo flew around to pester the ball and battle for rebounds.
Intentional Defense: From the very start, the Kings showed an intentional focus on DeMar DeRozan, and rightfully so. Despite him being the primary focus of the Kings' attention, DeRozan still managed to drop 38 points on 16 made field goals and a perfect 5-5 from the line. As haunting as that stat line is, this speaks more to how incredible DeRozan is playing right now than any terrible knock against the Kings' defensive execution on him. The Kings constantly threw hard hedges at him on every ball screen, forcing the ball out of his hands, and even forcing a few turnovers. When they did double him, the Kings' secondary rotations were solid and showed a collective understanding of the defensive game plan. Kings' defenders were also disciplined on staying down on DeRozan's pump fakes, and forced him into making tough shots.
Full 48 Fight: This was a physical game. Domantas Sabonis was bleeding from a cut on his elbow before the end of the first half, and by the fourth quarter, we saw bodies flying. The Kings never backed down and although they trailed by a likely insurmountable nine points with 30 seconds left, we still saw the Kings fighting for loose balls, offensive rebounds, and extra chances. They left it all on the floor tonight, and should go into their vacation feeling satisfied with their efforts.
The Bad
Limited Defense: While the Kings made a good step tonight by executing a defensive strategy in targeting DeMar DeRozan (futile as it was), that's all they were able to do defensively. With all of their attention on DeRozan, the Kings fell asleep on the four other Bulls on the court. This resulted in all five Bulls' starters scoring in double digits, with Coby White going off for 31 points and Javonte Green getting 15 of his own. The Kings showed an inability to focus on more than one player at a time, as White consistently cashed in when the Kings weren't paying attention to him.
Crunch Time Chemistry: Down the stretch, the Kings had a few opportunities to dig their way back on top, but just couldn't quite complete plays. During meaningful possessions in the final minutes, the Kings' lack of chemistry with their new players was exposed as they turned the ball over or made the wrong pass to the wrong person in the wrong situation.
The Ugly
Perimeter Defense: Some good news first: Justin Holiday made six 3-pointers tonight, which was a great sign of him getting more comfortable within the offense. Bad news: Coby White matched every single one of them with six 3s of his own. On top of that, Javonte Green shot 3-4 from deep. In focusing so much on DeMar DeRozan, the Kings left the perimeter open several times tonight and both White and Green took advantage.
The King of Kings
De'Aaron Fox looked like he was on a mission tonight. From the jump, he was aggressive in attacking the basket and had some incredible finishes at the rim. After just 12 minutes, he was up to 14 points and showed no signs of slowing down. Fox finished with 33 points on 14 made field goals. I hope he enjoys his vacation because he certainly deserves it.
Operation: M.C.N.A.I.R. Watch
Tonight's chosen charity is Hands4Hope - Youth Making a Difference, a local non-profit organization that provides a platform for young leaders to make a positive impact in their communities. As always, make sure to share your donation with Will on Twitter (@WillofThaPeople) or through e-mail ([email protected]) so he can keep track of totals. Thank you for always being #SacramentoProud!
Up Next
Friday, February 18th @ 6:00 P.M. (PT) - Watch Davion Mitchell & Tyrese Haliburton (I'm still not ready to let go) compete in the Rising Stars Tournament at All-Star weekend.
Thursday, February 24th vs. Denver Nuggets - 7:00 P.M. (PT)