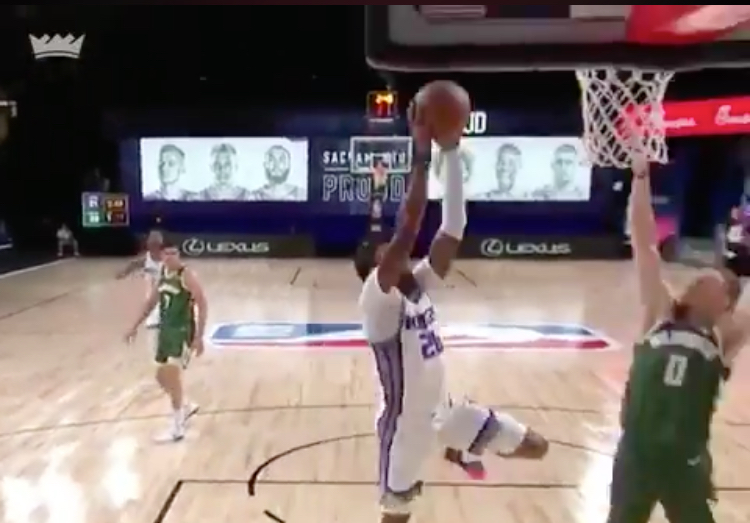 The Sacramento Kings tipped off their second scrimmage game on an early Saturday morning against the Milwaukee Bucks, who were dominant on both ends for the majority of the game.
De'Aaron Fox, coming off an ankle sprain, got minutes in the first three quarters today and was able to get his feet wet. With opening day in a week is good to see for him.
DaQuan Jeffries continued to impress on both ends and Luke Walton gave him hefty minutes. Jeffries showed he can switch as a defender, jump passing lanes and get blocks. The Kings have something here.
Milwaukee couldn't miss from deep all game with the Lopez Brothers hitting everything they attempted. When that's happening, there's little you can do on your end.
Here are the notes from the game:
First Quarter:
Kent Bazemore had a play in the post early on. That's usually what you see with Harrison Barnes since he's an adept passer in the post, but good to see Bazemore's role expanding in the current offense.
The Kings on offense would attack the paint and with Brook Lopez usually in there, that's a bold strategy. Lopez usually held the advantage.
Sacramento trailed 16-5 with 6:53 remaining. Milwaukee's paint defense began to suffocate any King attempting to attack and Milwaukee also closed out well at the arc.
The Kings cut the deficit to 21-16, with Bazemore and Bjelica knocking down threes. On defense, the Kings forced some turnovers and pushed the tempo to catch Milwaukee off guard. It helped to go small-ball with Bjelica at center, freeing up the paint to attack more often.
Harry Giles got a high post opportunity and found Bazemore cutting down the baseline for a poster dunk on Donte DiVincenzo. Best play of the quarter for Sacramento.
Second Quarter:
Corey Brewer made a corner three to start the quarter. He's looked good from beyond the arc in these scrimmages.
Well Buddy Hield attacked the rim on a left-handed dribble drive with Giannis Antetokounmpo and Robin Lopez in his way. Hield still finished.
Fox, who did play despite the ankle sprain, looked good with his feet movement and saw more minutes in this quarter. Promising signs for opening day.
The game was close, but Milwaukee extended their lead to 61-45. It didn't help the Kings that Robin Lopez drilled multiple threes.
Hield scored 17 points in 17 minutes, looking pretty good with his shot. He didn't look as sharp on defense which hasn't been a strength for him.
Milwaukee led 80-60 to end the first half as they got hot from deep. The best in the East for a reason even though the Kings are short-handed.
Third Quarter:
Fox looked more comfortable on both ends, attempting to jump the lane for a steal and showing elite court vision to find open looks regardless if they went in or not.
Bogdan Bogdanovic drilled a three coming off a Giles screen. Bogi definitely needed that because he's been very quiet this game. A few minutes later, Bogi drove to the rim and finished over two defenders to hit eight points.
Bjelica eventually got into a rhythm knocking down open looks from three. Going small-ball with Bjelica at the five helped him get better looks and guys like Bogi found him.
Bogi continued to be aggressive in this quarter, not being as passive as he was in the first half. He hit multiple triples and set others up for look as well.
Fourth Quarter:
Jabari Parker made his debut into the game and scored down low right away showing good patience with the defense all over him.
Milwaukee made 18-36 attempts from three. Can't do much when the best in the East is lighting it up like that even though the Kings had backups out there.
Kyle Guy made his first appearance in the game with 7:51 minutes to go.
Jeffries continued to impress by anticipating passing lanes and drawing fouls the other way. Two straight good games from the 22-year-old forward.
Jabari Parker blocked a shot coming off the weakside which led to the Kings pushing the tempo. Brewer would hit a corner three. On the following play, Brewer picked a pocket and threw down an open dunk. The Kings cut the lead to 117-110.
Justin James made his first appearance late in the fourth quarter. It appears as if Jeffries has certainly leaped him in the rotation and deservedly so. James would later make a corner three on a pass from Parker.
Sacramento didn't play too bad, Milwaukee is clearly on another level and that became apparent in the second quarter. The Kings play its final scrimmage game on Monday at 1:00 p.m. against the Los Angeles Clippers. It will be streamed live at Kings.com.