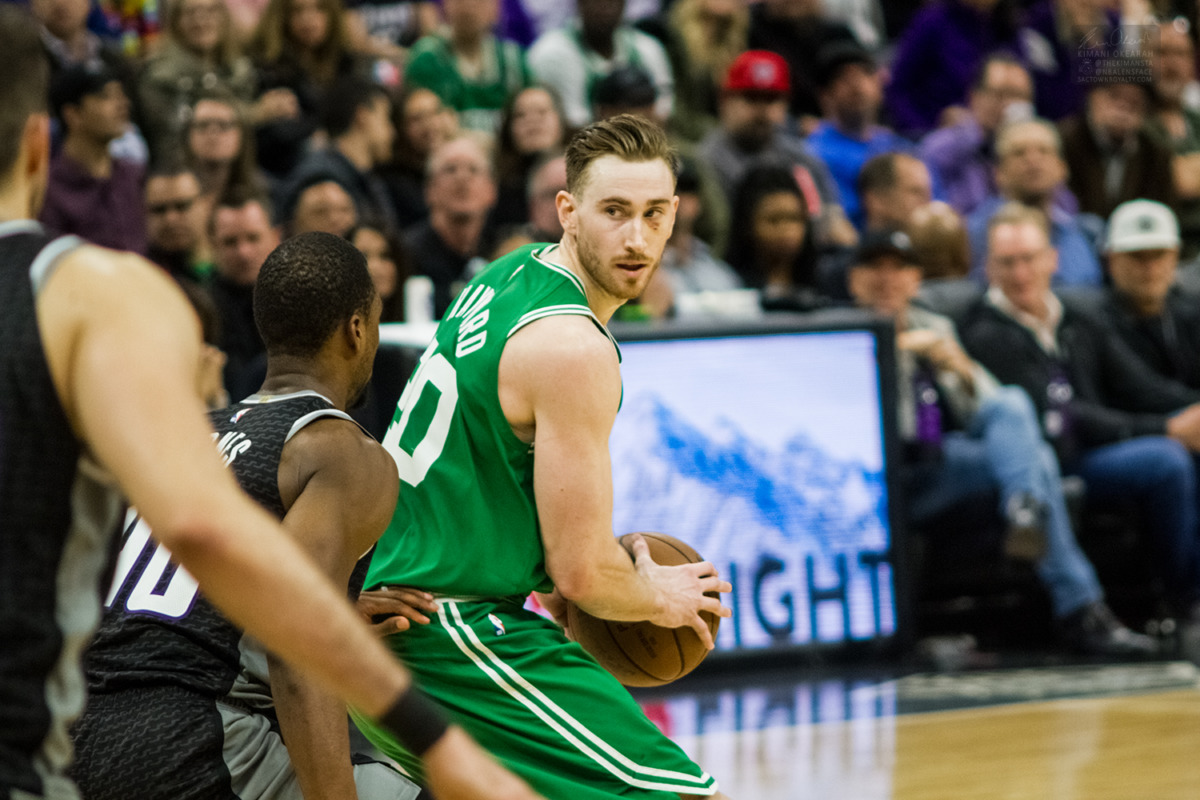 Welcome to Around the Realm, where we look at the top news stories from around the league. If I missed any notable stories, feel free to discuss in the comments!
What are the Celtics doing with Gordon Hayward?
Gordon Hayward and the Boston Celtics had a 5 PM ET deadline today for his player option, but the sides negotiated to extend that deadline. This indicates that the Celtics are trying to work out some sort of trade that could involve Hayward.
Gordon Hayward and the Celtics are working to extend the deadline on Hayward to decide on his $34.2 million player option for the 2020-21 season from today at 5 p.m. to Thursday afternoon, league sources tell ESPN.

— Zach Lowe (@ZachLowe_NBA) November 17, 2020
The only rumored destination was the Atlanta Hawks. Hayward could sign with the Hawks outright, but if Hayward opts out the Hawks would be under no obligation to pay Hayward $34.2 million.
Yahoo Sources: The Atlanta Hawks are in play to acquire Boston Celtics forward Gordon Hayward. https://t.co/fYmu59Cu30 pic.twitter.com/EscHXCnSJn

— Chris Haynes (@ChrisBHaynes) November 17, 2020
The Celtics rumors were heavy on Tuesday, even including vague rumor of a deal that might send Kemba Walker to Chicago. But any time you're dealing with the Celtics, there are going to be a dozen rumored deals for every one deal that actually happens.
The Rockets are trying to get better offers
With James Harden now doing everything he can to get out of Houston (with Brooklyn as his preferred destination), the Rockets are doing everything they can to get better offers.
First they leak that they are in no hurry to trade Harden:
"We're willing to get uncomfortable," a high-ranking Rockets source says regarding going to camp and into the season with unhappy superstars. Rockets asking price for James Harden: a young star and massive package of picks. https://t.co/oRH3vNq3z6

— Tim MacMahon (@espn_macmahon) November 18, 2020
Then they float a possible deal to swap Russell Westbrook for John Wall:
The Rockets and Wizards have discussed a deal centered on Russell Westbrook for John Wall, sources tell @TheAthleticNBA @Stadium. No traction yet, Rockets are seeking more assets.

— Shams Charania (@ShamsCharania) November 17, 2020
But all of this rings hollow when it comes on the same day as a report that Rockets owner Tilman Fertitta is desperate to avoid the luxury tax.
lololololololol https://t.co/FZtppCc0Pj pic.twitter.com/ejeMcL3ufs

— Bryan Toporek (@btoporek) November 17, 2020
Also of note, the Rockets traded Robert Covington to Portland late Monday.
The Rockets are finalizing a trade to send Robert Covington to Portland for Trevor Ariza and 2020 first-round pick and 2021 protected first-round pick, sources tell ESPN.

— Adrian Wojnarowski (@wojespn) November 17, 2020
Ariza, still on the contract he signed with the Sacramento Kings, is minimally guaranteed for next season. The move acquired draft picks and shed salary. The actions of the Rockets tell one story, while their words attempt to tell another.
Rodney Hood opts out
Rodney Hood, who was playing really well before a torn Achilles, has opted out of the final year of his contract and will be a free agent.
Portland Trail Blazers F Rodney Hood is declining his $6M player option and becoming a free agent, sources tell ESPN. Hood's had nearly a full year to recover from a torn Achilles injury and can play right away with a new team.

— Adrian Wojnarowski (@wojespn) November 17, 2020
Even if he's fully healed, Hood might struggle to get $6 million per year, but is likely seeking longer-term security.
Andre Drummond unsurprisingly opts in
Andre Drummond was always unlikely to opt out of his deal, but he officially opted into the final year of his contract.
Andre Drummond is bypassing free agency and picking up his $28.7 million player option for next season to stay with the Cavaliers, league sources said

— Marc Stein (@TheSteinLine) November 17, 2020
Drummond is unlikely to finish this season with the Cavaliers, as they'll probably trade his expiring contract for smaller contracts or bad money and draft picks.
Players will report to their teams no later than November 30th
Players will need to report by November 30th so they can undergo coronavirus testing before camp begins.
NBA teams will be able to begin group practices on Dec. 4 or 6, depending on arrival track of players. https://t.co/OfIpvshX6J

— Shams Charania (@ShamsCharania) November 17, 2020